Lumo Regents Parka jacket review
If you want to buy an all-in-one jacket that'll help you be seen, keep you warm and dry, then you possibly don't need to look any further than the Lumo Regents Parka jacket.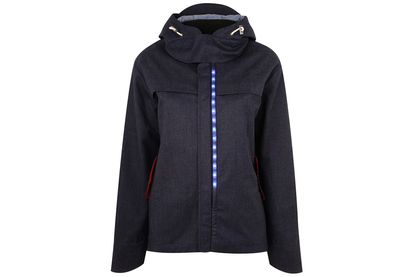 It's hard to get away from the price; you can buy a decent set of wheels for £400. It is also fair to say that this possibly isn't for the seasoned cyclist. But as for many into cycling who travel daily in and around town, you don't have to sacrifice style for safety. Lumo have successfully made cycling cooler and if you combine your cycling with socialising it doesn't mean you don't have to buy a casual jacket as well as a cycling specific one.
Reasons to buy
+

Good fit

+

Practical

+

Increased visibility

+

Machine washable
Why you can trust Cycling Weekly Our expert reviewers spend hours testing and comparing products and services so you can choose the best for you. Find out more about how we test.
Having lights on your bike is fundamental to being seen at any time of day, though it's often the body that is in line of sight of many drivers, and many cyclists in town aren't wearing reflective items and are often choosing to dress in a dark colour too.
>>> Buyer's guide to winter jackets
There is also often a limit to how many lights you can stick on your handlebars or seatpost, so having an extra 14 four lumen LED lights on the front and back of the Lumo Regents Parka jacket will certainly increase your chances of being seen on the commute. These are 'to be seen' lights rather than 'seeing with' and Lumo reminds us that you should always have lights on your bike too.
Sticking lights in garments that are supposed to be used on daily commutes, that will no doubt get smelly and dirty, can sometimes complicate things when it comes to getting it washed. The great thing about the USB rechargeable lights in the this jacket is that the battery is removable so and the light strips are machine washable, eliminating all the faff of worrying about electrics. This is one of the key features that allows the Lumo Regents Parka jacket to stand out (other than the lights of course) - it's hugely practical in use.
>>> Buyer's guide to the best winter cycling clothing (video)
In the months I've been testing the jacket operational time for the lights has been great (it is suggested to be between 6-14 hours depending on mode).
With an RRP of £400 this jacket is obviously not a whimsical purchase but it isn't just the lights that can help us justify the price. This jacket really does work both on and off the bike, which is key for Lumo. It was very important to the company owners to ensure the Regents Parka works away from the bike describing it as 'A futuristic adaption of the 1960's classic mod Parka'. I really like the styling and it was often commented on at how nice it is… to which I said 'look, it lights up too'!
>>> Buyer's guide to bike lights
Usually in terms of fit, jackets struggle to perform on the bike when made to be stylish. However the Schoeller® C_change™ fabric works well aided by stretchy fabric around the shoulders and longer sleeves to suit a riding position. It is windproof and waterproof, whilst remaining breathable thanks to a vented back. The only downside, as the Lumo Regents Parka jacket does well at retaining warmth, is that you start to boil when you've reached your destination. Without that wind, breathability of the fabric suffers.
Final touches like the fleece-lined collar, scalloped fitted hood and sculpted cuffs ensure you feel snug out and about. The rear magnetically closed rear pocket is a nice touch, which makes for easy access on the bike, whilst reflective trim on cuffs and pockets add to the visibility.
Visit the Lumo website (opens in new tab) for more details.
Thank you for reading 10 articles this month* Join now for unlimited access
Enjoy your first month for just £1 / $1 / €1
*Read 5 free articles per month without a subscription
Join now for unlimited access
Try first month for just £1 / $1 / €1
Symon Lewis joined Cycling Weekly as an Editorial Assistant in 2010, he went on to become a Tech Writer in 2014 before being promoted to Tech Editor in 2015 before taking on a role managing Video and Tech in 2019. Lewis discovered cycling via Herne Hill Velodrome, where he was renowned for his prolific performances, and spent two years as a coach at the South London velodrome.