Santini Scudo windbreaker jacket review
The race fit Santini Scudo windbreaker jacket boasts wind proofing and water resistance in a featherweight package. So we headed to the rainy blowy hills to put it through its paces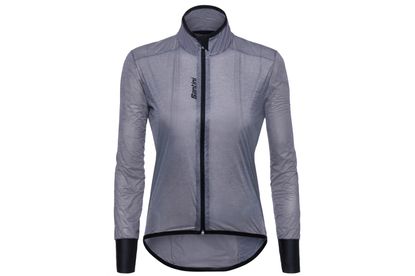 The Santini Scudo windbreaker jacket will be a good addition to any cycling wardrobe, delivering great wind proofing and water resistance in a small featherweight package.
Reasons to buy
+

Wind proof

+

Water resistant

+

Featherweight

+

Small package
You can trust Cycling Weekly. Our team of experts put in hard miles testing cycling tech and will always share honest, unbiased advice to help you choose. Find out more about how we test.
Over the years race capes have significantly improved in terms of form and function, but more often than not, all the aero benefits your bike and your bike position provides can be lost as soon as you pull on a race cape.
>>> Seven best waterproof cycling jackets reviewed 2018/2019
The sleek lines give way to flappy fabric which create a parachute effect on the bike, loosing you all those valuable watts. The Santini Scudo windbreaker jacket aims to change this, helping you maintain your aero advantage.
Construction
It's worth noting at the outset that there are technically four versions of the Santini Scudo windbreaker jacket, the Santini 365 Scudo men's and women's versions, and the Santini Fashion Scudo men's and women's versions.
While the male and female differences are self explanatory, the difference between the 365 and Fashion is less so, but simple. The Fashion range is seasonal, so the colour choices will be only be available for a short time, where as the 365 versions are available all year round.
FYI, I was testing the women's Fashion Santini Scudo windbreaker jacket.
The race cut jacket is fundamentally made from Italian Scudo Fabric, The Italian word literately translates as shield in English and that's exactly what the fabric claims to be, thanks to a multilayered system, of special membranes which offer thermoregulation, breathability, water repellency and wind proofing.
At the cuffs a generous eight centimetres of rubber-fabric has been added to offer what Santini say is supreme weather protection, by creating an impenetrable seal at the wrist. It's one up from what Sportful did with its Stelvio jacket, so should be pretty effective.
This is impressive talk, especially when you discover that the jacket is capable of folding down in to its own 9x18cm pocket, and weighs just 116g. That's only a handful of grams heavier than the much respected and impressive GOREOne 985 Gore-Tex Shake dry jacket, but around £130 less at just £95, so it instantly raises eyebrows in the 'but does it deliver' department.
The Ride
The Santini Scudo windbreaker jacket has an impressive amount of horizontal stretch, with vitally no vertical fibre movement, which made it immediately obvious that Santini weren't joking about the skin like properties of the fabric.
Across my back and shoulders the jacket fitted exceptionally well, with not even a crease in the fabric to speak of. However, the upper arms and front of the jacket were pretty loose still, so although these jackets are less of an aero concern, it might be something that needs address on the next iteration.
The rubber cuff is also exceptionally tight, I totally get where Santini are going with this addition, and I really love the concept, but trying to get this on and off over a bigger jersey underneath was verging on uncomfortable as the tightness of these cuffs pulled up the sleeve of the jersey underneath, creating a slight tourniquet effect on my forearm (especially uncomfortable as I kept forgetting to remove my watch).
Fit issues aside, the Santini Scudo windbreaker jacket's biggest ride out was to accompany me in to the drizzley cold hills of the Peak District, where it was deployed within the first 20 minutes.
With the risk of ice a constant up until March, or even later up here, I've taken to more gravel riding of late, where beefier tyres come in to their own in weather like this. It does however put a slight strain in the kit department, where lovely neat roady gear is now subjected to a constant gravel and mud blasting. It's a good test of kit robustness and watching rain and mud bead off the jacket was impressive. The waterproof coating will have to be recoated after a while, as with any treated fabric, but it's a good sign that the core of the fabric is also robust enough to take a tough day in the saddle.
It could also seem that the pure aero virtues of the Santini Scudo windbreaker jacket would go un-noticed on an off-road ride, but that would also assume that you've not got small windows of riding opportunities, with small child pick up deadlines, and a route plan that exceeds both.
Putting the hammer down though the back end of a rather undulating Peak Disctict foot hills of Cheshire, and then the flat canal to get back for school pick up really helps focus your off-roading time trailing capabilities, and that of the jacket which simultaneously demonstrated all three of it's key attributes, water resistance, wind proofing and tiger tightness, with my position now in upmost tuck, the front and arm looseness now became irrelevant.
One area that also impressed was it's breathability. Bearing in mind I was already pretty done up underneath with winter level base layer and jacket. The fact that the additional layer didn't add to sweat, just warmth and water prevention was a notable and impressive design.
Value
Cycling related pack-a-mac's are probably one of the biggest variables in terms of what you get for your money. In the main it's a clear demonstration of getting what you paid for, as quality technical fabrics don't come cheap, and that's before they've been designed and made in to apparel. There's a couple of areas the Santini Scudo windbreaker jacket needs to tweak to make it perfect, but for £95 it's not a bad offer to the market, and if you did purchase, I'm confident you would be disappointed.
Thank you for reading 20 articles this month* Join now for unlimited access
Enjoy your first month for just £1 / $1 / €1
*Read 5 free articles per month without a subscription
Join now for unlimited access
Try first month for just £1 / $1 / €1