Gore ONE 1985 Gore-Tex Shakedry jacket review
The Gore ONE 1985 is the ultimate jacket when it comes to staying as dry as possible in a packable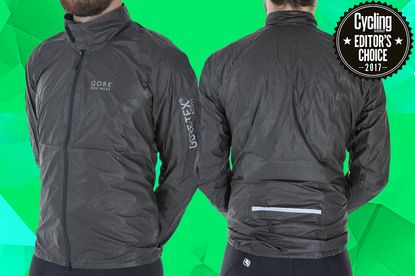 The original Gore ONE Active jacket was ground breaking. It was the waterproof jacket to have. But with the Gore One 1985 Gore-Tex Shakedry jacket, ground breaking just got better, more refined, more waterproof and most importantly more packable.
It's this evolution of performance that lands the jacket a spot on Cycling Weekly's Editor's Choice for 2017.
Black Friday 2018 deal: Gore One Shakedry jacket at Wiggle for £125 – 50% off
The Gore ONE 1985 Gore-Tex Shakedry jacket is a lightweight packable, waterproof jacket specifically designed for cycling and is essentially an updated version of the original Gore ONE Active jacket. With a retail price of £230 our expectations were high – so what makes this jacket so special?
We should point out that although the Gore ONE 1985 Gore-Tex Shakedry jacket is effectively an update, Gore Bike Wear is continuing to sell the original Gore ONE as a separate product for £10 less at £220. The key differences, and improvements are outlined later - but first, here's the skinny on what this jacket does and how it justifies such a high price tag.
Permanent Beading Surface
Like the Gore ONE, the Gore ONE 1985 Gore-Tex Shakedry waterproof jacket is made from Gore's Active Gore-Tex fabric, which uses a "Permanent Beading Surface" on the outside of the jacket, eliminating the need for a Durable Water Resistant (DWR) coating, which means the fabric can be reduced from three layers to two.
This results in a completely waterproof garment that still retains the breathability traditional Gore-Tex clothing is renowned for but – crucially – reducing the layers of fabric also decreases weight and increases packability. This is dramatic and our size small hit the scales at just 98g.
The fabric of the Gore ONE 1985 Gore-Tex Shakedry jacket remains the most technologically advanced we ever had through our doors, and is also the best-performing with regard to breathability and beading. Out on the road, waterproofing is nothing short of excellent.
It is easy to run out of superlatives with a product like this, but the performance of the Gore ONE really is on par with a dedicated hard-shell waterproof. However (and this is the deal clincher), the low weight and high packability is comparable to a lightweight emergency rain cape. Something like the Sportful Hotpack No-Rain jacket.
Forgive the cliché but this is genuinely the best of both worlds.
The "permanently beading surface" is an accurate description, our our long-term experience. Over time, many other jackets loose their DWR (durable water resistant coating), which diminishes beading and results in them becoming less waterproof. Having washed the Gore ONE multiple times (30ºC with no fabric softener!), we can report the beading is every bit as good as when it was new. It has really impressed in this regard and this attribute certainly helps justify the high price.
Making excellent even better
So what is the difference between Gore ONE 1985 Gore-Tex Shakedry jacket and previous Gore ONE? Firstly the zip has been much improved on the Gore ONE 1985 Gore-Tex Shakedry jacket, as it is now two way, meaning you can also unzip it at the bottom, accessing your jersey pockets and it can also be operated with a single hand, which rectifies a criticism of the Gore ONE.
The cuffs have also received an update, with an elastic insert that is slightly more comfortable and perhaps more importantly stretches more, making it easier to put the jacket on or take it off, over a pair of winter gloves. The collar has also been tweaked, with an adjustable velcro strap to help you get an optimum fit depending on your neck position and girth.
Gore has also added a small pocket to the rear of the jacket, which can be used to stuff the jacket into when not in use, but also doubles as a valuables/keys pouch. Slight tweaks to the fit see a marked improvement over earlier models, with the Gore ONE 1985 Gore-Tex Shakedry jacket being slightly roomier in the torso than the standard Gore ONE.
Of course, having only a "none more black" colour option might seem a wee bit of an oversight for a jacket designed for the worst weather going but Gore address these criticism. The colour is in fact dictated by the fact that the highly sophisticated Active Gore-Tex fabric can actually only be manufactured in black, while adding any reflective details might actually damage the water repellency.
Black Friday 2018 deal: Gore One Shakedry jacket at Wiggle for £125 – 50% off
To summarise, Gore has taken the original Gore ONE and improved the design with the Gore ONE 1985 Gore-Tex Shakedry jacket. The improvements and tweaks to the design certainly justify the increased £10 outlay and that is reflected in the score. This jacket is comparable to a lightweight rain cape with regard to weight, packability and versatility, but possesses the waterproof performance of a hardshell. Although expensive, if you require the best, this is it.
Thank you for reading 10 articles this month* Join now for unlimited access
Enjoy your first month for just £1 / $1 / €1
*Read 5 free articles per month without a subscription
Join now for unlimited access
Try first month for just £1 / $1 / €1
Oliver Bridgewood - no, Doctor Oliver Bridgewood - is a PhD Chemist who discovered a love of cycling. He enjoys racing time trials, hill climbs, road races and criteriums. During his time at Cycling Weekly, he worked predominantly within the tech team, also utilising his science background to produce insightful fitness articles, before moving to an entirely video-focused role heading up the Cycling Weekly YouTube channel, where his feature-length documentary 'Project 49' was his crowning glory.