Apidura Packable Visibility Vest review - maximum visibility in a minimal package
Outstanding visibility for a variety of activities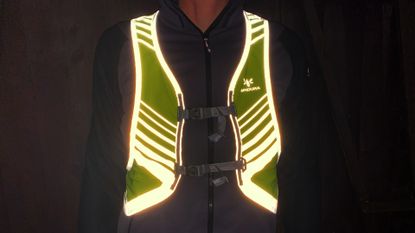 (Image credit: Emma Silversides)
The Packable Visibility Vest's design might seem quite simple, but Apidura has executed it flawlessly, producing a piece of kit that should be on every avid long-distance cyclists' and adventurer's Christmas list. While it's marketed for cycling, it shouldn't be pigeon-holed - if you simply like to make the most of the outdoors (particularly as the days shorten) it's a brilliant addition to your accessory drawer. It packs down so small that no one will even notice you've added to your stash of essential cycling accessories... just don't be surprised if they do, and it has magically disappeared when you want to use it!
Reasons to buy
+

Exceptionally striking reflectivity

+

Packable

+

Lightweight

+

Certified for major long distance events
You can trust Cycling Weekly. Our team of experts put in hard miles testing cycling tech and will always share honest, unbiased advice to help you choose. Find out more about how we test.
Reflective detailing on cycling jerseys tends be a tick-box feature for some manufacturers; a token half centimetre of reflective tape (that fades after a few washes) is never excessively striking. If you're embarking on a multi-day event, long Audax, winter commute or after-work training ride, Apidura's Visibility Vest is probably the most effective piece of kit you can wear (in addition to your bike lights) to help make you more visible to other road users.
Apidura Packable Visibility Vest: construction
Apidura's 106g (S/M) vest is made from a lightweight, mesh fabric. 360-degree graphics have been designed around an on-the-bike position and night-time reflectivity.
Image 1 of 2
There's an integrated pouch for storage, meaning it can be easily stowed away in a a jersey pocket, handlebar bag, frame pack or similar. Stuffed into the pouch, the vest is no bigger than a clenched fist.
Two adjustable, narrow webbing straps feature simple buckles. It's possible to move the straps' positions using any one of seven different openings that have been incorporated into the hem.
Image 1 of 3
The vest is available in two different sizes: S/M and L/XL. Apidura say that the S/M is 'designed for riders with a 90-105cm chest measurement and the large/extra large will fit riders that measure from 106-122cm'. Both have the same sized integrated pouch and the L/XL is a claimed 107g.
Apidura Packable Visibility Vest: the ride
The first thing that strikes you about Apidura's Visibility Vest is its minimalistic design. It defies the conventional oversized, construction-site high-vis jacket that flaps about in the wind. However, despite the rather skimpy design, the reflective trims and patterning is exceptionally effective, with noticeably dense areas over the shoulders, and at the mid- and lower-back. When headlights fall on the vest, it really packs a punch.
Versatility is a big plus. It's ideal for low-light and dark commutes, long distance rides and ride-through-the-night adventures. The adjustable design means it can be tightened to hug a conventional cycling jersey, or loosened to accommodate a cycling backpack for commuting. While Apidura offer two sizes, it's feasible that the S/M I've been testing could easily be used by my much taller and broader partner, not to mention my much smaller niece - it's very adaptable due to the generous strap length. Indeed the latter might actually feel that she was pulling on something remotely acceptable to teenage fashion standards! In short, while the majority of testing has been done on the bike, the vest is perfect for any activity when you want to increase your visibility.
Straps are very easy to adjust and the buckles are just large enough to handle effectively with winter gloves on.
Packing the vest into the integrated pouch presents no problems, even on the move. It's then so small (and squidgy) that it fits into the most modest bar or top tube bag. I'd certainly say the pouch is a simple but ingenious addition… Pulling the vest out of a bike bag while it's stored in the pouch means no other gear gets dragged out with it (huge potential for this with loose straps and buckles). In addition to this, the pouch material is free to get grubby, while the main body of fabric (on show when you're wearing the vest) is saved from mingling a little too closely with whatever is sitting at the bottom of your bag!
It's not surprising that a sprinkling of these vests lit up the Transcontinental Race this year. With certification to the European EN 17353 standard, it ticks the boxes for such events (by meeting EN 17353:2020 Type B3 the vest is certified for use at night). This standard incorporates the older EN 1150 and EN 20471 standards sometimes referred to by event organisers.
While my long distance accolades don't quite stretch as far as TCR, the vest I have been testing did make it out on a 230km Audax with me. Nineteen degrees in October is pretty balmy, consequently I found myself a little warm at times! Realistically I'd have peeled off the vest during the warmest part of the day, when light conditions were good, however, in the name of testing, I kept it on for the entire ride. Did it cause me to heat up more than I would have done without it…? I'd say my back might have been a touch sweatier than normal. Arguably, wearing the vest before the sun starts to do its job, and then again when its day shift is nearing an end, actually adds a thin layer of protection for the back.
Apidura Packable Visibility Vest: value and conclusion
Apidura's Packable Visibility Vest has an RRP of $58 / £45. Its effectiveness is as striking as bike lights, but it comes without the repeated cost of recharging! No, it's not a replacement for a set of quality lights, but it's definitely a superb way of making yourself stand out when lighting conditions are poor. Undoubtedly, there are cheaper options. Decathlon has its Van Rysel 520 Insulated and High Visibility Winter Cycling Vest for $39.99 in the US and the Van Rysel Men's Hi-Viz Cycling Jacket EN17353 for £29.99 in the UK. However, I'd say Apidura haven't over-priced the vest when you consider Craft's ADV Lumen Short Vest will set you back $84.99 / £50.
Overall, Apidura's Packable Visibility Vest is a great investment for anyone wanting to make themselves more visible when outdoors. It's practically designed, well-made and will get plenty of use if you regularly venture out in low-light conditions, or at night. In my opinion, all of this fully justifies the $58 / £45 price tag.
Thank you for reading 20 articles this month* Join now for unlimited access
Enjoy your first month for just £1 / $1 / €1
*Read 5 free articles per month without a subscription
Join now for unlimited access
Try first month for just £1 / $1 / €1