Lightweight Urgestalt Road Bike review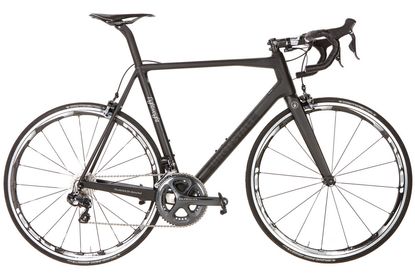 It would be easy to say that for a first attempt Lightweight has done a great job. Frankly, I think that would be underselling it when you consider that this is their first frame — it's outstanding. There are a few niggles that could be improved upon, but they are no reason not to buy the frame. If you're after a machine that will be good for racing or sportives, or if you just like the look and don't need the full performance, then I think Urgestalt will certainly deliver, it's a superb bike.
Reasons to buy
+

Mechanical and electric groupset ready

+
You can trust Cycling Weekly. Our team of experts put in hard miles testing cycling tech and will always share honest, unbiased advice to help you choose. Find out more about how we test.
Famous for the wheels that it had the audacity to call Standard, Lightweight has grown over the years and now has a few wheel options, but this is the first time it has offered a frame carrying the Lightweight name.
"This is not a German bike," is not what you expect to hear from one of the most reputable German engineering companies in the bike trade, and one that is on just about every cyclist's wish lists for one product or another, or even one of everything they make.
The point Lightweight is trying to make is that German engineered bikes have a certain reputation — a reputation for being tested more on the test bench than on the road, and that it has chased numbers rather than ride feel.
And while Lightweight has gone for stiffness or 'power transmission,' with the Urgestalt, its statement shows that it realises that numbers alone don't make for a great bike — which is already a good start in our opinion.
Straight out of the box, Urgestalt tells the discerning customer what's it's all about, serious German engineering from the carbon know-it-alls at Lightweight. And when it comes to making a statement, Urgestalt lets your legs do the talking.
It's not a total stealth machine but it's certainly not far away from it either. As you'll have spotted in the photos the seat tube carries the simple Lightweight script, with a pair of initials on the head tube as well as the shoulder of the fork.
What's far less noticeable is the model name set into the down tube, which most people miss, as it takes the light catching it in the right way for it to be visible. And when new and clean, the matt finish proved to be a real head turner.
The topcoat looks great when new, but as with other similar bikes it hasn't proved to be a durable finish, with even fairly minor knocks leaving it marked, which is disappointing but an issue certainly not exclusive to this brand.
Lightweight by name must surely mean lightweight by nature, right? But while Urgestalt is certainly no porker, it's not the lightest frame in its price category. Our test bike came as a frame so we were able to easily weigh each primary component: the 58cm frame came in at 928g, the fork 322g and the seatpost 214g.
When it comes to details it's little surprise that Lightweight has gone to town, after all, this is a brand known for its obsessive thoroughness.
The frame is compatible with both mechanical and electronic groupsets and uses interchangeable plates where the cables enter, for instance on the down tube. This, and the fact that there is one colour option, makes life easier for the manufacturer and the shops that stock it. There are fewer possible options, meaning the stock cupboard doesn't get over full.
Back to the original statement about it not being a typical German bike, is it borne out on the road? It's clear that the bike has German blood in its veins and it hits those stereotypes that some people like to lean on so much. It's certainly very stiff, light and direct.
So far, so good, but that is surely what you'd expect from any bike at this price point — something would have had to go seriously wrong for these boxes not to have been ticked.
That said, while the Urgestalt could, on the face of it, have been just another Asian manufactured frame, a few miles will tell a discerning rider that there is a subtlety to the ride that few frames can match. With similarities to the Cannondale SuperSix Evo and one of the other recent bikes I've tried out, the Cervélo R5, the ride manages to be stiff while offering a comfortable edge that stops bumps from rattling your fillings.
It's an odd sensation that as you ride along on smooth, fresh tarmac you'll be revelling in the energy transfer from legs to ground. The undiluted feeling of joy and speed it gives you, and then coming to a section of old tarmac, you'd expect the vibrations to be severe but it's simply not the case. In short, it offers the best of both worlds. It's a neat trick that few others have mastered.
It's in the detail
Pay closer inspection to the frame and you'll notice that the Urgestalt is covered with some resolved and thought through engineering solutions — the devil is in the details and Lightweight has really sweated them.
Take the cable inserts, for instance; you get a frame that enables you to run mechanical or electronic gears from the three groupset manufacturers. The only one missing is SRAM's Red22 HRR with its hydraulic hoses, but it is working on a solution for this too.
It's not a new idea, but the internal seatpost clamp is tucked inside the top tube with the clamp bolt under the top tube. Even the seat rails have received a similar level of attention, with spacers that allow the use of standard round rails, oval carbon rails as well as Selle Italia's Monolink rail.
Niggles
While the matt finish looks great when new, it shows all road grime so needs regular cleaning to look its best. Sadly it proved to be somewhat fragile too. A light tap with the Allen keys resulted in a scratch in the finish that stood out on the frame.
We love the seat clamp that allows any of the current range of saddle rails to be used, although this results in a bolt that sticks out under the saddle. It's not in a place to catch anything, and therefore is not a problem, but it's not what you expect on a bike like this.
The last point is one that all similar bikes suffer from — what do you do with the holes when they don't have cables exiting? Lightweight use a rubber bung which works well, but again, there must be a more elegant way of doing it.
Thank you for reading 20 articles this month* Join now for unlimited access
Enjoy your first month for just £1 / $1 / €1
*Read 5 free articles per month without a subscription
Join now for unlimited access
Try first month for just £1 / $1 / €1