Ritchey Road Logic 2.0 review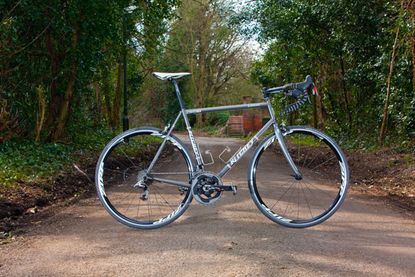 The Road Logic frame has really grown on me. As the miles have rolled by, the Logic and I have had a few adventures. Each ride has revealed a little more of the frame?s character ? it?s been a fun time, and I?ll certainly be sad to see it return to its rightful owner. It?s not a race frame, obviously, but if you?re looking for something that doesn?t have to perform at 10-10ths the whole time, you could do a lot, lot worse.
Reasons to buy
+

Relatively light

+

Strong

+

Joyful to ride
You can trust Cycling Weekly. Our team of experts put in hard miles testing cycling tech and will always share honest, unbiased advice to help you choose. Find out more about how we test.
Having spent a few months riding Ritchey's Road Logic frameset, equipped with SRAM Red, our time together has come to an end. This is the final test.
Ritchey Logic is an iconic name ?with a long and distinguished history. Tom Ritchey's bikes are not always the lightest or most flashily painted, but they remain the thinking man's choice. His brand stands apart for its great engineering and attention to detail - designs brought to life by a master craftsman.
While the range of components has continued to grow and evolve, the development of frames has been put on the backburner. Every frame in the range is made from steel. But for 2013 there is something new to interest the roadie: the Road Logic is available once more in the UK, this time in an updated 2.0 format.
With 40 years of making steel frames ?to draw upon, Ritchey started by creating a new set of Logic tubes using super-short butted sections. These tubes were custom manipulated and TIG-welded, making the frame as light as possible while maintaining Ritchey's promise of longevity. The design also maintains Tom's preferred geometry.
A particular highlight is the forged, machined head tube, which uses integrated bearings and imbues a sleek look to the front end. It is also beautifully simple in its design. Another touch we love is the seat clamp. Rather than having an alloy clamp at the top of the seat tube, Ritchey has used the elegant-yet-functional 'fastback' design where a bolt passes through the tops of the seatstays holding the seatpost in place.
Epic clearance
The Ritchey blurb states that the "Road Logic is ideally suited for long, epic days in the saddle on roads that are not always paved, and still nimble and stiff enough to take the county line sprint at the end of the day." To this end, it has room for 28mm tyres, but since we don't tend to ride much on dirt roads in the UK, we stuck with a more conventional 25c.
You might expect a steel frame with 25s to feel a little, well, baggy and soft, with too much comfort and not enough drive. Happily, this is far from the case. On a few points during the test, I was glad to have the extra cushioning of the 25mm tyres, as the frame is amply stiff, particularly in a vertical sense.
The narrower profile of the steel tubes does, as usual, make twisting forces hard to control. If you find yourself wrong-footed when out of the saddle, for example, having clipped some broken tarmac, you do notice the flex down the length of the frame compared to a modern carbon frame. Even so, once you've spent a few rides on the Ritchey, that feeling becomes less apparent and is easy to ignore.
Unflustered
With a steel winter frame in my regular fleet of bikes, I feel as if I have regular experience on this type of bike. Nonetheless, I was struck by how well the Ritchey Logic responded when I got out of the saddle and attacked on short climbs. Far from being a hindrance, the frame positively encourages you to get stuck in and push on.
This is the first time I've experienced such sensations on a steel bike - I was mightily impressed. I just didn't think it was possible with steel; it's something many carbon frames don't manage to deliver. Then again, perhaps that's the point of purchasing something from a master craftsman - you get more than you expect.
Scribing a long and steady arc through corners is to feel the Ritchey at its best. Once loaded, the steel frame hugs the tarmac and is unflustered by cracks and bumps. It hangs on beautifully and encourages high corner entry speeds. Try to change that steering arc and the frame does a good job, albeit with a bit of twist, feeling slightly less secure. All the same, this is real nitpicking stuff - the sort of thing you'd only really notice if swapping between bikes regularly.
Thank you for reading 20 articles this month* Join now for unlimited access
Enjoy your first month for just £1 / $1 / €1
*Read 5 free articles per month without a subscription
Join now for unlimited access
Try first month for just £1 / $1 / €1