Ritchey Road Logic 2.0 review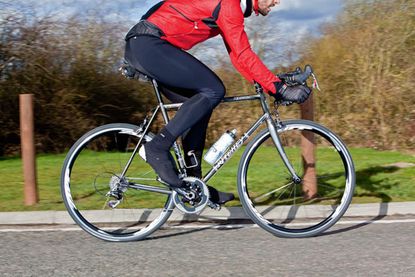 As a machine for high days and holidays, it's perfect. Likewise, if you want something that'll take a ton of abuse and ride beautifully day after day, it's ideal. Just don't buy it expecting it to be compromise-free - that's not how it is with steel
Why you can trust Cycling Weekly Our expert reviewers spend hours testing and comparing products and services so you can choose the best for you. Find out more about how we test.
Tom Ritchey made his name in the cycling world by creating beautiful steel frames. With steel once again featuring on many riders' menus, the Road Logic hits UK shops for 2013.
You might say Ritchey has 'something for everyone' in much the same way Henry Ford said, "You can have any colour as long as it's black." There are just five frames in the Ritchey range: ?one for cross, three mtb and this solitary road model.
Coming as a frameset, it can be dressed up any way you like, and comes with a colour-matched Ritchey full carbon fork plus a WCS headset. Of course, because it's a Ritchey, it would be rude not to purchase the matching stem, bar and seatpost - as a minimum. Wheels wouldn't go amiss either.
Knowing that steel always adds a bit on the weight front, we went with the latest SRAM Red groupset and a set of Zipp 101 wheels, and to make the most of the fact that the Road Logic can take up to a 28c tyre, we fitted some 25mm Michelin Pro 4s.
The 25c tyres - on the racy, stiff Zipp wheels - certainly proved handy, adding a little compliance. They didn't look out of place, to our minds, and nor did the Red groupset, to this tester's mind at least. Instead, it lends a modern air to the old-school steel look. This is just as well because, if steel frames are to have a place in the future, they'll need to perform as well as look good.
So Logical
I'm happy to report that the Logic 2.0 lives up to its looks. Steel is never going to be as stiff as carbon or alloy; all the same, the Road Logic makes a good fist of it. It's stiff enough to reward big efforts and doesn't feel like it's holding you back when you open the taps. And when you want to sit back and cruise, it has a lovely steel compliance.
Steel often gets people all misty-eyed for the old days, but there is a reason we moved away from the material for frames. In Ritchey's case, he has updated the frame with short, butted sections and an integrated headset, so it's a good compromise of old and new.
Thank you for reading 10 articles this month* Join now for unlimited access
Enjoy your first month for just £1 / $1 / €1
*Read 5 free articles per month without a subscription
Join now for unlimited access
Try first month for just £1 / $1 / €1