Storck Fascenario.3 Platinum review
The Storck Fascenario.3 Platinum doesn't fall into Storck's aero category – it sits in the all-round series yet remains supremely aerodynamic and lightweight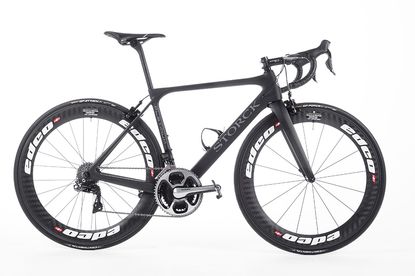 Storck's Fascenario.3 Platinum is an amazing performance bike that'll be sure to improve any ride time over any course. It is a serious piece of kit. The engineering is astonishing and the videos showing Storck's stress-testing indicate the bike will last, too.
Reasons to buy
+

Aerodynamic

+

Lightweight

+

Super-fast

+
Reasons to avoid
-

Pricey

-

Noisy knocks and rattles
You can trust Cycling Weekly. Our team of experts put in hard miles testing cycling tech and will always share honest, unbiased advice to help you choose. Find out more about how we test.
It is no secret that Storck is an engineering company that promises to deliver the optimum compromise between comfort and performance.
Storck aims to push the boundaries of how light and how fast a bike can go, and it has done just that with the Storck Fascenario.3 Platinum.
Frame
So the new Storck Fascenario.3 Platinum doesn't fall into the lightweight or aero category. It's actually part of Storck's 'all round' range; but don't let that fool you into believing it isn't an absolute thoroughbred.
What isn't so visible when purchasing a Storck is the vigorous stress-testing the company puts its frames through.
The German brand goes beyond standard industry testing and pushes the frames to breaking point to prove just how durable the likes of the Storck Fascenario.3 Platinum can be.
Below you can see the in house stress (EFBE) tests in Idstein, Germany and you can get an idea of how the directional-dependent stiffness works – stiff in the direction of power when it needs to be transferred and compliant for comfort when not.
https://www.youtube.com/watch?v=3RS5-E4KVfg
The two key details that make the Storck Fascenario.3 Platinum aero and light (6.73kg with deep-section Edco Aerosport Gesero wheels, Enve Smart handlebars and a SRM power meter) are the nano carbon process and the shaping of the forks and tubing called 'advanced sectional aerodynamic tubing'.
The Storck Fascenario.3 Platinum's nano carbon process is called dual resin transfer. Basically the resin is put in from the top and the bottom of the carbon and then all excess is removed.
This is said to give improved carbon performance, more stability with the carbon sheets making it lots more durable and flexible.
Storck has optimised tube shapes to help improve drag coefficient but it still remains stiff and compliant thanks to improved carbon technology.
The German brand also says it has saved around 11 watts thanks to the improved fork design over the Aerfast (Storck's dedicated aero machine) and the fork is better at reducing side flex too.
Storck Fascenario.3 Platinum: the ride
At just under the UCI weight limit at 6.73kg, the Storck Fascenario.3 Platinum of course dances effortlessly up the climbs and thanks to its stiffness, it punches up to speed quickly too.
All the rides I did on it showed a marked improvement on Strava times on local regular routes.
But this isn't the only ability of the Storck Fascenario.3 Platinum: those aero features really come into their own on the flat, much to my surprise. I can really see why they call the Storck Fascenario.3 Platinum an all-rounder.
I regularly found myself getting low with the Evne Smart bars and the new Shimano Dura-Ace Di2 levers, which are a centimetre longer than previous versions to help with hand position in an aero tuck.
It meant I spent longer in the big ring and lower down the cassette, finding it easier to hold speeds above 25 to 30mph when otherwise I would struggle. The addition of the deep Edco Aerosport Gesero wheel of course helped this style of riding.
https://www.youtube.com/watch?v=p6-vBx9f4bo
Although the ride wasn't brutal, it certainly isn't the most comfortable bike I've ridden. But considering how light it is and how stiff, it provides a decent amount of compliance.
Road buzz is still noticeable and with those Edco deep sections it can clatter into potholes less gracefully than other bikes I've ridden recently – both the Condor Leggero and Pinarello F10 spring to mind here.
Another thing to mention is that I did notice that the frame is pretty noisy out on the road, typical of very lightweight frames (770g frame and 330g claimed fork) and the carbon wheels won't help on this front.
Specification
This is a unique build here: Storck has stock builds and of course offers frameset-only options (£5,559 for the Fascenario.3 Platinum frameset).
This build includes Edco Aerosport Gesero wheels, Enve Smart bars, Shimano Dura-Ace Di2 R9150 and a SRM power meter (but we will ignore that for now, although this does make the overall weight of 6.73kg even more impressive).
This makes the bike in this build an eye-watering £10,714. Yes, you read that right – nearly 11 grand. But these are high-end components here.
The Edco Aerosport Gesero wheels perform well, feel relatively lightweight for the depth and roll fast without fuss. Crosswinds didn't seem to be an issue either.
I was, though, less impressed with the braking effectiveness, especially compared to slightly cheaper Fulcrum Racing Zero carbons.
Value
It's undeniable that the Storck Fascenario.3 Platinum has a huge amount of tech, development and research within the frameset and it is garnished with top-flight spec. It is also hard to argue against its performance – it really is a bullet!
But at over £10,000 (and over £5,000 for the frameset), it's much more than a considered purchase and it is a little frustrating that Storck doesn't offer more paint job options.
I would like to see some personalisation at this price point as ultimately you don't want to rock up to a set of traffic lights and see another one exactly the same!
Thank you for reading 20 articles this month* Join now for unlimited access
Enjoy your first month for just £1 / $1 / €1
*Read 5 free articles per month without a subscription
Join now for unlimited access
Try first month for just £1 / $1 / €1