Le Col Women's Hors Categorie bib shorts review
With the sole purpose is to be the most comfortable pair of short's on the market, the Le Col Women's Hors Categorie bib shorts have certainly thrown down the gauntlet. But do they deliver on target?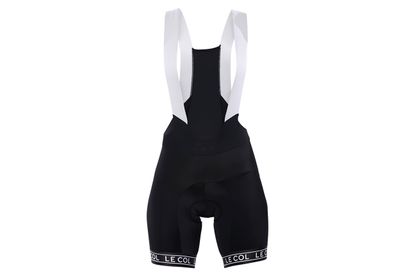 The Le Col Women's Hors Categorie bib shorts are incredibly likeable due to their simplicity, comfort and ability to deliver in a wide range of riding conditions. However, they're not quite outstanding, which may make some question the price tag.
Reasons to buy
+

Overal Fit

+

Strap design

+

Comfortable chamois

+

Simplicity of design
Reasons to avoid
-

Short in length

-

Not outstanding in class
Why you can trust Cycling Weekly Our expert reviewers spend hours testing and comparing products and services so you can choose the best for you. Find out more about how we test.
It's hard to believe, but it's been nearly six months since I saw the last lot of Le Col women's Hors Categorie range of kit. That time it was the Le Col Hors Catégorie jacket that pledged to be your ultimate winter riding partner, and to be fair I rather liked it, and it did indeed get me through some painfully cold riding.
Buy now: Le Col Women's Hors Categorie bib shorts from Le Col for £180 (opens in new tab)
All of a sudden, it's became spring, 17 degrees and we're now on to Le Col Women's Hors Categorie bib shorts, which once again promise great things.
>>> Best women's cycling short's reviewed
As with the jacket, the Le Col Women's Hors Categorie bib shorts have been constructed after hours of saddle thinking, making, remaking, tweaking, tweaking a bit more, time. When you're in the market for making the best of something, it's the only way to get it right.
Construction
The Le Col Women's Hors Categorie bib shorts use a soft Italian 220g (weight per meter squared) lycra. Le Col say it's a good all round fabric, that can be used at a range of temperatures and conditions, giving the shorts an extended seasonal wear, without the concern of being too hot or cold when putting them on.
It also allows for the shorts provide a race fit, which has been ergonomically designed round the female rider in the riding position. Up top, the bib straps have been laser cut, with raw edges which prevents risk of irritation while helping keeping to keep the over all shorts to a weight of 194g. In the scheme of things, less than 200g for a pair of shorts is light, but it does make them between 70 - 30 grams heavier than it's similar sized peers.
At the leg, in a departure from the current trend of super wide leg grippers, the Le Col Women's Hors Categorie bib shorts use a simple 4cm silicon gummy backed gripper to do most of the work of securing the shorts in place. It's half the width of the Ale Ibisco bib short at it's minimum width. Interestingly, Le Col have also included a triangle panel on the outer leg, which is dotted with silicone to ensure the legs stay put when riding.
Underneath sits Le Col's top of the range luxury Dolomiti Gel women's chamois pad. It's been designed to provide extra support to get you through rides in maximum comfort with minimum irritation, with Le Col using a special thread and stitch shape down the outside edges of the pad reduce the risk of any friction rubbing.
The Ride
Having been testing bib shorts back to back recently, I've been inundated with functionality and options, so there's something nice about the Le Col Women's Hors Categorie bib shorts simply having one aim in life, to be as comfortable as possible.
Pulling on the size XS and it's clear they have been designed with Italian sizing, they come up small! I'm around about a UK size 8, and although the shorts fitted perfectly round the legs and bib upper, there isn't a lot of room, so if you're on the UK 8-10 range, it's probably best to size up.
The one area that the XS don't fit me 100 perfectly in in the length. They're about 4cm shorter than my ideal length, measuring 36.5cm from top of pelvis to hem, leaving a lengthly 18cm from hem to knee. To put this in perspective with a similar XS sized pair of Endura Women's Pro SL bib shorts, they measured 40 from top of pelvis to hem, and just 15cm from hem to knee.
In summary all this means that the Le Col Women's Hors Categorie bib shorts fall in to the 'short shorts' category, fine if this is your only pair of shorts, but beware of the stripped tan line look if not.
Getting down to the actual riding of the shorts and it was noticeable how comfortable they were. I was apprehensive about the feel of the leg gripper, especially finishing higher up my thigh, but, when teamed with either leg or knee warmers, it wasn't overly tight or constricting.
The bib uppers were really comfortable. It's a simple design, but one that I think you can't go wrong with, balancing comfort with securely holding the shorts up, while remaining breathable.
Hitting the bib shorts testing season in early spring means somewhat extreme ends of temperature ranges, with outdoor rides getting paired with leg warmers for temperatures just in double digits, while indoor training, in contrast is probably around 18 degrees, but with a body temperature significantly higher and leaving the shorts drenched in sweat.
True to Le Col's words - the Hors Categorie bib shorts were indeed comfortable in both conditions, nether noticeably too hot or cold. I was impressed with how well the Dolomiti Gel women's chamois also delate with the difference of riding conditions, proving to be well balanced for a long day of riding outside, and adapting to short sharp indoor trainer efforts too.
Value
I really liked the simplicity of the Le Col Women's Hors Categorie bib shorts. They do indeed just do one job, and there's something very appealing about the ability to just choose one pair of shorts for whatever bike riding you are about to undertake, and know that they will deliver.
But, like fine minimalist architecture, stripped back simplicity doesn't come cheap. To get high quality all round functionality, you need to consider investing, rather than just purchasing.
That said, at £180, you are looking at high end, and when comparing against peers, you have to present truly outstanding outcomes to stand out, and for me the Le Col Women's Hors Categorie bib shorts just weren't there. Although, I really liked them, I didn't love them, and that might ultimately make me question the value if I was about to purchase.
Thank you for reading 10 articles this month* Join now for unlimited access
Enjoy your first month for just £1 / $1 / €1
*Read 5 free articles per month without a subscription
Join now for unlimited access
Try first month for just £1 / $1 / €1