Fizik Cyrano 00 handlebar review
The Fizik Cyrano 00 is a top-of-the range super-lightweight carbon-fibre handlebar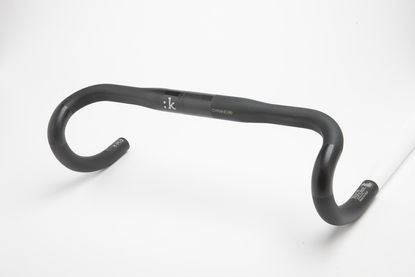 The Fizik Cyrano 00 bars are expensive, but they are a premium product that delivers without fault. They are very light, stiff, well designed and superbly made. They are also competitively priced against other premium brands.
Reasons to buy
+

Well made

+

Very light

+

Stiff

+

Easy to install

+

Good range of shapes available
If you are in the market for a super-light set of handlebars the Fizik Cyrano 00 is well worth a look. The bars are the top-of-the-range offering from Italian brand Fizik and weigh in at just 174g for the size 40cm we tested.
The '00' motif represents Fizik's best available components and the bar's 'Bull' designation refers to the compact geometry of the drops. Other shapes are available depending upon your preference and/or flexibility. For example, The Cyrano 00 Snake has the longest reach (85mm) and deepest drop (140mm), and rounded traditional curve.
>>> Review of the Fizik Mistica saddle
The Fizik Cyrano 00 is available in widths from 40cm (which we have here) through to 46cm in 2cm increments and is also available in two top diameters – 24.8mm and 28.8mm. The clamping area diameter remains 31.8 on both.
>>> Would you benefit from narrower handlebars?
With a short 80mm reach, this bar is intended for less flexible riders who want a more upright position. In my case it meant that I had to use a longer 130mm stem over my normal 120mm in order to get into my usual position.
These bars are incredibly light at just 174g for our 40cm test pair. I was worried that this would compromise the stiffness, but having sprinted on them and ridden them up 30 per cent climbs I felt no flex.
There is no fiddly cable routing either, instead the Fizik Cyrano 00 has a very simple, but highly effective solution. The front of the tops has a flat profile to route your cables against under your bar tape. Once wrapped with bar tape this creates a traditional round bar shape that feels really comfortable in the hand.
Thank you for reading 10 articles this month* Join now for unlimited access
Enjoy your first month for just £1 / $1 / €1
*Read 5 free articles per month without a subscription
Join now for unlimited access
Try first month for just £1 / $1 / €1
Oliver Bridgewood - no, Doctor Oliver Bridgewood - is a PhD Chemist who discovered a love of cycling. He enjoys racing time trials, hill climbs, road races and criteriums. During his time at Cycling Weekly, he worked predominantly within the tech team, also utilising his science background to produce insightful fitness articles, before moving to an entirely video-focused role heading up the Cycling Weekly YouTube channel, where his feature-length documentary 'Project 49' was his crowning glory.