Would you benefit from narrower handlebars?
Narrow bars reduce your frontal area and make you more aero, but are they a practical modification for regular road riders?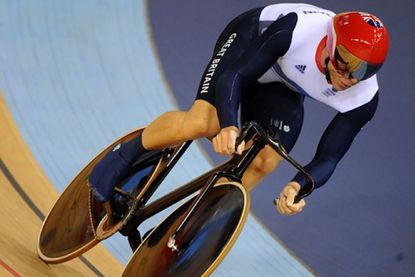 Get The Leadout Newsletter
The latest race content, interviews, features, reviews and expert buying guides, direct to your inbox!
Thank you for signing up to The Pick. You will receive a verification email shortly.
There was a problem. Please refresh the page and try again.
Look at a sprinter's bike in a track race and you'll notice it has very narrow handlebars. British Cycling and Chris Boardman were among the first to exploit the aerodynamic benefits of narrow bars, and in the run-up to the Beijing Olympics, when the hunt for marginal gains became paramount, standard 42cm bars were swapped for much smaller sub-30cm ones.
>>> The best handlebars: a buyer's guide
With narrow bars, the rider's frontal area is more compact, making it possible to push through the air quicker and easier. Does this mean narrow bars are advantageous for all of us?
Sir Chris Hoy raced with bars as slim as 22-26cm, and today still rides with narrow 36 or 38cm bars on his road bike.
>>> The best handlebar tape, and how to wrap it (video)
"The benefits are purely aerodynamics but not necessarily in the way that people think. It's not just about making yourself narrower; it's what happens to the air once it hits your arms. What you are trying to do is get your arms closer to breaking the air over your legs and the rest of your body," he says.
"It feels a little bit odd at first getting used to narrow bars; people think they won't have the same leverage or the same control. [Within a week] you get used to it [and] narrow bars feel better, you feel more efficient."
Question of comfort
Ben Hallam talks us through handlebar height and reach
Getting aero is not the only consideration when choosing handlebar width. Ben Hallam, head of bike fitting at Bespoke Cycling, says the choice also depends on what type of rider you are and your riding.
>>> Which climbs faster – an aero bike or lightweight bike? (video)
While he agrees that for racing, where aerodynamics are top priority and narrower bars therefore worthwhile, he recommends bars matching shoulder width for those who frequently ride long distance, endurance events or sportives — to maximise oxygen intake and comfort.
>>> How much faster is an aero bike? (video)
"If they are looking to ride in the mountains, to ride uphill where aerodynamics [barely matter], getting oxygen into your body is the key thing," he explains.
"If they are pencil-thin and have very narrow shoulders, necessitating a narrow bar, then great. That keeps the shoulders nice and open but everything running in line with the mechanics of their body."
Get aero, get faster
However, Chris Newton, an Olympic medallist on the track and now coach at British Cycling, believes the aero advantage of narrow bars "outweigh anything else", i.e. should be a higher priority than oxygen intake.
Newton turns on its head the view that narrow bars are less comfortable. "There's nothing to stop riders now going from 40 to 38, or 42 to 40, just coming in a little," he says. "Going wider feels more uncomfortable; you seem to be falling forwards and splayed out."
>>> Top 10 turbo training mistakes
Hoy agrees, and points out that a rider may benefit from increasing their resistance to air in training. "When I go back to 40 or 42 or even 44 now, it feels like you're a parachute — you're almost catching the wind like a big basking shark, dragging stuff behind you," he says.
Our take
Pro track riders have been using narrow handlebars for years, and some bikes at the Tour de France have been seen fitted with them too.
While aerodynamics aren't top priority for everyone, narrow bars do offer potential gains for us all.
>>> Should you really train like a pro?
However, those who mostly ride long distances or specialise in climbing should ensure that whatever bars they choose are first and foremost comfortable, rather than being aero-obsessed.
What the experts say
Yes: Sir Chris Hoy, six-time Olympic champion, founder Hoy Bikes
"Bite the bullet and just go for it. I've got broad shoulders but I ride 38cm bars on my road bike, and I'm not even aware they are narrower than normal. [Whatever your level] who wouldn't wish they could push through the air a little bit easier?
>>> How to set your handlebar height (video)
No: Ben Hallam, head of bike-fitting at Bespoke Cycling
"It depends on the person and the application. When I'm looking at handlebar width, I'm definitely looking at the application that the bike is used for.
"If it's long-distance, endurance riding, sportives, a long time in the saddle. I want the bars to be the same width as the person's shoulders."
Thank you for reading 20 articles this month* Join now for unlimited access
Enjoy your first month for just £1 / $1 / €1
*Read 5 free articles per month without a subscription
Join now for unlimited access
Try first month for just £1 / $1 / €1
Get The Leadout Newsletter
The latest race content, interviews, features, reviews and expert buying guides, direct to your inbox!