Café du Cycliste Martine bibtights review
The Café du Cycliste Martine bibtights are part of the French brand's premium performance range. They do, however, come with a premium price tag to match, costing a wince-inducing £187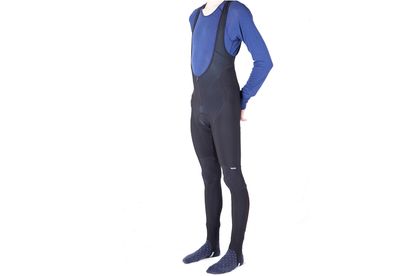 Ultimately, these are great-fitting and really comfortable tights that are warmer than their slightly thin nature would suggest. However, for £187 I would like to see them beefed up a bit more, and a better wicking pad put into place. That said, if you're looking for a premium pair of tights, these will do the job nicely.
Reasons to buy
+

Excellent fit

+

Really comfortable

+

Warmer than their lightweight nature would suggest
Reasons to avoid
-

Expensive

-

Thin around the knees and crotch

-
First things first: the quality of the material and fit of the Café du Cycliste Martine bibtights is obvious straight away. The extended back leads into the bib straps nicely without any bagginess. It's a nice touch that adds extra warmth and protection when leant over the bars.
Inside, the back and sides are lined with a fleecy material that keeps things both soft and comfortable.
There's also been some intelligent application of materials, especially on the quad and calf areas. These are covered in a different style of paneling that allows greater breathability.
>>> Buyer's guide to bib tights, plus our top picks
The fit of the Café du Cycliste Martine bib tights is great. Once on, there was no bagginess around the knees or the ankles and no extra, unwanted material.
The stirrups and bib straps also helped keep everything where it should be for the duration of long rides. Meanwhile, the large, comfortable pad kept everything else where it should be, too.
However, I did find that the pad didn't wick particularly well, something which became increasingly noticeable over longer rides.
Most importantly, though, these are very comfortable tights. There's no seam chafing or uncomfortable rubbing, and they're soft and supportive.
Watch: Buyer's guide to cycling winter clothing
Technical performance
Having tested these through those classic British winter days where the weather is blustery and on the chilly side, I knew they were fine in temperatures above 5°C.
Crucually, they were also able to perform really well when the snow came.
I'll admit I was a little sceptical about how they'd hold up in colder temperatures, as they're thinner than my go-to Pearl Izumi winter tights, but I was pleasantly surprised.
They kept me warm on a four-hour ride through the snow and they kept me dry too – something which can make or break a ride.
>>> Winter road bike tyres: A buyers guide
However, despite being warm, I could feel the wind through the knees and the crotch, suggesting in places they're perhaps a smidge too thin. It'd be nice to see these areas beefed up to add a little extra protection on days when the north wind's blowing.
Café du Cycliste's attempts to add overall breathability to the bibs have also worked. At the end of rides, the tights were never damp and they also never got too smelly – a sure sign that something isn't removing perspiration correctly.
Thank you for reading 10 articles this month* Join now for unlimited access
Enjoy your first month for just £1 / $1 / €1
*Read 5 free articles per month without a subscription
Join now for unlimited access
Try first month for just £1 / $1 / €1