Sportful Total Comfort bib tights review
Designed to meet the demands of winter without sacrificing comfort, the Sportful Total Comfort bib tights could be just what you need to get you through the colder months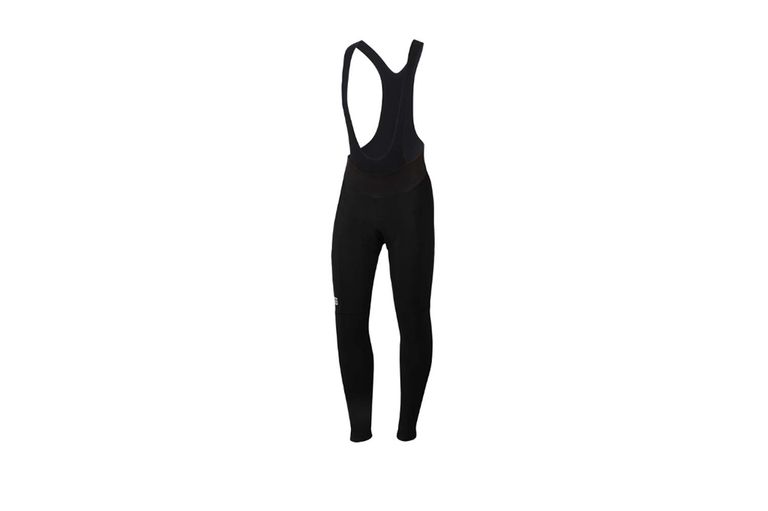 Coming in male and female specific versions, the Sportful Total Comfort bib tights are a decent pair of winter tights that could easily become a go to piece of kit, as long as it doesn't rain.
For
+

Double front Insulation

+

Wind resistent

+

Breathable

+

Reflective detailing

+

Total comfort pad

+

Laser cut bib upper

+

Male and female versions

+
Against
-

No water resistance

-

Price for male version

-
When the Sportful Total Comfort bib tights first landed, a few years ago, I was super excited. I had been a fan of the first iteration of the Total Comfort bib shorts and it's leopard print chamois having thanked my lucky stars for gambling on wearing them for the first time when I rode a lap of Mallorca.
>>> Best bib tights for autumn and winter 2018/ 2019
But that was in my cycling fit distant past, and since then the Sportful Total Comfort franchise has had a bit of a rocky path. The latest version of the bib shorts hit a, no pun intended, bum note with us back in the summer, and while I seemed to get on ok with the first generation of the shorts - the men's only bib tight's just didn't work for me - so I was, literally, left out in the cold.
But, it's now time to draw a line in the sand regarding what's gone before as now we have a women's version of the Total Comfort bib tights. Huzzah!
Construction
In the main, both mens and women's versions of the Sportful Total Comfort bib tights follow the same design and construction method.
The fleecy backed polyamind (best know by the brand name Nylon) and elastane (Lycra) mix fabric is used throughout the lower part of the bib tights. It's made up of exactly the same ingredient percentages as the widely used Roubaix fabric, well know for it's thermal and breathability qualities. It's a similar fabric to what's used in the Sportful Fiandre NoRain Women's bib tights, but without the NoRain layer, and even similar consistency to the secret Swiss fabric used in the construction of the Assos Habutightsmille S7, which won a CW 2017 Editors Choice Award, but again without the water-resistant element.
As well as being warm, the fabric is also super stretchy, which means, in terms of fit, it will be pretty body hugging - ideal for assisting the thermal properties of the Sportful Total Comfort bib tights by keeping warm air that gets trapped in the downy fleece close to the body.
This stretchy fabric alone, however, doesn't provide much in the sense of wind resistance, so Sportful have doubled up on the fabric at the front from stomach to shin. It's a key area in terms of wind blocking as it takes the full force, and by restricting this thicker layer, it allows the rest of the tights to be lighter and unrestrictive.
Elsewhere, the bib uppers use a laser-cut lie-flat design, which also helps keep the overall weight down to 348g (women's small), while at the other end of the Sportful Total Comfort bib tights the calves are showered in subtle reflective dots and closed with Camlock zips at the ankle.
Both versions of the bib tights use use a gender specific Sportful Total Comfort chamois, which uses up to 18mm of padding as and pressure relief channels.
The Ride
It was with some nervousness that I pulled on the women's Sportful Total Comfort bib tights. I had great hopes, but was concerned after this years bib short dive bomb, that they might miss the mark again.
I'm pleased to say that I feel Sportful are back to its best.
Cut wise, the bib tights are spot on. I'm so pleased to see the re-introduction of the laser-cut lie-flat upper. It gives the tights a quality finish and they spread the pressure across the whole of the upper, so are totally forgettable once on.
One of the things I really struggle with in terms of winter riding motivation is how trussed up you can feel with winter kit on and by simply strategically placing the double layer of thermal fabric allows the bib tights to feel lightweight and unrestrictive.
The fit this layering system gives is body hugging. In fact, I actually found the fit of the Sportful Total Comfort bib tights more comfortable than shorts and leg warmers, which I find can gather behind the knee and eventually rub. Keeping the single later of fabric here means this wasn't an issue.
Once out rolling on the bike, and the double layer front is much appreciated. The Roubaix like fabric alone is never warm enough as it's really pretty permeable, stretch it and hold it up to the light and you'll see exactly how permeable.
It is, however, great for breathability. So by blocking the through draft with the extra front layer the Sportful Total Comfort bib tights become an ideal option for reasonably hard riding, especially if you have a hilly ride on the agenda, as I found myself on early on in the autumn, which being based in the north, is akin to a southern winter.
It's not often we see snow in October, but snow we got and with it temperatures hovering around zero. Sportful don't actually put a temperature range on these bib tights, but I would say it was possibly a bit too cold for them - if you don't head to the hills. Which was exactly what I did, slightly naively as with hills comes colder temperatures and more snow, but being fairly confident that the chances of ice was limited, I had to find a way to warm up.
And warm up I did. I made the error of attacking the bottom of the well known Brickworks climb in the Peak District, like a scalded cat, thinking it was a good way to get the blood pumping. I did ok up to the industrial units a third of the way up, were I promptly ran out of gas and died a sorry death for the rest of the climb. I even made the classic misjudgement of where I was on the climb by thinking the first farm after the steep bit was the last of the climb, before rounding the corner and remembering I still had further to go.
My legs by now were not just warmed up, but worn out, and it was a case of un-pretty pedal jumping to haul myself to the crest of the climb. I was certainly sweating, but didn't experience any pooling of it behind the knees or stomach area.
Considering how much I'd been in and out the saddle, the tight's did a really good job of keeping the chamois in position. A pad that doesn't remain firmly adhered to my backside when out the saddle is a massive pet hate of mine, not only is it uncomfortable and can lead to friction sores, but it's also damn right icky and annoying to have to constantly sit back down on to cold damp cushion overtime I sit back in the saddle.
Sure the Total Comfort pads are going to be for everyone, but in terms of long winter club runs when you're spending several hours in the saddle, it's certainly worth considering trying something beefier than a slimmed down summer race style chamois.
For those that have had the privilege of tacking Brickworks, you'll know that from here all roads lead down, before going back up, before going back down. There's no escaping this undulating terrain in order to get home (assuming you don't 180 it and head back down the way you've come).
It's a good test of any bike related kit or bodily form, a sort of mother nature interval test. While my legs might have not scored particularly highly, the tights however faired much better. The wind was significantly reduced on the front of my legs on the sharp descents over tights which use just one layer of Roubaix fabric, but when I needed them to start pressing on the pedals again, I found that I wasn't by any means restricted.
I do feel that Sportful have missed a couple of tricks here in terms of water resistance and reflective detailing positioning.
I understand that it probably doesn't want to dilute it's own water focused Fiandre range, but a swift DWR (durable water repellent) coating, such that it's done with it's NoRain range of arms and legs would have given the Sportful Total Comfort bib tights bit more depth and application.
In terms of reflective detailing - I'm loving what it's done with the subtle dotting on the calves - but once you've got a pair of overshoes on (assuming that you are on the over tights side of the fence) half of it is covered up. If sportful were able to add some additional detail up the back of the legs/ across the backside/ at the side of the thighs it would instantly make these tights stand out from the crowd.
Value
It's great to see Sportful delivering again and equally across both sexes, but what isn't so equal is the price with the women's coming in at £20 less than the men's at £130. It's a fair price to pay for a rouleur pair of tights that will probably become a go to piece of winter kit - unless it rains.
But with the blokes version costing £150, I think that might be a bit pricy, especially as you're going without water resistance.
They are good, but not award winning, and at only £20 cheaper than the Assos Hautightsmille S7 you'd expect them to be much closer for that price.
Hannah Bussey is Cycling Weekly's longest serving Tech writer, having started with the Magazine back in 2011.
She's specialises on the technical side of all things cycling, including Pro Peloton Team kit having covered multiple seasons of the Spring Classics, and Grand Tours for both print and websites. Prior to joining Cycling Weekly, Hannah was a successful road and track racer, competing in UCI races across the world, and has raced in most of Europe, China, Pakistan and New Zealand. For fun, she's ridden LEJoG unaided, a lap of Majorca in a day, win 24 hour mountain bike race and tackle famous mountain passes in the French Alps, Pyrenees, Dolomites and Himalayas. She lives just outside the Peak District National Park near Manchester UK with her partner, daughter and a small but beautifully formed bike collection.