Ridgeback Voyage first ride review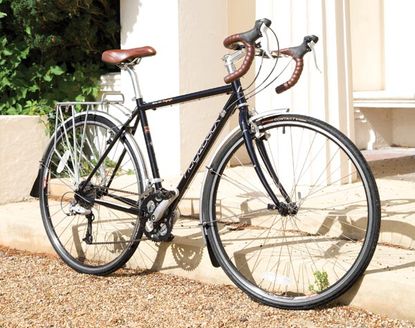 You can trust Cycling Weekly. Our team of experts put in hard miles testing cycling tech and will always share honest, unbiased advice to help you choose. Find out more about how we test.
Words and photos: Chris Catchpole
This article is known as a 'First Ride'. But here at CA we're a thorough lot and we tend to give our bikes a proper testing. On this occasion though, I may have gone a little beyond the call of duty. I decided to coincide the test of this bike with a cycle tour I had planned. 1,000 miles later, here we are.
A steel frame is a given for a touring bike, and for the Voyage Ridgeback has chosen Reynolds 520. A more affordable (but slightly heavier) option in the Reynolds range, that's just as comfortable as you want it to be. When combined with the big Continental tyres, you're in for a really smooth and comfortable ride.
Rolling underneath are Alex rims on Shimano hubs. A solid enough combination, and one that easily lasted the 1,000 miles. Beyond just 'lasting' the distance, the wheels stayed true and strong each day. The stand-out part of the wheelset was actually the comfy tyres. 32mm Continental Contacts never punctured and offered a great combination of low rolling resistance on the road and grip on bridleways — a must for the more exciting parts of any cycle tour.
Stopping my heavy load and me was a pair of Tektro cantilever brakes. A nice extra are the top-mounted brake levers, which work in conjunction with the brakes located on the drops. When I say 'stopping' though, what I mean is 'vaguely slowing the bike down'. When compared to the disc brake-equipped bike of my riding partner, the brakes were hard work. At least I've got big strong hands now.
The drive was provided by a Shimano family gathering; a Deore rear derailleur accompanied an 11-32 cassette. At the other end an Alivio triple chainset and a roadie Sora front derailleur combined to complete a generally reliable shifting experience, with more than enough gears for our rolling hills. Mismatched groupsets tend to be a by-product of a tight budget, but in this instance the money was generally spent in the best places. I appreciated the more expensive Deore rear derailleur — it coped well with the wide-ratio cassette. And the front Sora derailleur, once correctly adjusted, was reliable enough.
While the cables bedded in and I got used to the Shimano clan's differing personalities, I must have pushed the chain off a dozen times. The deftness of touch I learnt to administer was remarkable. Not only are my hands strong now, they're delicate too. A deadly combination indeed. Anyway, once I had a chance to readjust the cables/mech, and learnt how to control my new friend, the groupset offered reliable shifting for the rest of my ride.
I was pleased at the performance though, considering the mishmash of components. It shows you don't have to spend more on a groupset than this whole bike costs if you want to go a long way. Perhaps this is easier to say when riding in England, where there is almost always a bike shop or friend, at most, a few hours away.
Carrying a full rear rack of clothing gear and camping equipment, and front racks filled with books and food, the bike was solid as a rock. But that's to be expected. An extra 25kg (on top of a 14kg bike) would make anything feel planted and stable. What wasn't apparent (and I was thankful) was any serious evidence of front or rear-end wobbles, sometimes a problem when carrying a heavy load. Any movement from the rear end — created, for example, by standing out of the saddle — was easily controlled (usually by sitting down). Yes, what was I standing up for in the first place?
If it wasn't completely clear already, this a lot of machine for the money. There are dedicated worldwide touring machines out there, but expect a significant jump in price before you find something that really stands out in comparison.
That said, this isn't something I would use for a worldwide expedition, but only for two reasons. I wouldn't trust the mixed-up entry-level group set to be reliable enough over thousands of miles of touring, especially on anything less than smooth and dry tarmac roads. The wheel combination was good, and should provide many miles of reliable running, but they're perhaps not strong enough for the real rough stuff.
Realistically though, this bike was never really designed for vast quantities of international touring. If you're in the market for a comfortable touring bike though, the Voyage is a definite contender.
Upgrade tip: Saddle up
Get that saddle replaced by something long lasting and leather. Brooks saddles are famous for their high-mileage comfort, and for good reason. The amount of padding in the Voyage's saddle looks reassuring at first. And after 10 miles you'll be praising its gentle caress of your rear end. But after 100 miles (and beyond) you'll be wishing for something with support. A real sore point. Literally.
Ridgeback Voyage
Frame Reynolds 520
Fork chromoly
Gears Shimano Sora/Deore, Alivio chainset
Wheels Shimano RM70 hubs & Alex ACE-19 rims
Tyres Continental Contact 700 x 32c
Handlebar 6061 aluminium Ergo Tour
Stem Alloy threadless
Saddle Tour Comfort
Seatpost alu 27.2mm
Weight 13.7kg (30.1lb)
Frame size tested 50cm
Colour Gloss black
Brakes Tektro 992AG
Brake levers/shifters Shimano STI with Tektro 570 top levers
Cassette Shimano 11-32, 8sp
Price £849.99
Alternative
Thorn Sherpa £1,200
If you're planning a trip that covers a little more off-road action, or you're just in need of something bulletproof, stop looking right now. Thorn's Sherpa has tougher 650c wheels. Is made with Thorn's own seamless steel, and comes with a lifetime guarantee, so you don't ever have to worry. The best part is that each Sherpa is made to your specifications, so you can spend whatever it takes to make it the exact bike you need it to be.
Thank you for reading 20 articles this month* Join now for unlimited access
Enjoy your first month for just £1 / $1 / €1
*Read 5 free articles per month without a subscription
Join now for unlimited access
Try first month for just £1 / $1 / €1