Prime Doyenne 56 Carbon Disc review
Lower cost wheels to add a bit of free speed to any road bike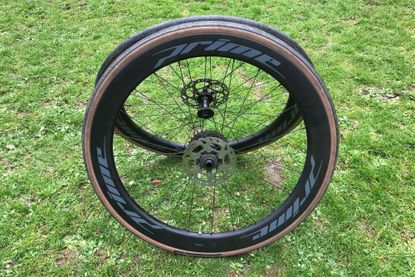 (Image credit: Jack Elton-Walters)
The Prime Doyenne 56 Carbon Disc are more affordable wheels that will improve most bikes - a good value package that packs a punch on the flat and short, sharp inclines.
Reasons to buy
+

Stiff and responsive

+

Noticeably faster than the shallow rims they replaced on test bike

+

Look great

+

Good value compared to bigger name brands

+

Cope reasonably well with crosswinds
Reasons to avoid
-

Heavier than some rivals, but not prohibitively weighty

-

Freehub noise could benefit from being more consistent, quieter or both
You can trust Cycling Weekly. Our team of experts put in hard miles testing cycling tech and will always share honest, unbiased advice to help you choose. Find out more about how we test.
The Prime Doyenne 56 Carbon Disc Wheelset – previously known as 'RD56' – are deep section road wheels to add a bit of aero speed to any road bike. According to Prime, the wheels are aimed at 'road riders across all disciplines who prioritise performance, technology and reliability.' On the whole, I'd say the wheels achieved these aims and are among the best road bike wheels we've reviewed – although for a full analysis of reliability any product would need a much longer testing period than I've had with the wheels.
Prime, like Vitus a brand of Wiggle-CRC, designs all rims in-house. The newly named 'Doyenne' line is a lower cost alternative to Prime's higher end Primavera wheels. The Doyenne wheels share the same profile as their Primavera cousins but they use a lower grade T700 UD carbon rather than the T800 used on the Primaveras – which means the percentage of carbon within the fibres of the lay-ups is higher in the T800.
"We just wanted to create a wheelset that was as reliable as possible whilst being easy to maintain. With improved quality and performance over their predecessors, making sure we used the best quality materials, lay-up and bearings," says Alex James, the group's global marketing manager.
Prime Doyenne 56 Carbon Disc Wheelset: construction
Riding in the wind on the Isle of Wight – which I am sure is either a sideways gust or a harsh headwind, but never a tailwind – the wheels certainly felt faster than the shallow pair of lightweight Rovals I swapped out for them. However, Prime has attempted to quantify this feeling with CFD testing, the outcome of which, the brand claims, is that the Doyenne wheels have less drag than the RD56 rims they've superseded.
"Regarding reduction in drag, we saw a 6 per cent reduction versus the old RD/black edition rim," explains Ben Marvin, Prime's design engineer. "We based this off using a 28c GP5000 tire and then took the accumulative drag from pressure and viscous forces."
The 56mm depth (those on test; 44mm also available) has an aramid fibre ('Kevlar') layer on the side walls with the intention of increasing the impact strength and purportedly lowering the overall weight of each rim. In real life, I can certainly say that the wheels bumped over and shrugged off some rough road surfaces and unavoidable potholes. They did so without sending too much impact up toward my wrists.
Without riding one set of wheels immediately after another in the same bike on the same stretch of road, to get a like-for-like feel for how different wheels cope with road blemishes, it's hard to exactly quantify the difference in comfort from one wheelset to another. However, taken in isolation, the Doyennes appeared to have a high level of shock absorption – experienced by the lack of impact reaching my wrists and the ability to hold a line rather than get bounced around, thanks to their material composition and lay-up. A level of comfort increased, no doubt, by the wider tires too.
Prime Doyenne 56 Carbon Disc Wheelset: Built for wider tires
This impact reduction was helped by running 28c tires – in this case Hutchinson Challenger – a width the wheels have been developed around and optimised for. I ran the wheels with tubes, but they are tubeless ready: set up as such and with a slightly lower pressure the impact absorption and associated improvement in comfort would be further enhanced. With the clinchers run at a pressure touching the upper end of their range, much credit for 'smoothing out' poor surfaces is likely due to the wheels.
Despite the rims, with widths of 23mm (internal) and 30mm (external), being designed around 28c tires, I'd be inclined to go even wider – if there's frame clearance – to really increase the volume of the tires rolling over variable road surfaces. But that's personal preference and, as mentioned, not the tire width Prime's designers had in mind.
"The rims are optimised with regards to drag reduction based on a 28c, however due to the wider inner and outer width this allows the rim to accept a much wider tire," Ben Marvin says. "We do not recommend running these with anything wider than a 40c tire, this isn't due to the rim not being able to accept any wider but this when it will begin to affect each tire's performance and profile based on what rim width it will have been designed around."
Prime Doyenne 56 Carbon Disc Wheelset: Arrival and build quality
As is standard with new wheels, they arrived with rim tape in situ but without a cassette or tires. Getting the Hutchinson tires on was a bit of an effort, but once on they seated fine, inflating evenly all the way round. The reason for my difficulty here, allowing for a degree of my own incompetence, is likely to be due to the rims being tubeless ready.
Marvin explains: "We took feedback about the previous RD rim from customers and media, which indicated that it was tough to seal the wheels due to being slightly shallower on the inner wall of the profile of the rim as well as the seal around the valve. When we amended the profile of the rim bed to make a slightly tighter fit and allow a better seat for the valve, allowing a better seal and making it easier to set up tubeless.
"With tires now being developed not only to work with hooked rims and hookless rims, the tolerance with the ETRTO [European Tyre and Rim Technical Organisation] has become more consistent. That coupled up with the improvements on helping a better seal on the rim/tire does make it a little tougher to get tires straight out of the box (not pre-stretched) to pop on."
For the time I've had the wheels, they have stayed perfectly true. Many of the roads on the Island are pristine tarmac, but some lanes are showing wear – even so, nothing has knocked the wheels out of line. The 'Anti Bite Guard' freehub isn't too loud but can get a bit irritating, if I'm honest, as the sound is inconsistent – like a bee buzzing towards and away from you, going slightly different distances each time.
Prime Doyenne 56 Carbon Disc Wheelset: Value and conclusion
With an RRP of $639.99 / £599.99, I think these are a more than decent pair of wheels. Yes, 600 quid for a wanted-rather-needed upgrade might be a fair wedge as your new gas tariff comes through but once the money's paid and the wheels are rolling, I'm not sure anyone would be disappointed with their purchase.
A quick glance around at bigger name rivals reveals much pricier options – although, admittedly, the higher end wheels also come with lower claimed weights. But, as with everything related to cycling, such a difference can probably be cancelled by one less pint this weekend, or a new seat post using a small part of the money saved.
It's normal practice to compare and contrast products to their rivals, but here Prime has positioned the wheels in a way that makes direct comparisons difficult: either similar spec for loads more money, or different kinds of wheels (shallow, non-aero) for a similar price.
"With regard to the Doyenne wheels, we think these are pretty unique from a product point of view," explains Prime's Alex James. "They are an accessible, high-performance wheelset. The main thing from us, as a brand, is that these wheels are not cheap as they have a lot of performance tech in them."
In conclusion, I have found these wheels to be stiff and responsive – whether accelerating away from green traffic lights or trying to power up a short, sharp climb. The aero improvement that you'll find with almost any deep section wheelset was immediately apparent, the wheels weren't too sketchy in severe crosswinds either. Gone are the days of punishing wrist vibrations when using high spec wheels on blemished road surfaces, these wheels roll along quickly and comfortably, adding to the enjoyment of any ride on a bike hosting them.
Thank you for reading 20 articles this month* Join now for unlimited access
Enjoy your first month for just £1 / $1 / €1
*Read 5 free articles per month without a subscription
Join now for unlimited access
Try first month for just £1 / $1 / €1