Wahoo Kickr Steer first ride review - a more promising take on steering for indoor cycling
Wahoo's development of both the hardware and software - with the new Kickr Steer unit and updated RGT app - makes for a neat complete package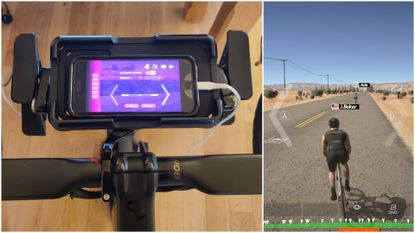 (Image credit: Joe Baker)
Overall, the Wahoo Kickr Steer is a really neat piece of tech and with the way Wahoo has integrated steering into RGT, if any steering system is to gain broader traction it's most likely to be this one. That said, at $99.99 / £89.99, the Wahoo Kickr Steer is a fairly pricey addition an indoor training setup - especially as you are likely not to use the functionality during actual training sessions. The benefits would mainly be reaped by those who prefer 'free riding' either on their own, in groups or in races.
Reasons to buy
+

Steering is easy and intuitive through the 'paddles'

+

Quarter-turn tray mount is useful in general

+

The RGT platform provides good integration
Reasons to avoid
-

The Kickr Steer unit is expensive

-

The steering still doesn't replicate real-life movement on the bike

-

The extra 'engagement' is incremental, similar to gradient and road surface simulation
You can trust Cycling Weekly. Our team of experts put in hard miles testing cycling tech and will always share honest, unbiased advice to help you choose. Find out more about how we test.
Get The Leadout Newsletter
The latest race content, interviews, features, reviews and expert buying guides, direct to your inbox!
Thank you for signing up to The Pick. You will receive a verification email shortly.
There was a problem. Please refresh the page and try again.
Wahoo is right at the sharp end when it comes to bringing the outdoor cycling world in. Now, though, the Atlanta based brand is looking to take its success in the indoor training sector further with its introduction of the Wahoo Kickr Steer - could this take off in a sphere where other, similar, units have failed to gain much traction?
Just backing up for a moment, Wahoo is introducing steering to the RGT virtual cycling app, which is one of the two apps that sit within the Wahoo X training bundle. The first, RGT, gives you access to virtual riding and racing, whilst the second, Wahoo SYSTM, is where you'll find a huge workout hub for structured training to follow both on and off the bike.
Now, with Wahoo's new Kickr Steer device, or the handlebar controls on the brand's latest Kickr bike, riders will be able to take advantage of the new steering capability on the RGT.
We've had a chance to roam around the virtual roads on RGT - read on for our first thoughts on the new Wahoo Kickr Steer device and how well it integrates with the RGT platform as part of Wahoo X.
How to make use of Wahoo RGT's new steering functionality
But first, how does it all work? Well, there are a couple of ways in which Wahoo has implemented steering to RGT's virtual roads - with the first and most notable being by use of Wahoo's new Kickr Steer unit.
The Kickr Steer is essentially a tray table for your phone which attaches to an outfront mount. This makes the attachment and detachment for when you switch between riding indoors and out pretty much as quick and easy as popping on a bike computer.
The tray is able to pivot slightly from side to side - a bit like the arm of an old-fashioned set of scales - when you press on either of the handles on each side with your thumb. The accelerometers in your phone then detect the tilt and relay your steering inputs through the Wahoo Elemnt companion app to move your avatar on the virtual roads with the RGT platform.
It's important to note that you don't twist the bars at all, as with the Elite Sterzo. It's all done by tipping the tray which your phone is resting on. Although this is perhaps not the most obvious way to control your avatar, in use it feels pretty natural.
The second way of steering your avatar in game is with the Kickr Bike V2 and using the control buttons on the handlebars. Then, the third and final way is by using the on-screen arrows or computer keyword on the RGT Mobile Remote App or on the RGT Game App.
For a more in depth guide on the techy details about the launch, you'll find these over here.
Wahoo Kickr Steer: device setup
I was impressed with how easy it was to set up the device. The Kickr Steer attaches with a clip system to standard bars to the included outfront computer mount which makes it easily interchangeable with your chosen GPS computer. Brownie points also due here for the included 3 and 4mm allen keys that clip neatly underneath the Kickr Steer so you always have the tools on hand to tweak your setup.
Once the outfront mount was in place, I adjusted the width of the control handles/paddles. A slight issue here was the adjustability. Although rated for 36-46cm bars, the unit seemed quite cramped between my 38cm bars. Yes, I am at the narrower end of the spectrum here, but given that the phone platform itself had plenty of room for my larger device, it would have been nice to see a slightly more compact design - especially with narrower bars becoming ever more present.
With everything in place, I turned my attention to the build quality. Wahoo has used predominantly soft touch plastics for the construction of the Kickr Steer and although they did stand up well to excessive turbo perspiration, I noticed a few burrs left over from the moulding process. This, along with some for and aft play in the pivot mechanism, left me pondering the $99.99 / £89.99 price tag.
Wahoo Kickr Steer's integration with Wahoo RGT
Wahoo's integration of steering into RGT has gone pretty well and, in the small time I have had with the Kickr Steer, it's fair to say I have seen its potential.
When I hopped on RGT for the first ride, I set up and calibrated my phone through the Wahoo Elemnt companion app and turned off my auto-steering stabilisers. My first few hundred metres of riding reminded me somewhat of learning to ride a bike again, wobbling a little from side to side as I learned the sensitivity of the controls. Beyond this point though, steering in the game started to feel pretty natural.
The one thing I would say here is some lag was present here. Poor connection certainly could have been a factor, with the sub-par WiFi where I was testing along with older bluetooth 4.2 connectivity. The issue, though, is that this makes it hard to be precise with your positioning, and the slight delay from the inputs leads to a slightly 'boaty' handling until you get used to things.
I wasn't able to experience any of Wahoo's new 10 Hz data refresh rate, which could potentially have made a large difference to my experience of the steering. Stay tuned for our full review when we will have had the chance to try the Kickr Steer in its fully optimised setup.
In terms of what the steering adds to RGT's platform, it does make indoor riding a little bit more engaging. It's not a revolutionary step-change, like going from a 'dumb' trainer and staring at your garage wall to hopping into a virtual world for the first time. It's more like the automatic resistance changing of smart trainers, and how your periodic gear shifts give you something else to think about.
But just like the 'gradient realism', the steering isn't something I used at all times when riding indoors. With structured training sessions, I would still revert back to auto steering to allow for maximum suffering.
Group rides and races are where steering comes into its own. Even on 'Just Ride' mode, when passing (and getting passed by!) other riders, I couldn't help but line up my slipstream for a noticeable speed boost. The 'watts saved' graphic in the top left of the screen is a great motivator for closing the gap to wheels in front.
In my short time with the Kickr Steer, I didn't get a chance to try out any racing on the RGT software - so that's still to come in our full review - but I was assured of the concept by riding with larger groups. The ability to choose where you move up through a group and share work on the front of the bunch is compelling.
Steering the bike by tilting the Kickr Steer, as opposed to anything linking up to your handlebars, feels more natural when speeds are higher - in reality, you rarely twist the bars much when steering on the road and the Kickr Steers handles for tilting are very convenient.
It's also worth mentioning that simply having an outfront mount for your phone to act as a controller for what's on screen is also really useful just in itself - no more awkwardly reaching over to your keyboard if you're using a computer setup!
The real question, though, is how well this device integrates to the virtual roads of the RGT platform. For a first software release, Wahoo has done an impressive job at creating a product that does actually make indoor riding more immersive.
The in-game physics engine in Wahoo RGT already feels like it works well alongside Kickr Steer. Simple things, like finding the slipstreaming sweetspot behind other players, felt natural. Also neat is the graphic in the top left that tells you how well you are sitting on the wheel in front. Things like this are what can create a more realistic feel of, say, fighting for a wheel in a road race.
And racing itself is where I see the greatest reach for this technology. During training rides a lot of cyclists will turn the auto-steering function on, as you'll want to focus on hitting the interval targets in a workout.
But virtual racers will have the chance to actively share work in the wind, peeling off and letting others through and, coupled with proximity chat becoming available in game, I can see an almost criterium-like atmosphere being showcased from the comfort (or discomfort) of your home paincave.
Still, Wahoo will have to come up with an answer as to how to make this functionality fair - it would be a shame to penalise riders who can't afford to invest in another piece of technology for online racing, after all.
Thank you for reading 20 articles this month* Join now for unlimited access
Enjoy your first month for just £1 / $1 / €1
*Read 5 free articles per month without a subscription
Join now for unlimited access
Try first month for just £1 / $1 / €1