Wahoo launches steering for its RGT indoor cycling platform: 'a new level of strategy and engagement'
Added realism can be accessed via a new Kickr Steer smartphone accessory or existing thumb buttons on the Kickr Bike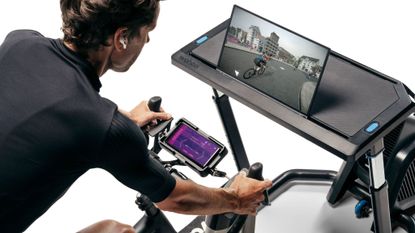 (Image credit: Wahoo)
Get The Leadout Newsletter
The latest race content, interviews, features, reviews and expert buying guides, direct to your inbox!
Thank you for signing up to The Pick. You will receive a verification email shortly.
There was a problem. Please refresh the page and try again.
Wahoo has introduced steering to its virtual cycling platform RGT. The new integration will be controllable via the US brand's software and accessed via the Kickr Bike or a new accessory that mounts to the handlebars of a standard bike when used with a turbo-trainer.
Steering on the Wahoo Kickr Bike will work through the existing integrated thumb buttons on its bars while the new Wahoo Kickr Steer accessory works with a smartphone and the RGT Remote app.
Incidentally, the Kickr Bike's thumb buttons can also be used to steer on Zwift.
We've had a chance to roam around the virtual roads on RGT with the Wahoo's new device for those using smart trainers - find our first thoughts on how well the Kickr Steer integrates with RGT over here.
The Wahoo Kickr Steer allows riders to steer their virtual bike via thumb paddles that provide, according to Wahoo, an intuitive physical method for steering. It is effectively a smartphone holder that tilts the user's device, activating its gyroscope and accelerometer, which input the steering commands via the RGT app.
The Kickr Steer fits standard handlebars between 36-46cm and comes with a dual-purpose aluminium mount that can also be used for an Elemnt or Garmin head unit when riding outdoors (the idea is that you can use one mount for both indoor and outdoor riding) and will cost $99.99/£89.99.
If you have neither a Kickr Bike nor the Kickr Steer, you can still access the steering function through the RGT Mobile Remote App or on the RGT Game App by using on-screen arrows or by using a computer keyboard - both will steer the rider left or right along RGT's roads. But this method is obviously not as 'integrated' since it requires taking hands off the bars.
Previously, an avatar's position on the road was automated, with riders using power to move around other cyclists. Now with RGT's new steering function, manoeuvring around other riders becomes part of the experience adding, in Wahoo's words, a new level of strategy and engagement to virtual rides.
The idea is that riders can find the sweet spot in the middle of the pack, push the pace at the front, cut a corner to move up or pull around to mount an attack. When combined with RGT's Race Radio, says Wahoo, riders can communicate and interact, to benefit from group dynamics.
We spoke to Wahoo's product manager Tyler Harris to get a little more background information as well as some extra detail on how it works.
"When we launched the Kickr Bike in 2019 we envisioned steering back then and that's why we included thumb buttons," he said. "But we realised that most people are not on a Kickr Bike, they're on a traditional Kickr, Kickr Core or other direct-drive trainer and using a traditional road bike.
"So for them we've developed the Kickr Steer accessory, which includes a premium aluminium out-front mount. You just clip the Kickr Steer accessory onto the out-front mount, place your smartphone in it and and use the RGT remote app and your smartphone's gyroscope and accelerometer."
"If you think about steering outdoors you lean rather than turn the handlebars once you get up to speed. So through the tilting mechanism it's more intuitive rather than turning the handlebars around 30 degrees either way."
Harris appears to be referring to the Elite Rizer, which is similar to the Wahoo Kickr Climb in that it raises the front of the bike when on a virtual climb. But, unlike the Kickr Climb, the Elite Rizer features steering - by turning the bike's bars, which, says Wahoo, is not as realistic.
Now Wahoo has both the rising/climbing functionality and the steering.
We asked Harris another question that Wahoo's press release didn't address: what happens if you don't want steering, if you just want to concentrate on pressing on the pedals?
"We've also worked on auto avoidance so that if you're doing a structured workout and you don't really care about steering for that day, you're just watching Netflix and getting your workout in and racking up some miles. If you come up behind someone slower you'll auto steer around them if you're putting out more power."
Wahoo's indoor training rival Zwift introduced steering in 2019 for an off-road section, and in 2020 expanded it. The Elite Sterzo smart steering plate was originally the only available hardware that could be used and now there's the Elite Rizer and other smart steering devices such as the JetBlack Smart Turn Block and these can be used to steer on any course on Zwift.
Most organisers of Zwift races disable steering from races to prevent the users with steering to gain a competitive advantage (by taking the racing line, for example) but there are still some steering races on Zwift's calendar.
RGT racing is arguably more realistic than Zwift's, with braking and cornering already built into its in-game physics, so steering is its logical next step.
Zwift has two routes - on Repack Ridge - which can use the Zwift Companion App and a smartphone mounted centrally to the bars with no need for a third-party smart steering device. As with Wahoo's Kickr Steer, the smartphone's accelerometer inputs the steering commands - but it's activated by turning the bars rather than with a specifically designed accessory.
Overall, it's fair to say in 2023 Zwift's steering looks slightly underused.
It will be interesting to see how much take-up there will be for Wahoo's steering function. Arguably it's more accessible than Zwift's with multiple ways to access it and the Kickr Steer at $99.99 / £89.99 itself being relatively inexpensive as well as simple to use and - with thumb paddles to operate it rather than turning the bars themselves - possibly more realistic.
All the details are on Wahoo's website.
Pricing
Wahoo X: US$14.99 per month with 14-day trial period (£135 for an annual membership), including Wahoo RGT and Wahoo Systm
Wahoo X and Kickr Steer Bundle: £179.99 (saving £45 with the bundled offer)
Wahoo X subscribers: the Steer accessory will be made available at a preferential loyalty price, for a limited time
Kickr Steer is priced at $99.99/£89.99
Thank you for reading 20 articles this month* Join now for unlimited access
Enjoy your first month for just £1 / $1 / €1
*Read 5 free articles per month without a subscription
Join now for unlimited access
Try first month for just £1 / $1 / €1
Get The Leadout Newsletter
The latest race content, interviews, features, reviews and expert buying guides, direct to your inbox!
Simon Smythe is a hugely experienced cycling tech writer, who has been writing for Cycling Weekly since 2003. Until recently he was our senior tech writer. In his cycling career Simon has mostly focused on time trialling with a national medal, a few open wins and his club's 30-mile record in his palmares. These days he spends most of his time testing road bikes, or on a tandem doing the school run with his younger son.