Bontrager Aura 5.0 review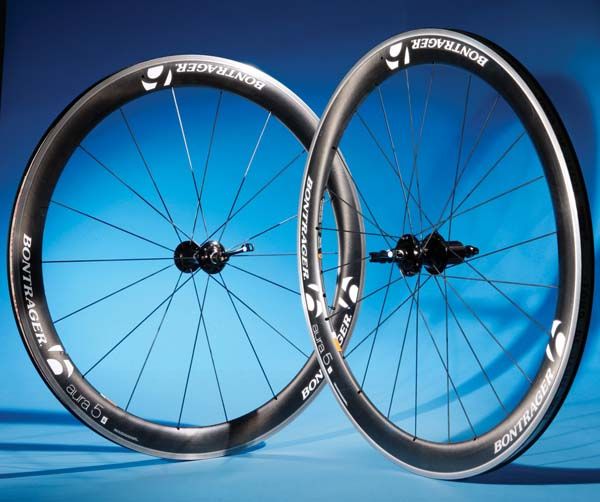 Suffice to say, it's not simply the weight and inertia that makes these fast. There is no getting away from the fact that the Aura 5.0s are very harsh-riding wheels - every road imperfection is transmitted in its entirety. These are best for short-circuit riders and crit racers, for whom they will excel. Lab test results>>
In the lab, the Bontragers were easily the most disappointing. They rarely scored well, and were the bottom of class in a few tests. Those testers that knew these results had more than a little trepidation when riding them for the first time.
However, it didn't take them long to come to the same conclusion as those who started without preconceived ideas: these are one fast set of wheels.
Like the Mavics, the Bontrager's aero component is purely a non-structural fairing, bonded to an alloy rim. But unlike the French brand, it is bang up to date with the latest in aerodynamic thinking.
Very similar in profile to the full-carbon Aeolus wheels higher up Bontrager's range, they display familiar characteristics out on the road.
Much like the Giants, they're not badly affected by crosswinds - think of any buffeting being nudge, rather than shove. They also display the same micro-fluttering - semi-instability - as the best performing aero wheels.