Venn Rev 35 TCC review
This 35mm carbon clincher from Taiwanese OEM brand Venn delivers excellent performance at a very competitive price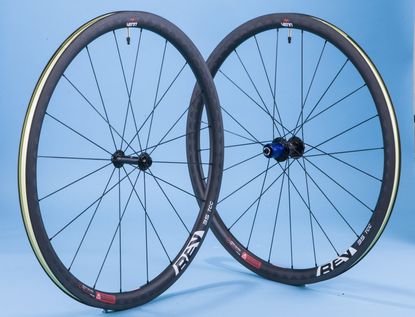 (Image credit: Cycling Studio)
These are impressively light, strong, all-round super-fast wheels at a great price.
Reasons to buy
+

Lightweight

+

Aerodynamic

+

Strong

+

Competitively priced

+

Good looking
Reasons to avoid
-

Can be too wide for certain calipers

-
Taiwanese brand Venn uses in the Rev 35 TCC a proprietary carbon-fibre manufacturing technique called filament winding, which it claims offers higher manufacturing uniformity, better performance and greater durability. As an OEM manufacturer Venn can also bring to bear economies of scale hence the low price for such an obviously good quality and technologically advanced wheelset.
The Rev 35 TCCs have a rim depth of 35mm and follow the modern trend of being wider with an external width of 27mm. Venn has wind tunnel data to demonstrate that the rounded, fat shape of the rim compares well to a deeper section, and it goes without saying that with less weight in the rim they accelerate and climb well too. The weight of 1,465g on our scales (lower than the 1,510g quoted weight) is very good indeed for a wheelset at this price.
As is virtually expected of modern rims, the Venn Rev 35 TCC rims are tubeless ready and come with tubeless valves as well as their own brake pads and QRs. We set them up as clinchers and we did have a bit of a struggle to get a set of brand new 25mm Michelin Power Competitions on due to the slight extra height of the rim wall of many tubeless-ready wheels whose manufacturers play it safe with tolerances. However, replacing the rear after pinch-flatting on a pothole (more about that later) the warmed-up tyre went on much more easily with no levers necessary this time.
The other issue with set-up was that we found the 27mm rim width can be too wide for some calipers. The pads of the Miche direct-mount calipers of our test bike wouldn't clear the Venn rims even with the cable disconnected, so we had to swap the pad spacers outboard of the caliper arm. This isn't ideal as a wide-open caliper supplies a diminished lack of mechanical advantage and decreased lever feel. Having said that, braking performance was acceptable but as expected not as linear as with a narrower aluminium rim.
J-bend bladed spokes are laced to Venn-branded hubs: 20 radial for the front wheel and 24 two-cross at the rear. Sapim nipples are external – not the ultimate in aerodynamics but making truing simple. However, the build quality of the Venn Rev 35 TCC wheels is excellent – they arrived perfectly tensioned and straight. And during one of the first rides on them we pinch-flatted the rear on a pothole with a disheartening bang and the wheel didn't move a millimetre out of true.
Ride
The Venns have been superb to ride throughout the test period. The efficient hub and the lightweight rim combine to provide excellent pickup and acceleration, they're stiff and light for climbing and, as Venn's own wind tunnel data suggests, they seem to hold their speed like a deep-section wheel without any of the incidental buffeting from gusting crosswinds. For the last month or so I've had deep-section wheels that I could have ridden on club runs, chain gangs and training rides but each time I've gone out on the Venns.
Value
At just over £800 the Venn Rev 35 TCC wheels offer almost unbeatable value for money. Supplier ProBikeKit tells us it discounts them by up to 20 per cent – which actually does make them unbeatable value.
Thank you for reading 10 articles this month* Join now for unlimited access
Enjoy your first month for just £1 / $1 / €1
*Read 5 free articles per month without a subscription
Join now for unlimited access
Try first month for just £1 / $1 / €1
Simon Smythe is a hugely experienced cycling tech writer, who has been writing for Cycling Weekly since 2003. Until recently he was our senior tech writer. In his cycling career Simon has mostly focused on time trialling with a national medal, a few open wins and his club's 30-mile record in his palmares. These days he spends most of his time testing road bikes, or on a tandem doing the school run with his younger son.