Why don't the pros use tubeless tyres?
They may be bombproof but tubeless tyres have yet to catch on in the ranks of the pro peloton; Simon Smythe asks why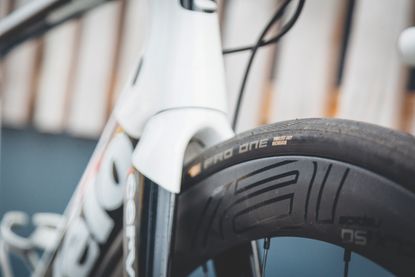 Get The Leadout Newsletter
The latest race content, interviews, features, reviews and expert buying guides, direct to your inbox!
Thank you for signing up to The Pick. You will receive a verification email shortly.
There was a problem. Please refresh the page and try again.
Tubeless tyres: what's not to like? You can run them at a low pressure without risk of pinch flats; you can also run them at an extremely high pressure without them blowing off the rim.
Thanks to the sealant that you inject into them they self-repair. Since they don't have an inner tube they're lighter and finally — and most compellingly — they are fast!
>>> The best road bike tyres reviewed: puncture resistant tyres and fast tyres
Road tubeless tyres' rolling resistance is lower than that of both clinchers and tubulars due to the friction between inner tube and casing being eliminated.
Hutchinson and Shimano pioneered road tubeless in the mid-2000s and Française des Jeux became the first pro team to ride tubeless tyres. Philippe Gilbert won Het Volk in 2008 on Hutchinson Fusion 2s and the entire team used 28mm Hutchinson Intensives for Paris-Roubaix in 2009.
At last cycling seemed ready to follow in the tubeless tyre tracks of every other form of racing that involves wheels... but then it all went quiet.
Despite pretty much every wheel manufacturer making their rims 'tubeless ready' in the last few years and pretty much every tyre manufacturer with the notable exceptions of Michelin and Continental producing tubeless tyres, the professionals still prefer tubulars.
To prove it, Chris Froome won his last three Tours de France on Continental Competition tubulars.
Airtight argument
A tubular tyre and rim has the obvious advantage of being on average lighter overall since the tubular rim, to which the tub is glued, doesn't have the rim walls that a clincher or road tubeless needs to secure it to the wheel.
On a more subjective level, pros also wax lyrical about the comfort or the 'feel' of tubulars.
But what pros like more than anything is the way tubs handle punctures. Because the inner tube is sewn into the casing, the air escapes slowly. Even when all the air has escaped it is still possible to ride the tub flat, as Froome did on stage 15 of the 2017 Tour before team-mate Michał Kwiatkowski gave him his wheel.
Abraham Olano famously won the 1995 Worlds riding the last kilometre on a flat rear tub.
But as we demonstrated this year in a video, a tubeless tyre can stay inflated despite multiple punctures by drawing pins, nails and glass — so it shouldn't be necessary to ever ride one flat.
Another criticism of tubeless relates via safety and usability to standards: When we spoke to Keith Bontrager last year, he noted that: "The international standard [for tubeless tyres and rims] is fuzzy, it's not guaranteed.
"Having a bunch of proprietary standards that aren't compatible would be a nightmare. So there is an attempt, and it is a legitimate attempt, to try to make the interface between the tyre and the rim fairly universal."
This year Mavic launched its UST [universal system tubeless] with 12 UST wheels and two new tyres — introducing a level of integration so far unseen in the tubeless tyre game. Thankfully, tyre/rim tolerances of within a millimetre should now end the standards "nightmare" Bontrager described.
>>> Buyer's guide to tubeless sealant
Will 2018 be the year the pro teams finally convert?
Expert take
Michel Lethenet, Mavic
"It's coming slowly with the teams. For instance, Rigoberto Urán was using Mavic UST tyres at the Tour de France time trial in Marseille last year. He finished in an impressive eighth place at only 25 seconds off the winner!
"Professional teams are very conservative but when they're open to test ride tubeless tyres and compare them with what they already use, they find them promising. It takes a while though.
"It's not only the low rolling resistance the pro teams are interested in — they want it all: responsiveness, light weight and other pure racing criteria.
"For the regular [non-racing] user, you have to consider other aspects such as reliability, affordability, low and easy maintenance, easy installation, comfort…
"Ultimately I'm not too worried. The professionals will embrace tubeless soon as the whole approach is providing better performance and the improvements and integration in tubeless technology are moving fast.
"Which other rolling vehicle on the planet is not tubeless now, even in racing conditions?"
Our take
As Mavic's Michel Lethenet says, pro teams are very conservative. Even Team Sky appear to have an 'if it ain't broke, don't fix it' attitude towards road tubeless. But the technology is ready: all it will take is a big pro win by a high-profile rider on road tubeless and then the rest of the peloton will follow.
Thank you for reading 20 articles this month* Join now for unlimited access
Enjoy your first month for just £1 / $1 / €1
*Read 5 free articles per month without a subscription
Join now for unlimited access
Try first month for just £1 / $1 / €1
Get The Leadout Newsletter
The latest race content, interviews, features, reviews and expert buying guides, direct to your inbox!
Simon Smythe is a hugely experienced cycling tech writer, who has been writing for Cycling Weekly since 2003. Until recently he was our senior tech writer. In his cycling career Simon has mostly focused on time trialling with a national medal, a few open wins and his club's 30-mile record in his palmares. These days he spends most of his time testing road bikes, or on a tandem doing the school run with his younger son.