How to fit tubeless tyres (video)
Tubeless tyres are gaining traction on the road. Here's how to fit them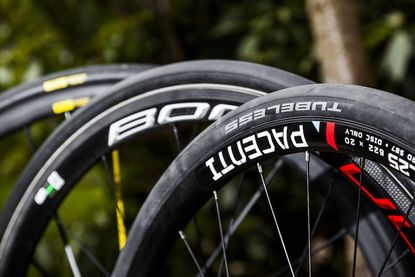 (Image credit: chris catchpole)
More and more road bikes are coming with tubeless-ready wheels and tyres, although they are usually supplied with inner tubes fitted to make shipping, storage and handling easier. And many wheelsets sold aftermarket are now tubeless ready.
>>> Can a tubeless tyre survive a nail (video)?
If you want to go tubeless, it's important to start with tubeless-ready wheels, as the rim diameter and rim bed shape are designed for tubeless tyres. Try to use a standard rim and there's a risk of the tyre blowing off. If this happens at home you'll end up with sealant all over the ceiling, but out on the road it could be very dangerous.
>>> Should you change to tubeless tyres?
Some tubeless ready wheels need the rim taped before you can start the process of fitting the tyre, but most will either come pre-taped like Hunt's wheels or with a sealed rim bed, like Fulcrum's Two Way Fit. You can buy tubeless conversion kits from brands like Stan's No Tubes.
It can be very difficult to get some tubeless tyres onto some rims. Using washing up liquid helps, although it can still be a struggle. Using tyre levers to fit the tyre can damage the bead, although you may need to do so as a last resort. Just be careful, as a damaged bead will stop the tyre from sealing properly.
>>> Buy now from Chain Reaction Cycles
Although we've recommended using a CO2 cartridge to inflate the tyre, some wheel-tyre combinations can be inflated just using a track pump. It's worth a try although it can take a lot of vigorous pumping. Any you can also buy reservoir pumps where you pump air into a chamber in the pump and release a large volume into the tyre very quickly. This tends to seat the tyre beads more efficiently than a track pump, although reservoir pumps are expensive.
>>> Buy Bontrager Flash Charger reservoir pump now from Evans Cycles
Unfortunately, not all tubeless tyres work with all tubeless wheels. Some will just not seat and there's no way of telling if it's going to be a problem except trying it out. But it's well worth giving it a try, as the lower pressure which you can run without the risk of pinch flats adds comfort and grip.
And not having to worry so much about punctures is great. The sealant will deal with most thorns and flints that would stop you in your tracks if you were running tubes. But it's still a good idea to carry a spare tube and a set of tyre levers and a pump or inflator, just in case you get a large hole or a sidewall gash which the sealant can't deal with.
Thank you for reading 20 articles this month* Join now for unlimited access
Enjoy your first month for just £1 / $1 / €1
*Read 5 free articles per month without a subscription
Join now for unlimited access
Try first month for just £1 / $1 / €1