Does the UK really have the terrain for gravel road adventures?
We followed the North Downs Way, and found that there's plenty of gravel bike ready terrain right on our doorstep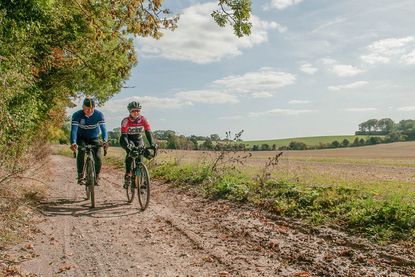 Get The Leadout Newsletter
The latest race content, interviews, features, reviews and expert buying guides, direct to your inbox!
Thank you for signing up to The Pick. You will receive a verification email shortly.
There was a problem. Please refresh the page and try again.
You'd have to have been hiding under a rock to miss out on the headline news that gravel riding is à la mode right now.
Cycling's sometimes cliquey road riding fraternity is suddenly and simultaneously expressing a desire to explore the undiscovered. We all want to disappear into a cloud of dust thrown up by fat tyres whilst remaining agnostic about the ratio of lycra to merino. Some of us are even wearing baggy shorts - not under duress.
When gravel and adventure bikes first wheel skidded onto the scene, the standardised response from the British media mob was "it looks fun, but does the UK doesn't really have the terrain for it?" (and "isn't it just a 'cross bike?" but we'll not deal with raised bottom brackets and geometry here).
>>> Bikepacking explained: everything you need to know to get started
It's a fair point. Gravel riding was largely born in the US – where there's the promise of miles upon miles of uninterrupted flint strewn roads, hosting the likes of established events like Dirty Kanza.
It turns out we're not so under catered for in the UK either, we just need to try a little harder to stitch together the available trails. This, at least, was my opinion following a three-day ride along the North Downs Way – exploring sections of the 220 kilometres that runs from Farnham, Surrey to Dover, Kent.
Bikepacking: Welsh adventure
The NDW celebrated its 40th birthday this September, and Cycling Weekly was invited to its party - both to sing Happy Birthday to the trail on Sunday morning (yep, really, with Scouts and a vicar present and everything) and to test out the rideable route (GPX here) devised by the national charity for cyclists, Cycling UK.
A rideable NDW would be the third trail of its kind, behind the South Downs Way and the Pennine Bridleway which was launched in 2012. The route Cycling UK's ride guru Keiran Foster has devised currently features 53km of road, making it 75 per cent off-road.
Most of the included road is there because sections classified as footpaths create an obstacle to the continued use of the trail. Unlike in Scotland, where 2003's Land Reform Act has opened up more of the countryside to cyclists, in Wales and England currently less than a fifth of the Rights of Way network is open to bike riders.
Using the road is an interim measure, whilst Cycling UK fights to have these pieces of the puzzle upgraded to bridleways in order to simplify the route – reducing the road sections to just 40km, leaving 18 per cent road, most of which is light on traffic.
"Britain's network of walking routes are envied around the world. In England and Wales, however only about 20 percent of that network is legally accessible for cyclists. Cycling UK is determined to open this up further," explained Cycling UK's CEO Paul Tuohy.
Tuohy joined us for the ride aboard a cyclocross bike, regaling us with stories from his road racing and time trialling days over chips that seemed to have been cooked in the same frier as some very fishy-fish (an odd delicacy, but everything tastes good when you're hungry enough).
The ride was split up over three days, with a bivvy/camping stop at a livery yard in Burham, Tonbridge and a luxurious night spent at a Premier Inn in Ashford.
Representing Cycling Weekly, I arrived aboard a customised 'Isen All Season' adventure bike – sporting 1.8" wide but entirely slick Compass Naches Pass tyres.
Panic levels were high when I was presented (wearing a collection of Assos and Castelli lycra, I might add) with my ride buddies: MTB journalists on full suspension boingy bikes complete with dropper seatposts and lockouts for the road.
My concern was unfounded however. There were brief sections where a combination of bike choice and lack of off-road skill got the better of me, but the vast majority was completely manageable on an adventure bike fitted out with the right tyres - even for someone who rides about 10 hours off-road a year in that chilled-out interim between race season end and the beginning of training-in-earnest.
"It really lends itself to being ridden on a gravel bike or hardtail mountain bike" said Foster, the man who's been working on the route.
"It could be argued that the cycling scene in the UK really went off-piste when it adopted the American 'mountain biking' culture rather than the French VTT, Vélo Tout Terrain - we are building increasingly technical trails for ever more specialised bikes, when most of our semi-natural trails and rights of way in the UK, certainly in the South, can be happily ridden on an adventure bike or hardtail ," he said.
It was only really on a few potions of day one - from Guildford to Burham - where my adventure bike choice proved to be a disadvantage. Roots, large rocks and technical drops got in my way - but then on an adventure ride no one is in a hurry, so the mountain bikers just waited - as I did atop of the road climbs where their hefty suspension weighed them down.
The second and third days rolled by in a whirl of fireroad, flint and grassy fields - all of which were completely rideable on a drop bar bike - and arguably they're exactly what the off-season road rider is looking for: expanses of open space to let go as the miles tick by without too much technical terrain to muddy the joy.
Speaking of mud - it's fair to say all of these comments apply more in the dry weather we enjoyed this September - the wooded bits would have been harder following heavy rainfall.
The highlight for me had to be the Pilgrims Way - which covers 119 miles from Winchester to Canterbury and overlaps with the NDW. The prehistoric track has a past steeped in history, and as the name suggests, drew pilgrims from far and wide. It still does, though many now seek self-fulfilment in the outdoors as opposed to religious gratification.
It was here that I swapped bikes with one of the resident mountain bikers, swinging my leg over a full-sus machine with a dropper post that didn't really work (do they ever?). The exchange left me grinning from ear to ear as I boinged over the ruts and roots that had required a 'think-fast' manoeuvre on a rigid bike – but it wasn't to last too long – my own stead was returned with the comment "you can have your terrifying bike back!"
The swap-ee was a good few inches taller than me, and the narrow bars probably didn't suit her – but it's fair to say choosing an adventure bike is a good option if you want to work on your handling whilst the closer you go to the dark side of MTB the easier negotiating the terrain will be, and the faster you'll be able to go.
My second highlight of the trip features outside of the riding terrain - but was facilitated by it.
The route brought together representatives from cycling's diverse tribes: roadies, mountain bikers, thoroughbred adventure riders and utilitarian commuters could all enjoy what was on offer. Pleasure in pedalling is a language we all understand - and there's plenty of gravel and adventure terrain in the UK which we can share.
Cycling UK's off-road LEJOG
The Cycling UK North Downs Way route has been tailored to be accessible by all corners of the cycling population. Indeed, it's a step towards an entirely off-road LEJOG - a 1,000 mile route being developed by Cycling UK, using the soon-to-be Coastal Path.
"In 2020 the Coastal Path is due to be completed, which is why Cycling UK is sharing it's ambition for what should come next: an off-road Land's End to John o'Groats route open to everyone: walkers, horse riders and cyclists," explains Tuohy.
Sam Jones, Cycling UK's communications officer who joined us for the the NDW way ride on a Surly Surly ECR with plus sized tyres said: "Like the road LEJOG, Cycling UK's off-road version will be a challenge that will test a rider's skill and endurance. We're not planning on tarmacking existing trails, but rather using, linking and upgrading existing rights of way so it will be an adventure.
"The beauty of our vision is that some parts will be accessible to all, but others areas will definitely keep you on your toes!"
The ambition is for rideable routes along the North Downs Way and Ridgeway to be complete in the next five years, with an off-road LEJOG route ready for 2020 and complete in the next 15 to 20 years.
Thank you for reading 20 articles this month* Join now for unlimited access
Enjoy your first month for just £1 / $1 / €1
*Read 5 free articles per month without a subscription
Join now for unlimited access
Try first month for just £1 / $1 / €1
Get The Leadout Newsletter
The latest race content, interviews, features, reviews and expert buying guides, direct to your inbox!
Michelle Arthurs-Brennan is a traditional journalist by trade, having begun her career working for a local newspaper, where highlights included interviewing a very irate Freddie Star (and an even more irate theatre owner), as well as 'the one about the stolen chickens'.
Previous to joining the Cycling Weekly team, Michelle was Editor at Total Women's Cycling. She joined CW as an 'SEO Analyst', but couldn't keep her nose out of journalism and in the spreadsheets, eventually taking on the role of Tech Editor before her latest appointment as Digital Editor.
Michelle is a road racer who also enjoys track riding and the occasional time trial, though dabbles in off-road riding too (either on a mountain bike, or a 'gravel bike'). She is passionate about supporting grassroots women's racing and founded the women's road race team 1904rt.