Driver convicted of careless driving after hitting cyclist and nearly forcing him into wall (video)
£690, six month ban, and seven points for "careless" driver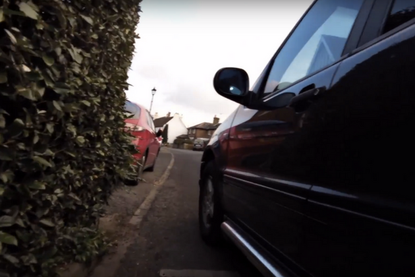 A motorist has been fined nearly £700 and banned for six months after being filmed cutting across a cyclist and almost forcing him into a wall and hedge.
The video, which was shot by Howard Crompton in May, first shows the driver of a black Mercedes attempting to overtake the cyclist despite a queue of traffic just a few metres up the road.
Mr Crompton exchanges a quick word with the driver before continuing along as he cycles through Angerming, West Sussex, before the motorist then accelerates up behind him over a minute later.
>>> Teenage cyclist left with tyre marks on his body after being 'deliberately' driven at in hit-and-run attack
Driving up Angerming High Street sounding his horn, the video then shows the driver swerving left towards Mr Crompton and hitting the brakes, forcing him towards a brick wall before accelerating off.
The driver was convicted of careless driving over the incident, being fined £690, banned from driving for six months, and being given seven points on his driving licence.
Sam Jones, campaigns coordinator of national cycling charity Cycling UK, said that the driver should have been convicted of the greater charge of dangerous driving.
"If someone is using their 'vehicle like a weapon', then it's very hard to see how such behaviour can be interpreted as 'careless," said Jones.
"Deliberately crushing another road user would seem to fall far below what would be expected of a competent and careful driver, and is clearly dangerous behaviour.
"Sadly this court case is just another example on a long list showing how the offences for careless and dangerous driving are not working, and yet the Government persists in dithering on launching its full review into all road traffic offences and sentencing."
Thank you for reading 5 articles this month* Join now for unlimited access
Enjoy your first month for just £1 / $1 / €1
*Read 5 free articles per month without a subscription
Join now for unlimited access
Try first month for just £1 / $1 / €1