Watch: Cyclist hit by jumping kangaroo in freak accident (video)
Kangaroo jumps across the road in Australia and straight into a cyclist, who is sent crashing to the ground but escaped with minor injuries - Video: Jukin Media/AP Video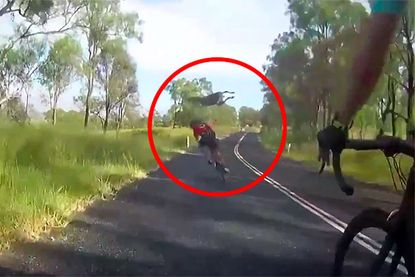 The moment a jumping kangaroo hit a road cyclist in Australia has been captured on video.
The cyclist, named as Rebecca, was caught out by the leaping kangaroo as she was cycling with friends on Friday in the Boonah region in Queensland.
The large animal appears from the right-hand side of the road, and jumps straight into the cyclist at shoulder height, knocking her into the side of the road.
The Kangaroo appears to be unscathed, and then continues its journey.
>>> Former pro cyclist Ted King almost hit by deer (video)
A note under the video, posted by one of the cyclists, says that Rebecca suffered a shoulder and knee injury but was now 'laughing about it'.
"Car drivers are not the only threat to cyclists in Australia. This was an incident on a bike ride my friends and I did on Australia Day, 2018," read the comment.
"Rebecca suffered a subluxation of the AC on her right shoulder (where the 'roo hit her) and a laceration on her left knee, but has a good laugh about it now, two days later (and doesn't mind me sharing it here)."
Collisions between cyclists and wild animals are relatively rare, but with bike and helmet-mounted cameras becoming more widely used, several incidents have been captured on camera in recent years.
In 2014, a rider from San Francisco caught the moment on video that he collided with a deer. The rider suffered with mild concussion after the incident.
In late 2017, an Australian cyclist posted a video online of them being attacked by a magpie, which was attempting to protect its nearby nest during breeding season.
Thank you for reading 20 articles this month* Join now for unlimited access
Enjoy your first month for just £1 / $1 / €1
*Read 5 free articles per month without a subscription
Join now for unlimited access
Try first month for just £1 / $1 / €1