Watch: Magpie attacks cyclist in Australia; government urges riders to 'take extra precautions'
Magpie breeding season means riders frequently on the receiving end of attacks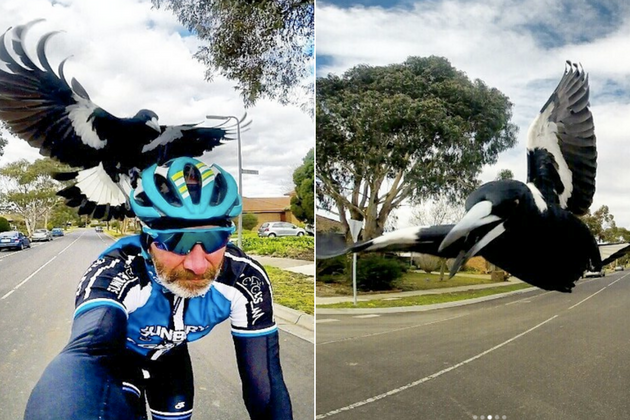 Cyclists in Australia are gearing up for a wave of magpie attacks during the birds' breeding season, with one rider catching the attacks on his GoPro camera.
"They go for the eyes and ears … once a month, one will get me on the cheek," Matt Stacy, who has made a habit out of catching the birds in the act, told the Herald Sun.
"I know where they'll be and the spots to avoid," he continued, "but every so often I'll try and catch one of them in the act."
>>> When birds attack cyclists: first a crow, now a magpie (video)
Late August to early October is the Australian Magpie's breeding season, with some birds engaging in "swooping" whereby they leave their nests to attack pedestrians and cyclists.
The problem has become so bad that the Victoria State Government has even produced a map showing where attacks take place so pedestrians and cyclists can avoid the areas.
Cyclists are advised to try painting eyes on the back of their helmets, attaching zip ties to them, or carrying a pole with a flag on the back of their bikes. However Mr Stacy said that he had tried all of these tactics without success.