Police forced to restrain Chinese rider as he launches shocking attack on rival team staff (video)
Swiss team deny any involvement in Wang Xin's crash, as rider and team are kicked out of Tour of Hainan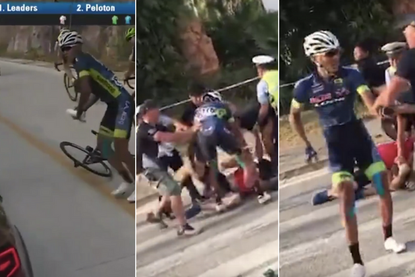 Police had to restrain Chinese rider Wang Xin after he launched an astonishing attack on staff members from the Swiss Cycling Team, leading to his entire team being excluded from the Tour of Hainan.
Wang, who rides for the Keyi Look team, was first filmed throwing a water bottle at the Swiss team car after crashing midway through stage seven of the UCI 2.HC level race, before confronting the team once again after the stage.
Footage shows Wang fighting one member of the Swiss team staff as police officers struggle to separate them. After being pulled away, Wang then throws a water bottle at another member of the Swiss team, before going to his team car to get a track pump, apparently intending to use it as a weapon.
>>> Watch: Cyclocross riders disqualified after mid-race fight
Wang's anger seems to have been caused by the mid-race crash, which he apparently blamed on driver of the Swiss team car. However the Swiss team denied that it had anything to do with Wang's fall.
"We never bumped into him. You can see that from the race video. He simply hit the back wheel of another rider and went down. He was obviously embarrassed and took out his frustration on us," Swiss team manager Danilo Hondo told Eurosport after the stage
"We tried to approach him after the race, in fact we waited 45 minutes after the finish for him to cross to apologise for any misunderstandings and to show him and his team that we respect them and meant no harm. But both he and his team approached us with anger and everything escalated from there."
>>> Top six cycling punch-ups (videos)
After viewing footage of the incident, race organisers decided to exclude Wang and the rest of the Tour of Hainan, also saying that they would not be invited to future editions of the race.
"Following the incident post stage stage involving rider Wang Xin, the organizing committee of the Tour of Hainan decided, in agreement with the Chinese Cycling Association and the commissaires panel, to disqualify from the race the entire Keyi Look team before further action to be taken by CCA," race organisers said in a statement.
"The team was instructed to leave the island of Hainan on the spot and will not be welcomed back at the Tour of Hainan. Wang's behaviour is not acceptable and doesn't reflect Chinese cycling... Fighting will never be permitted in this event."
After being excluded from the race, the team apologised for Wang's actions, and saying that they were appealing for forgiveness.
Thank you for reading 20 articles this month* Join now for unlimited access
Enjoy your first month for just £1 / $1 / €1
*Read 5 free articles per month without a subscription
Join now for unlimited access
Try first month for just £1 / $1 / €1