Top six cycling punch-ups (videos)
The duel in Dubai is just the tip of the iceberg when it comes to two-wheel fisticuffs.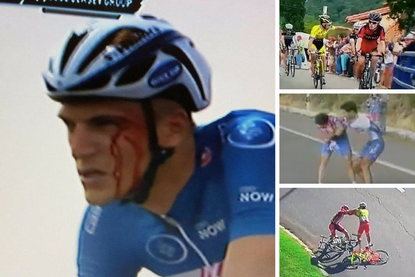 The Marcel Kittel/Andriy Grivko clash today in the Dubai Tour underlines the possibility of violence when speeds, testosterone and adrenaline run high.
Kittel rode away with a cut and bloody face while Grivko, disqualified for throwing the mid-race punch, left for home.
>>> How long could Andriy Grivko be suspended for after punching Marcel Kittel?
We look back at some past clashes that have livened up races.
Costa vs Barredo
https://www.youtube.com/watch?v=AFvbefsDN00
The hot weather and Tour de France's longest stage in 2010 did not help the tension between Rui Costa (Caisse d'Epargne) and Carlos Barredo (Quick Step). Costa helped team-mate José Joaquín Rojas to fourth place, but gave Barredo one too many elbows doing so.
Barredo approached Costa after the finish, but was met with a punch and some words about his mother. Barredo's response? He pulled out his front wheel and started knocking Costa over the head with it.
Before the two could be separated, they traded punches and more insults about each others mums. They were allowed to stay in the race, but each with fines of 400 Swiss Francs.
Rovny vs Brambilla
Ivan Rovny (Saxo-Tinkoff) and Gianluca Brambilla (Omega Pharma – Quick-Step) formed part of an escape that looked ready to survive to the line in the 2014 Vuelta a España's 16th stage.
The two appeared to trade insults when Rovny drove his fist into Brambilla's jaw. Brambilla, now coasting, hit back a back-handed punch. Rovny returned the favour. Brambilla's team-mate Wout Poels seperated the two before it worsened. It was quite a show, that earned them a DQ even before the stage even finished.
Gruzdev vs Zhupa
https://www.youtube.com/watch?v=SrzNrs8zvZU
Dmitriy Gruzdev (Astana) lost control in the early kilometres of stage five of the 2015 Tour of Turkey. A video shows the Kazakh swinging his arms in the peloton and Albanian Eugert Zhupa clipping back into his pedals.
Not happy, Gruzdev stops on the side of the road and lands a punch in Zhupa's ribs as he passes. The jury disqualified Gruzdev and Zhupa's Southeast team said, "This is not the image of cycling we want to show around the world."
Dehaes vs Pérez
The heat apparently got the better of Walter Pérez in Argentina's 2014 Tour de San Luis. The home rider wanted space in the peloton and when Kenny Dehaes (Lotto-Belisol) would not budge. "The next thing you know, he hit me right in the face," Dehaes said.
Pérez continued in the race without complaint from team Lotto. "By submitting an official complaint we would not make ourselves popular," Sports Director Mario Aerts said. "I would not want to turn half of the peloton against us."
González Arrieta vs Sierra
https://www.youtube.com/watch?v=eArlm3ukbVs
Venezuelan Leonardo Sierra, a stage winner in the Giro d'Italia, perhaps gained more attention for a classic mid-stage scuffle with Spain's Ramón González Arrieta in the 1995 Vuelta a España.
Reportedly they fell together in a crash. The YouTube footage picks up afterwards and the grainy images show that the two were thoroughly upset with one another.
Sierra lands a few punches, including one that knocked González Arrieta's cap off his head. González Arrieta spun around on his cleats to land a backhand and a follow-through jab.
The peloton rides away as a motorcyclist separates the two. They re-mounted and rode clear, but were disqualified that night.
García De Mateos vs Andersen
https://www.youtube.com/watch?v=JDerExiETTc
Not pleased with fourth place in the sixth stage of the 2014 Tour of Portugal, Dane Asbjorn Kragh Andersen (Christina Watches) throws a punch at Spanish cyclist Vicente García De Mateos (Louletano).
Television cameras caught the two in a heated discussion after the stage when Andersen lands a right jab on García De Mateos's face. García De Mateos threw one back just before Andersen grabs him by the neck. Other cyclists and Portuguese police had to break them up, and the jury, viewing the footage, ejected them from the tour during the following rest day.
Thank you for reading 20 articles this month* Join now for unlimited access
Enjoy your first month for just £1 / $1 / €1
*Read 5 free articles per month without a subscription
Join now for unlimited access
Try first month for just £1 / $1 / €1