Watch: Shocking footage shows van driver appearing to swerve at cyclist
Cyclist manages to avoid collision with van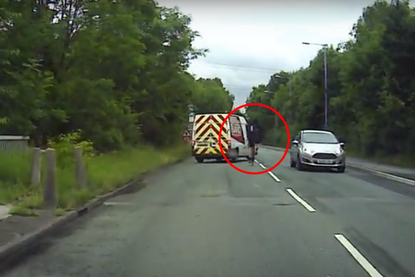 Shocking footage has emerged of the moment a van driver appeared to swerve at a cyclist in rush hour traffic in Manchester.
The video, which was shot on June 29 but was only uploaded to YouTube in the last few days, shows what appears to be a Virgin Media van swerving towards a cyclist as he tries to overtake on Manchester Road in the south of Manchester.
The cyclist manages to avoid the van as it crosses the white lines in the middle of the road, before riding in front of the van, with the driver then appearing to accelerate.
>>> Van driver filmed forcing cyclist off road is sacked by company
After the encounter, the cyclist appears to be shaken by the incident, exchanging words with the driver before they drive off, the cyclist then catching and safely passing the van as it is caught in more traffic further up the road.
Abdullah Julan, who uploaded the video to YouTube, said that he had been unable to report the incident to the police as traffic offences needed to be reported within 72 hours.
After being contacted Cycling Weekly, a Virgin Media spokesperson said: "We are aware of this incident and are investigating this as a matter of urgency. We apologise to the cyclist involved and thank the driver who recorded the incident for bringing this to our attention."
Thank you for reading 20 articles this month* Join now for unlimited access
Enjoy your first month for just £1 / $1 / €1
*Read 5 free articles per month without a subscription
Join now for unlimited access
Try first month for just £1 / $1 / €1