B'Twin Triban 540
We see if the £650 B'Twin Triban 540 is too good to be true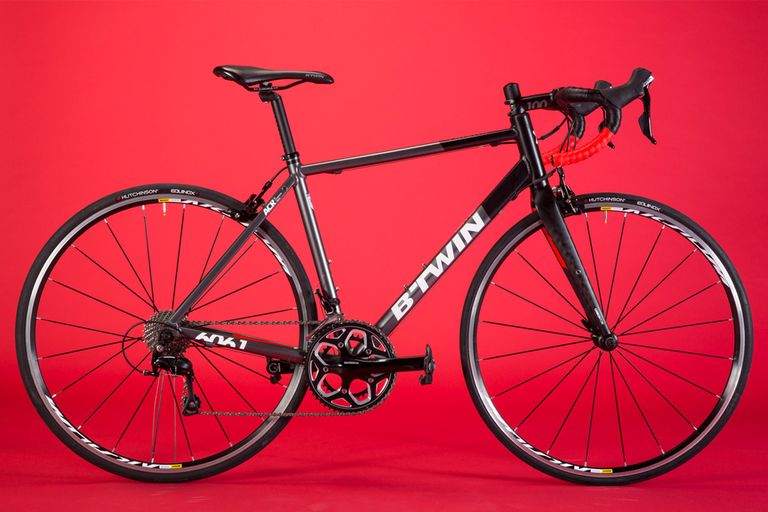 For our Best Value Bike of the Year, we didn't limit ourselves to a price point. We simply wanted to find a great road bike that came with an outstanding spec for the price.
The B'Twin Triban 540 is that bike.
Buy now: B'Twin Triban 540 road bike from Decathlon for £650
Frame
For £650 you get a solid aluminium frame with a lifetime warranty and a carbon fork — pretty standard for that kind of cash.
However, the B'Twin Triban 540 also comes with Shimano 105 11-speed and Mavic Aksium wheels. The frame is highly practical with eyelets for mudguards or panniers and clearance for 32mm tyres.
Specification
The spec really sets the Triban 540 apart. Shimano 105 and Mavic Aksiums are usually only found on new bikes over £1,000 and offer superb performance on a budget.
The B'Twin Triban 540 is equipped with a long cage rear derailleur allowing the fitting of a 32t cassette.
Ride
We love the Triban 540 because it can be different things to different riders. It's potentially a great first road bike for those entering the sport, but is an equally adept commuter or solid training bike.
More experienced riders may even choose it for winter use while their precious carbon hyperbike is in hibernation.
In addition to its outstanding value, the Triban 540 is great fun to ride. The geometry is more relaxed than a typical race machine, but isn't as laid-back as, for example, a Giant Defy. The ride is smooth and the handling is responsive.
Value
It may not be as flash as a £10k or even £2k bike, but cycling should not be prohibitively expensive and the level of enjoyment should not be commensurate with how much cash you spend.
Buy now: B'Twin Triban 540 road bike from Decathlon for £650
The Triban 540 wins because, aside from the lifetime warranty, quality frame and spec, I was able to forget I was riding a bike that cost just £650. I found myself bombing along beautiful roads with a smile on my face.