Lapierre Aircode aero road bike review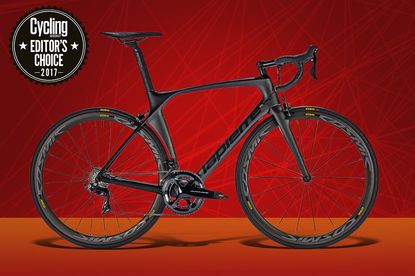 The Lapierre Aircode is a bike reborn, redesigned and rejuvenated into a seriously slippery aero bike contender.
It's Lapierre's willingness to step back, take a new view of an old problem and create something so much better that lands the new Aircode a spot on the Cycling Weekly Editor's Choice list 2017.
Improved aerodynamics
An improvement on aerodynamics and handling was the "simple" brief that Lapierre set itself with the Aircode. After all, this is the bike that the FDJ team will race upon, and riders liked the performance but wanted greater handling zip.
This feedback in mind, it's an overall shortening and lowering that has taken geometry cues from Lapierre's excellent Xelius climbing bike, with a reduced fork rake and shorter chain stays (408mm reduced to 405mm) and lowered the head tube by 10mm.
The latter changes are a move that improves the bike's aerodynamics, with the front end also receiving a greater level of integration. So much so, that if you slam your front end, it'll now integrate with the head tube.
The bike's profiles have also seen a shake up, and the French brand introduces a National Advisor Committee for Aeronautics (NACA) informed down tubes which are matched to Kamm Tail tubing nearer the bottom bracket for its increased lateral rigidity.
These are all changes that were as warmly welcomed by us as they were by the FDJ team. We felt the previous Aircode was a decent bike, but it couldn't stand out against its more slippery piers. Happily, that's not true anymore and the new bike is a brilliant racing machine.
Other aero tweaks include direct mount rim brakes – there's currently no disc option for the Aircode – as well as its Trap Door Technology, where the Di2 junction box is smuggled underneath the bottom bracket.
Of course, we haven't been able to subject the new Aircode to any time in the wind tunnel, but lengthy excursions out in France around Nice really put the bike through its paces.
Immediately noticeable is that the new frame has gone on a diet, shedding weight over the outgoing design. The geometry tweaks, combined with the lower weight and increased BB stiffness result in a package that is far more responsive to accelerations and nippy through the corners. It's fast up the climbs, too, proving this a bike that can really do it all.
Devouring descents
The combination of direct mount brakes and Mavic's superb Cosmic Pro Carbon rims, made descending on the Aircode an absolute pleasure. The heat dissipation offered by the Mavic Cosmic Pro Carbon rims is class leading amongst carbon clinchers and they offer an aero benefit you can feel at speed, too.
The improved geometry came alive, too, and the Aircode devoured the curving bends of the south of France.
The compliance of the frame as seen a big improvement, too. On long rides, with mixed surface roads, we didn't get beaten up, thanks to a new vibration dampening elastomer built into the seat post. I'd happily ride the new Aircode on British roads for 6 hours+ without a second thought and I couldn't have said that about the last version.
Our test bike came equipped with Lapierre's own aero carbon handle bar, and it seriously impressed. It has a great shape and good stiffness and we love that Lapierre hasn't gone for a gimmicky one-piece bar and stem, allowing you to adjust the fit, with your preferred stem length.
One little niggle I found, though, was that the rubber cover for the seat post bolt had a tendency to move out of place, but in the grand scheme of things its a tiny problem, and not one some insulation tape couldn't fix.
Overall, the new Aircode is a cracking bike, rejuvenated from its lack-lustre past, it's an aero machine that can fight it out with the best of the rest. It's certainly a distinctive looking bike, but in our stealth matte black we think it looks drop dead gorgeous.
Thank you for reading 10 articles this month* Join now for unlimited access
Enjoy your first month for just £1 / $1 / €1
*Read 5 free articles per month without a subscription
Join now for unlimited access
Try first month for just £1 / $1 / €1