Lazer Z1 helmet review
Lightweight, versatile helmet complete with aero shell that saves watts and keeps the rain out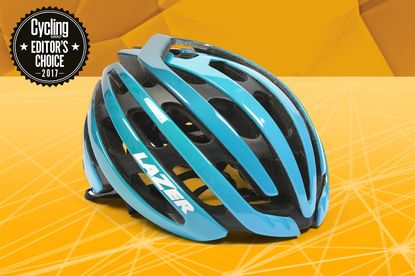 Like fine wines, some things get better with age, with the Lazer Z1 helmet firmly in that camp.
While many of the items in this years Editors Choice are brand spanking new, we wanted to include one or two of our firm favourites that just keep on giving.
The best feature of the Lazer Z1 is its versatility and the ability to be one cycling helmet for a number occasions. This is thanks to the supplied aeroshell that has – hence the name – aero properties to rival some of the dedicated closed off helmets on the market (with a little bit of tape overcoming any UCI ruling suggesting it's not fixed or permanent).
This versatility also extends to the weather, with the aeroshell acting as a great rain protector or an extra layer in the winter to help stop the winter sting. Or ditch the shell and the massive number of vents (31) will help keep you cool in all typical UK or early Mallorcan hot weather spells, as well as being good at holding your sunnies too.
Advanced Rollsys fitted
Typically helmets from the Belgian brand use something called the Rollsys System, but the Lazer Z1 uses an updated system called 'Advanced Rollsys System', a lighter version, with the size adjusting dial placed on top of the helmet by the 'rear spoiler' instead of at the back. The advantage here is not only weight, with comfort and the ability to wrap around the back of the head, and in practice it works very well.
Whilst the mushroom styling doesn't suit all rider tastes, although we're fans, the reason for this shape is the Z1 features T-Pro (temple protection). This extra coverage around the side of the lid offers side impact protection, an area Lazer discovered as a helmet weak spot.
All this for just 225g are surely enough selling points alone, but now the Lazer Z1 has had a price reduction of £50 taking it down to £149.99, with the MIPS option £174.99, making the Lazer Z1 is a very attractive offering indeed and sees it remaining on our most loved list.
Thank you for reading 20 articles this month* Join now for unlimited access
Enjoy your first month for just £1 / $1 / €1
*Read 5 free articles per month without a subscription
Join now for unlimited access
Try first month for just £1 / $1 / €1