Futuristic looks and easy folding make the Fiido X electric bike a design icon
Magnesium alloy construction and a host of smart features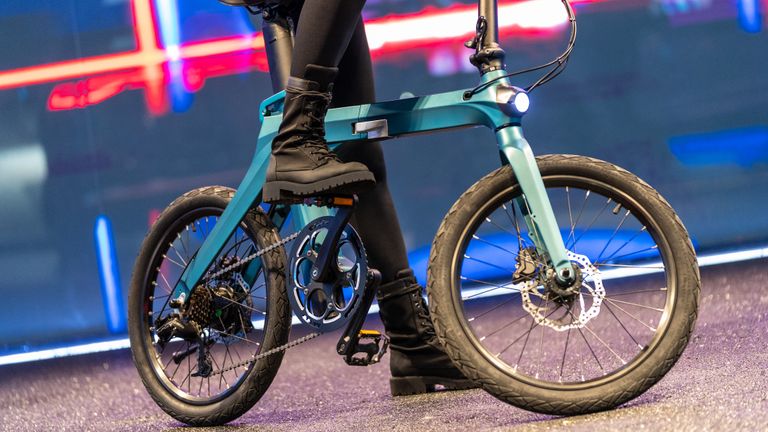 (Image credit: Fiido)
Promotional feature with Fiido
Fiido makes a range of folding electric bikes, including city bikes and fat tyred bikes with suspension for off-road use. It's now adding to its range with its latest models, the X and X Lite, which it's launching on Indiegogo.
The Fiido X has a futuristic-looking design with internal cabling for all but the brakes and a frame which foregoes the traditional double diamond design, with a single central tube and a rear-end without chainstays between the pedals and the rear wheel.
Fiido has built other novel features into the X. That starts with the integrated keypad in the rear of the frame to unlock the e-bike, so that there's built-in security without the need for a key. The e-bike's battery is built into the height-adjustable seatpost, so it's unobtrusive and there's a "rail type" power transmission to the rear hub motor, which means that there are no external wires, giving a neat look and also helping to make the bike easier to keep clean. The battery also powers front and rear LED lights.
The motor provides 40Nm of torque, comparable to many city e-bikes, and supplements your pedal power up to 25kph/15.5mph, the legal cut-off limit in the UK, Europe and Australia. Fiido has built a torque sensor into the e-bike's bottom bracket, to ensure that power is delivered smoothly and in proportion to your pedal input.
There's a Shimano 7-speed derailleur groupset, to give plenty of gear options, and the Fiido X is equipped with hydraulic disc brakes, to ensure safe stopping whatever the weather conditions. The e-bike rolls on 20 inch wheels with 1.95 inch tyres, which should give a smoother ride over poor road surfaces than smaller wheeled folding bikes. The X comes with mudguards so that it can be ridden in all weathers.
Ride stats are delivered via an LCD display on the handlebars, where there's also a USB socket to let you plug in your smartphone or other device. Fiido is about to launch an app too, which will let you check where your bike is and its status and share ride data with other users via its social function.
Lightweight and compact
The Fiido X is made of magnesium alloy, which is lightweight and corrosion-resistant and finished with a stylish metallic galaxy blue or titanium grey coating. Fiido says that the X's frame weighs just 3kg and that the lightweight frame helps keep the e-bike's weight down to 17.5kg. That's despite the 11.6Ah (417Wh) battery, which gives a claimed range of up to 130km. Full recharge time is around seven hours
All Fiido's electric bikes fold too. The Fiido X has an innovative hidden hinge that's fully enclosed in the frame, with one lever operation making for a sleek profile that merges into the frame's streamlined looks. So the bike is very packable if you want to transport it by car, despite running on 20 inch wheels, with a folded size of 84cm v 40cm x 59cm.
There are more details on Fiido's website.
Large discounts for early investors
The Fiido X is launching on Indiegogo on 13 July, with attractive packages for early investors. Fiido will be charging $1999 for the e-bike at the suggested retail price post-launch, but sign up via Indiegogo and it's offering the X from $1099 for early investors.
Alongside the X, Fiido is launching the cheaper X Lite at the same time. The X Lite has a smaller 5.8Ah battery, giving a claimed range of 60km, and is equipped with cable disc brakes rather than hydraulic. The rest of the spec is the same as the Fiido X though, including the same Shimano 7-speed shifting. Again, there's a deal for early investors on Indiegogo, with prices starting from $899.
Fiido has local distribution centres in all the major markets, including Europe, US West and East Coasts and China, with delivery times from as little as three days and free delivery in some markets.