Are you a Strava addict?
Are you painfully obsessed with KOMs and segment times? Bedevilled by 'uh-oh' notifications? Or is it all just healthy, competitive fun? We speak to some self-confessed Strava fanatics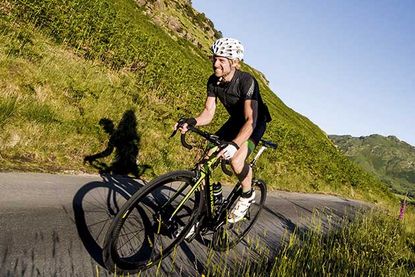 (Image credit: James Vincent)
Get The Leadout Newsletter
The latest race content, interviews, features, reviews and expert buying guides, direct to your inbox!
Thank you for signing up to The Pick. You will receive a verification email shortly.
There was a problem. Please refresh the page and try again.
In the last few years as Strava has increasingly dominated cyclists' data capture — as well as many of our conversations — our dependence on the platform has become a source of amusement mixed with mild concern.
"If it's not on Strava," riders quip, "it didn't happen." When the site suffered a short outage last year, social media went wild with panicked cyclists unable to upload their rides and pore over their KOMs/QOMs, and virtual trophies. Though this intense devotion to Strava may seem harmless and often funny, is the site becoming a source of real pain as well as pride?
Ben Dowman (pictured above) is a psychologist, performance coach and neuro-linguistic programming (NLP) specialist. He is also a self-confessed Strava addict.
"As with any addiction, the realisation that you have a problem is a slow trickle — it crept up on me," he says. "One day I looked at all the small things I had been doing, such as the day my housemate came home to find me naked in the kitchen because I'd started uploading while getting changed. There I was, waiting for it to complete, desperate to see my segments, with nothing on.
"I thought about the times I had been rushing around looking for Wi-Fi when on holiday so I could upload my rides. The time I spent three hours on my laptop looking at segments I wanted to have a go at. I have a list of segments filed under the wind direction I need, so that when I check the weather I have a quick reference for which segments I need to go for.
"I admit that going out the next day to get a KOM back is pretty childish, but I have done it. I know at any given time exactly how many KOMs I have — 268 at the moment. Rides felt wasted if I wasn't gunning for a segment. All these little things added up.
"The crunch came one night when I was out for dinner with my girlfriend and I got a notification that I had lost a KOM and then struggled all night to enjoy myself. After that she told me to turn off instant notifications, as it was not good for our relationship."
Addiction is defined as "a compulsive need for and use of a habit-forming substance; persistent compulsive use of a substance known by the user to be harmful." On that basis, when we talk about Strava addiction, are we using too strong a term?
"There is never a black-and-white definition of what an addiction is," explains Dowman. "To identify an addiction, you might check against a list of behaviours. An addicted person might manifest many of them, whereas others may show only one or two.
"Think about an alcohol addiction: it's not whether you drink, as lots of people do, but how you drink — people can be alcoholics without it being obvious. It can be subtle. There are plenty of people out there who are addicted to cycling in a way that is not problematic."
>>> Strava calls for the rejection of curation and negativity found on other social media sites
On the other hand, plenty of Strava users are willing to admit that the app is habit-forming and that their use of it is compulsive. Strava addiction is a cycling joke and a social media hashtag, but there is a shadowy side to it.
"By definition, addiction is harmful, and yes, being addicted to Strava can be harmful," says Dowman. "You need to ask yourself, are you in control of Strava or is Strava in control of you? Do you feel as though a ride without Strava would not be worth doing? Is Strava becoming more important than enjoying the ride itself? If so, you need to start questioning its role in your cycling."
There are many different apps for recording your rides and your performance stats but few have as firm a grip on the cycling community as Strava. What is it about Strava that makes it so addictive? Dowman thinks it has to do with the way the site allows us to flatter ourselves.
"I think people use it for different reasons. The rational answer is that it is a great training tool: you can measure improvements and compete against yourself. But what really marks it out from every other app are the segments, the competition against others. I think it is about status. All of us like to feel good about ourselves.
"With Strava, you can be a big fish in a small pond, and critically you can choose the size of the pond. If you aren't the KOM, you can click on age range or your club or people you are following and compare yourself against them. You can change the size of the pool until you are, relatively, a big enough fish — competing against the selection of people that allows you to feel good about yourself."
It is not all posturing and showing off; there are benefits too, Dowman believes: "The flip-side, the positive angle, is it allows you to have an achievable objective. Some people will never get a KOM but they can work towards being the fastest among their mates or their club. For goals to be attractive, they have to be challenging but achievable."
Strava allows you to compete whenever you want, without the pressure and build-up of a real race — a big part of its appeal for many riders, as Dowman explains.
"Before Strava, the only way to compete was to go and do a time trial or to race. Strava has totally changed the competitive landscape. You can go out and compete whenever you want, and that is massively motivational."
Of course, because you are not pinning a number on and lining up next to your rivals, the race is often anonymous.
"It's racing with a far lower risk of losing face," Dowman adds. "No one knows how hard you were trying when you go out on your own. In a race situation, by definition you are trying as hard as you can, whereas on Strava, no one knows if you were giving it your all."
On Strava, the race is always on, never neutralised. Dowman points out there are both positives and negatives to this: "You are not locked into a race schedule, there is freedom to race whenever you want and wherever you go. If you are somewhere new or on holiday, you can still compete. It is brilliant."
However, the niggling knowledge that there is a segment approaching can be the downfall of many riders. One minute you are chatting as a group, the next minute someone has launched an attack, gasping "Segment!" under their arm as they pass. In pre-Strava times, we sprinted only to pre-agreed road signs. The inability to resist having a pop at a segment can disrupt group rides and, more seriously, every ride becomes a competitive effort — raising the risk of overtraining and injury.
Are alarm bells ringing for you? If you too feel your relationship with Strava may have gone too far, what is the next step?
"The first thing is to assess whether your use is becoming problematic," says Dowman. "Awareness is the first step and most people are able to moderate their behaviour. For example, if you have been overeating for a while, you can ease off for a bit. Most people can manage that. Personally I had a bike-computer-free period — I didn't look at the stats for a while — which helped me."
>>> Nine things you wish you'd known before you joined Strava
Stat-free days might be the way to break the habit, but doing without data isn't easy.
"Sometimes I do a ride that is just a ride," says Dowman. "I make myself do it by consciously recognising that it's something that will be good for me. But there is a wrench, it's not easy." Overcoming that wrench puts you back in control.
The struggle is real
Strava addiction, however much we make light of it, has a real and potentially harmful underside. At the same time, the app has huge benefits for training, route-finding, social connection and community. The key is to strike a balance.
"It's not Strava itself that creates addiction," concludes Dowman, "it's the behaviour of the person using it. Strava promotes a healthy use of the app, and its suffer scores and freshness information are there to benefit your training and performance. A blade can be used to stab someone or it can be used to perform surgery — a very powerful thing whether it hurts or heals. The outcome is determined by the user. Remember, Strava didn't make you do it."
'I'm a segment-hunting specialist'
Name: Adam Hindle
Age: 46
Years riding: 43
Club/team: Garstang Cycling Club
Location: Lancashire
I target very specific segments: sub-four minutes, often downhill. I'm pretty good on those locally. If someone pinches one off me, I don't wait more than a couple of days to try to get it back. Ownership of these matters to me.
I create commute routes that drop me onto a segment warmed up and at the best time of day to try it. I change gears for a target attempt: I may even put a bigger chainring on.
I prefer Strava, in some ways, to racing because you can have multiple goes. One took me nine full-on efforts to get, each one a real making-myself-puke effort. It runs in the same direction as the prevailing wind direction, so lots of people have got good times on it. I go out in gales at 7pm when there are no cars, do a proper warm-up and target one segment per ride. I normally give up after four or five goes. After that, I know that's as good as I am. There are a few I've had to really work for; they will take some getting off me.
I can go on a ride and not think about segments at all. I am able to put that mindset aside, but on a long ride I will have had a look at the route and target one or two. The culture of modern cycling is very Strava-based, it legitimises competitiveness for everyone, and competitiveness is healthy — it's OK to care about your local segment.
'I like to keep hold of my KOMs'
Name: Martin Mikkelsen-Barron
Age: 31
Years riding: 10
Club/team: VC Cumbria
Location: Cumbria
Being a Strava addict is not something that I want to be known for. If I feel good, I go for segments. A real addict or Strava troll would drive to the bottom of a pass, warm up and then attack the climb to get it. I use Strava as my racing when I'm injured from running — it is an outlet for my competitive side. In some ways, I prefer it, as I can struggle with the build-up pressure of racing.
I like to keep my KOMs locally [around Keswick]. When the pro race [Tour of Britain 2016] went through, I was watching and waiting, but my KOM wasn't taken. It's nice but it doesn't really mean anything — the pros got there after 100 miles of racing. If I lose a cherished KOM, I go back for it — I feel I have to put them back in their place!
I don't find road racing very friendly and the danger element of riding with others kind of puts me off. Fell running is really my thing. On the bike, my skill is climbing, so it's a great way of competing in the area I know I'm good at.
Am I addicted? Sometimes if I'm riding with a slower group, I can't help going for it on a segment. It is hard to go on a normal ride and not compete. I probably should ride without my Garmin more often.
'It's my substitute for racing'
Daniel Kogan
Age: 28
Years riding: 23
Club/team: Sigma Sport
Location: Kingston, Surrey
Everything goes on Strava. I'm on it every day for work, as I run Sigma Sport's Strava club. I did the Majorca 312 one year. I had an old Garmin that couldn't upload wirelessly. Despite having ridden 312km very hard, I walked several miles into town to upload my ride. I'm not a browser — I don't look at other people's rides, it's purely for me.
I use it as a log to see an end-of-year total; it's good to see a nice big number, it gives me something to aim for. Now I'm not racing, it gives a competitive element to my riding. I can't compete on KOMs in Surrey, but those down in Dorset or Essex are a bit more achievable, unless Alex Dowsett has been out.
My colleague Callum had a go at Box Hill and finished fifth, which takes some doing. Sigma do regular rides every month; there are women's, social and challenge groups. Strava has changed cycling and the way we meet people and communicate. To be honest, I can't remember life without it.
Thank you for reading 20 articles this month* Join now for unlimited access
Enjoy your first month for just £1 / $1 / €1
*Read 5 free articles per month without a subscription
Join now for unlimited access
Try first month for just £1 / $1 / €1
Get The Leadout Newsletter
The latest race content, interviews, features, reviews and expert buying guides, direct to your inbox!
Hannah Reynolds interest in cycling started while studying for a degree in Sports Science at the University College Chichester. A number of students and lecturers were elite and even world class cyclists, many of whom went onto long-term careers in cycling. Despite being a complete novice she was taken under the wing of the experts and given a fast-track introduction to the world of road racing, cross-country mountain biking, time trials and cyclo-cross. A committed dabbler whose passion outweighed her talent Reynolds has competed across all disciplines of cycling bar BMX. In the very distant past she has been south-east road race champion, southern cyclo-cross champion and finished third in the European 24hr Solo mountain-bike champs in 2011. She was also the Fitness Editor of Cycling Weekly for 15 years.
In more recent times Reynolds has worked as a cycle guide in the UK and France. She is author of several cycling books, France-en-Velo a guide to the ultimate 1000 mile cycle route from the Channel to Med; Britain's Best Bike Ride. LEJOG1000; A 1000 mile journey from Land's End to John o' Groats and 1001 Cycling Tips. Her cycling now is less competitive and more focussed on travel and helping her young son to experience the world by bike.