'I was clinically dead for 25 minutes': Why Mark Felstead is refusing to let fate call the shots
The veteran cyclist assumed he was in robust health and speeding towards age-group glory – until one fateful race changed everything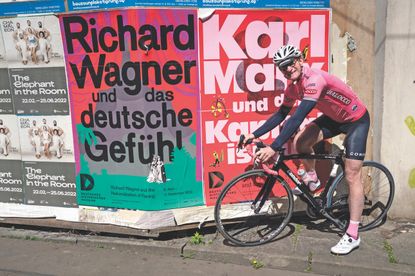 (Image credit: Timm Kölln Photography)
Speaking to me by video call from his home in Berlin, Mark Felstead is the picture of health. Lean and smartly dressed, the events management consultant gives off a youthful energy and could easily pass as a decade younger than his 59 years. If you didn't know, you would never guess that, just three and a half years ago, he suffered a medical crisis so severe that he is lucky to be alive. "It was the evening of 15 August 2018," says Felstead, his voice cracking with emotion. "I kissed my wife and daughter goodbye, and headed off on my bike to the local duathlon – the emotional part is, I didn't realise how close I was to never seeing them again."
Most of the rest of that August evening is a complete blank to Felstead. He has pieced together what happened from what others have recounted to him. "I did the event, or so I'm told," he says, "and literally 300 metres from the finish line I collapsed." There had been no hint of anything going awry in his body: Felstead's last memory is feeling strong while running in a competitive group towards the front of the race. Then the lights went out.
Two competitors, who moments earlier were rivals he was chasing towards the finish, now became his guardian angels. Ralf Heinrich and Philip LeFevre, both doctors, were getting their breath back at the finish when shouts for help alerted them to the unfolding emergency. They jumped on their bikes and sprinted to Felstead's lifeless body. "My lips were blue and they couldn't find a pulse," he says, "so they started CPR, which saved me. But here's the difficult bit," he takes a breath to compose himself, "they did it for 25 minutes."
Felstead had suffered a sudden cardiac arrest, the survival rate of which is around 10%. With his heart no longer pumping blood, his chances of staying alive without incurring brain damage were slipping away with every second. "The good news was that the ambulance was on its way," he relays the desperate chain of events, "the bad news was that it had missed its turning point across the dual carriageway, so had to keep going – taking crucial extra minutes to arrive."
Once on the scene, paramedics shocked Felstead using a cardiac defibrillator; after two attempts his heart was finally beating independently again and he was rushed to hospital. "I was looking the other day on Strava and I found that day's activity," Felstead smiles. "It's flagged as 'Looks like a vehicle was involved' – my Garmin was still running as I was lying in the ambulance!"
He is able to be jocular about these events, he points out, only because he has no memory of them. "It wasn't painful for me: I was in an induced coma until 10 days later and remember nothing – but I can't help imagining what it was like for my wife and daughter as it got to 9pm, 9.30, and I still wasn't home." How did he feel when he finally regained consciousness? "When I woke up, I had my wife on one side and my sister on the other, and they had the biggest smiles I had ever seen," says Felstead, grinning brightly at the memory. "But my first thought was that I had been abducted by aliens who had recreated my family as avatars to put me at ease." And his first words upon waking? "You're not my real wife' – terrible, I know!" he laughs.
Cardiologist's view: 'Genetics loads the gun, lifestyle pulls the trigger'
We asked Dr Scott Murray from Venturi Cardiology (venturicardiology.com) to help us understand how cyclists can assess their risk of heart problems
What's the biggest risk factor for heart problems?
Family history. If you have a first-degree relative affected by coronary heart disease or heart attack, you should be actively assessing your risk, not assuming a healthy lifestyle will protect you. Genetics account for 50% of heart disease risk. If it's in your genes, you can't eliminate that risk whatever your lifestyle. Sex is a key factor: women are protected from heart disease by oestrogen until around the age of 50.
Which tests would you recommend?
If you're over 45, a cardiac CT scan [available privately for £250] detects whether you have a build-up of plaque in the arteries and gives a calcium score. This, along with other metrics, is entered into a bespoke risk calculator, which produces your individual risk of a heart attack within the next 10 years. It's not a perfect test but it gives a useful estimate.
If your risk is deemed high, what then?
Usually we would take investigations to the next level with further tests, and would recommend taking aspirins and statins to ameliorate the risk, as well as providing lifestyle advice.
Do some active, apparently fit people produce high risk scores?
Yes, and it's usually down to the genetic component or unrecognised risks in their lifestyle. For example, some cyclists are exposed to high levels of air pollution, which is a known risk to coronary heart health. Over-training is another risk factor.
Do you advise screening for abnormal heart rhythms?
Not routinely, but we would if prompted by symptoms such as palpitations, fluttering, black-outs or dizziness.
Any heart-protective dietary advice?
It is worth considering the amount of sugar you're consuming, as too much can act as a metabolic toxin. As a high-performance cyclist, you need carbs on the bike, bu
Once he had accepted the terrestrial reality around him, Felstead's next task was to reckon with the odds he had defeated – not only surviving 25 minutes without a heartbeat but pulling through virtually unscathed, without harm to his brain. "Why did it happen to me, when I was so fit?" he muses, "and why did I survive? Is there a bigger reason?" He is convinced that being physically fit saved his life, and also supercharged his return to health. "As a cyclist and triathlete, having looked after my body so well, I recovered extremely quickly," he says, "even though, in those 10 days unconscious, I'd lost 6kg, going from 72 to 66kg." Incredibly, he was back exercising within three weeks.
I'm intrigued to know whether, looking back to before the cardiac arrest, Felstead had any reason to suspect that he was at risk. "Never really anything to suggest–" he pauses, then starts again. "OK, if you want full transparency, there was an incident in 2012." He recalls being referred to a cardiologist by his GP who had detected an abnormal heart rhythm. "Long story short, I did end up getting a stent fitted, as they found a blockage." It's a twist to the story I hadn't expected; how did this previous heart issue at age 50 influence his subsequent training and racing? "The stent opened up my artery so that it performed better. Stupidly, I thought wow – I'm suddenly 15 years younger!" A competitive age-grouper at the time, he admits that the jump in performance – "an immediate 15-20% on my FTP" – motivated him to train harder than ever.
Over the next six years, he trained intensively, raced regularly and achieved some of his lifetime best results – right up until 2018's cardiac arrest. Out of consideration for his family, he has not raced since that day. What he has done is immerse himself in research around heart health risk factors and potential precautions: he is a proponent of tracking biomarkers such as vitamin D and calcium levels in the blood (calcified plaque in arteries is a known risk factor), while taking a strong stance against high-carb diets and certain cooking oils. He has even set up a website (weloveourheart.com) to aggregate information on these theories.
It's all very well subscribing to emergent hypotheses on heart health, but what if his cardiac arrest was simply the result of bad luck, genetic misfortune? "The point is," he says firmly, "if I take that view, I'm handing my life to the fates. I don't believe in doing that." He reiterates his belief that the coronary calcium (CAC) scan is a powerful early detection method for those aged over 45 – though it does involve a dose of radiation and is not routinely available on the NHS. Aside from these health checks, is there anything Felstead would have done differently, with the benefit of hindsight? "I would have done fewer intervals," he says. "Two hard sessions a week is enough." And has what he's been through changed his perspective, not just on sport, but on life? "I'm happy to wake up every day, literally," he grins. "Every day is a gift – one more day we might not have had."
This article was originally published in the 12 May 2022 print edition of Cycling Weekly magazine. Subscribe online and get the magazine delivered to your door every week. (opens in new tab)
Thank you for reading 10 articles this month* Join now for unlimited access
Enjoy your first month for just £1 / $1 / €1
*Read 5 free articles per month without a subscription
Join now for unlimited access
Try first month for just £1 / $1 / €1
David Bradford is fitness editor of Cycling Weekly (print edition). He has been writing and editing professionally for more than 15 years, and has published work in national newspapers and magazines including the Independent, the Guardian, the Times, the Irish Times, Vice.com and Runner's World. Alongside his love of cycling, David is a long-distance runner with a marathon PB of two hours 28 minutes. Having been diagnosed with retinitis pigmentosa (RP) in 2006, he also writes about sight loss, equality and social affairs.