'I'm fat – and I'm OK with that': The size-inclusion campaigner seeking to make cycling safe and accessible for everyone
After struggling to find riding kit in her size, Marley Blonsky made it her life's mission to make cycling more accessible and welcoming to riders of all shapes and sizes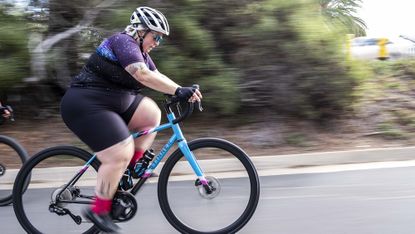 (Image credit: Marley Blonsky)
This article was originally published in Cycling Weekly's print edition as part of the long-running MY FITNESS CHALLENGE series.
"There's a lot of gatekeeping in cycling, a lot of 'If you don't look like a typical cyclist, you're not welcome on our group ride' and 'If you can't keep up, there's no place for you'," Marley Blonsky paints a damning picture of a cycling scene awash with judgement and petty rules. "But it doesn't have to be that way." The 36-year-old knows that change is possible because for the past five years she has been blazing a trail for plus-sized riders.
Blonsky grew up in Dallas, Texas and has fond childhood memories of long, joy-filled days pedalling around her local neighbourhood. After college, she moved to Seattle, Washington for work, and cycling took a back seat. "My life was fairly sedentary right through my 20s," she says, "but after getting divorced [in 2013] I moved to a part of Seattle where driving a car just didn't make sense."
Blonsky bought a bike and within a few weeks had not only embraced the convenience of commuting but was also riding for fun at weekends and had even begun planning bike-packing adventures. It was at this point she began hitting barriers. "I didn't have a rain jacket or cycling kit that fitted me. As I hit more and more of these frustration points, I was thinking, 'I'm not the only fat person out here – this must affect others too'."
Five years ago, Blonsky attended a cycling inclusivity conference encompassing equality, racial justice and gender identity – and noticed a striking omission. "No one was talking about size inclusion," says Blonsky, "but on the last day there was an opportunity to highlight what was missing from the conversation." She stood up and spelled it out. "Size inclusion: there are bigger people who ride bikes. We're breaking bicycles, breaking spokes, we don't have the kit we need. It was a light bulb moment."
Increasingly alert to the plight of other larger riders, Blonsky stumbled upon an Instagram post by Kailey Kornhauser, who was touring Alaska and lamenting not having a rain jacket. "I knew straight away, I needed to talk to this person," remembers Blonsky. She contacted Kornhauser and together they began making plans. "We put together a workshop and started delivering it to bike shops and advocacy clubs." When Covid-19 hit, it meant the workshop had to go online, which proved fortuitous, as it was alighted on by film-maker Zeppelin Zeerip, who spotted an opportunity. "He pitched a film to Shimano, telling our story, and they went for it!" says Blonsky. The resulting film All Bodies on Bikes has been viewed more than 250k times on YouTube since going live last year.
For the industry, being more inclusive is not just ethical – it makes good business sense too. "The average clothing size of a woman in the US is 18," says Blonsky, "so putting aside conversations about fitness or health or whatever, you're leaving billions of dollars on the table by not meeting this population's needs." There is still much work to do, and the campaigning duo continue to petition bike brands to expand their ranges, be transparent about weight limits and offer modifications for larger riders.
Blonsky is aware of the health and performance case for losing weight, but it is a discussion that she consciously avoids. "We all have different size bodies for different reasons," she says. "What we eat and how much we exercise is just one element of it. Nobody owes anybody else their health – it's a uniquely personal thing." Her position is that it ought not matter whether someone is riding to lose weight, to get fit or just to have fun, since we're all equally deserving of the right to ride – beginning with equal access to bikes and kit that are comfortable and safe.
Blonsky frequently uses the word "fat", and I wonder whether this a deliberate attempt to reclaim the term. "For me, it's just a neutral descriptor," she says. "I'm fat, I'm blonde, I wear glasses. When you take the power away from [the word fat], nobody can use it as an insult. When I call myself fat, I'm saying: I'm OK with it, I'm not trying to change who I am."
The All Bodies on Bikes community is growing fast: its Facebook group has over 8,000 members and new chapters are being launched across the US. Blonsky's self-confidence and evident comfort in her own skin as well as on her bike rightly challenges preconceptions about body image in cycling. "No one really gets to pick their body," she reminds us. "We get what we get and work within those constraints." What are the practical things all cyclists can do to make cycling that little bit more welcoming and inclusive? "Just be kinder both to themselves and to people they encounter," says Blonsky. "A friendly smile or wave on a ride can go a long way."
The British brand: 'Think again – fat is fit'
Clothing brand Fat Lad at the Back (FLAB) was founded by Lynn Bye and her husband Richard 10 years ago. Lynn reflects on a decade supplying kit to larger riders
In 2014 we appeared on Dragon's Den and dragon Kelly Hoppen said our brand name was "morally wrong". This confirmed something we had already suspected: that when people have an issue with our brand name, it says more about their attitude to fat. 'Fat Lad at the Back' was [co-founder] Richard's nickname, and for us it has never had negative connotations.
As a culture, we need to change our attitude towards weight and size, and focus more on health. Fat does not mean lazy. Fat people, many of whom are superfit, are treated incredibly badly by society. Fat-ism is the last bastion of the troll. We now export to over 80 countries, and we have 50,000 members on Facebook. Our brand is a conversation-starter; we call it sophisti-kitsch and don't take ourselves too seriously.
The FLAB sportive, in Yorkshire, takes place on 6 May.
The full version of this article was published in the 16 March 2023 print edition of Cycling Weekly magazine. Subscribe online and get the magazine delivered to your door every week.
Thank you for reading 20 articles this month* Join now for unlimited access
Enjoy your first month for just £1 / $1 / €1
*Read 5 free articles per month without a subscription
Join now for unlimited access
Try first month for just £1 / $1 / €1