It's 'E-Bike' week on Cycling Weekly - join us for a week of electric bike tips, advice and know-how
From 22nd to 26th May, here at Cycling Weekly, we'll be sharing a host of guides and explainers to help electric bike owners - or prospective owners - get the very most from their machines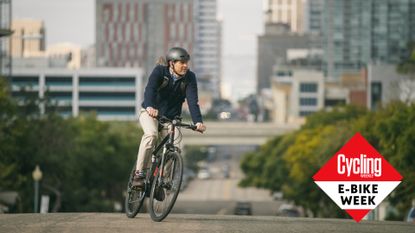 (Image credit: Getty Images - Sterling Lorence Photo)
For pretty much whatever type of riding you're into, there is an e-bike equivalent to help you cover the ground that bit more quickly and efficiently. This week, we're celebrating all sorts of electric bike riding with a whole host of tips, tricks and advice on how to get the most from your e-bike.
For city cyclists in particular, e-bikes are a great way of boosting your ability to get from A to B - whether that's going further than you'd otherwise be able to, or arriving at your destination that bit more comfortable than if you rode a pedal-powered bike. These are the key benefits of riding an electric bike - but there's plenty more besides!
For those just starting out, the range of choices and considerations can feel a little dizzying though - what's actually the best electric bike for my kind of riding? How far can you ride an e-bike on a single charge?
We'll run you through everything you need to know about electric bikes before you purchase, and electric bike batteries too.
E-bike motors vary greatly, with the most significant differences relating to the weight distribution and motor torque - we'll run you through the anatomy of an e-bike motor for all the technical details, as well as guide you through how to choose an e-bike motor for your needs.
Find our round up of the best electric bikes for every kind of riding over here. If you already know you want a specific bike style, we have dedicated guides on those - whether you're looking for the best electric gravel bike for its all-terrain capability and confidence-inspiring stability, or the best electric folding bike for carrying on trains and buses, or easy storage.
Beyond just purchase considerations, check out our advice on how to maintain an e-bike to keep yours perfectly functioning.
The rules for storing an electric bike are pretty simple, although there are a few dos and don'ts which we run through in our guide on how to store an e-bike.
For more advice check out more of the content we already have published below, and we'll be adding links to the other pieces when they go live this week…
Features
Buying advice
Reviews
Cannondale Compact Neo electric bike review
Thank you for reading 20 articles this month* Join now for unlimited access
Enjoy your first month for just £1 / $1 / €1
*Read 5 free articles per month without a subscription
Join now for unlimited access
Try first month for just £1 / $1 / €1