My Training Space: 'Work, rest and play – I do everything in here!'
Massage therapist and athletic all-rounder Andy Keegan walks us around his do-it-all garden training room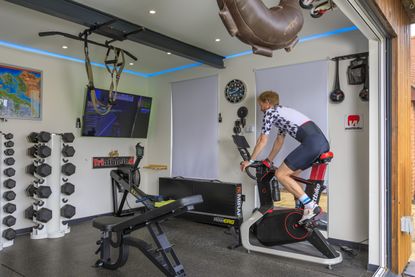 (Image credit: Future)
Get The Leadout Newsletter
The latest race content, interviews, features, reviews and expert buying guides, direct to your inbox!
Thank you for signing up to The Pick. You will receive a verification email shortly.
There was a problem. Please refresh the page and try again.
Each month in this MY TRAINING SPACE series from Cycling Weekly's print edition, a CW reader shows us around their training room, shed or garage, the part of their home or garden dedicated to all things cycling. They talk us through the equipment, as well as the motivating keepsakes and decorations that keep them training hard. If you'd like to show us around your training space, email a photo to david.bradford@futurenet.com. This time, it's the turn of Andy Keegan...
I built this training room in the garden during the first lockdown in 2020, when I couldn't go to the gym anymore. It had to be less than 30m² so as not to need planning permission. We put down a concrete base and erected the timber frame, boarded out and cladded with Japanese-style charred wood. The design was all about light: there are floor-to-ceiling windows along the full length, which open out onto the garden. Inside, there are 24 spotlights and the internet is hard-wired in, to avoid connection drop-outs.
I have a partner and two young kids, so the room needed to be a functional space for everyone, not just my personal gym. There's even enough floor space for kids' birthday parties! During the daytime, it's also my workplace – I'm a sports massage therapist.
As for my own sporting life, I'm literally average at everything, an all-rounder. As well as cycling, I do swimming, triathlon and strength training. I'm doing Boston and London marathons this year too. I rode the Etape in 2019, which was 83 miles with 4,563m of climbing including an ascent of Val Thorens. I had to take it steadily, as it was so hot and so hard that some people were abandoning their bikes!
I've been cycling since 2014 and enjoy doing 40-60-mile weekend rides with mates around the New Forest. I no longer do organised cycling events, as I don't like the pressure. Zwift is brilliant – I use my Wattbike all the time, three or four times a week. I'm a C-cat rider and love the social and competitive elements.
Rider profile: Andy Keegan
Age: 45
Height: 5ft 11in
FTP: 270W (estimated)
Rides for: N/A
Lives: Bournemouth, Dorset
Occupation: Sports masseur
Proudest cycling achievements: Completed the 2019 Etape du Tour: 83 miles and 4,563m elevation
Instagram: andy_keegan
His training space
Let's take a look inside...
1. WATOPIA MAP: This framed map on the wall shows Zwift's virtual worlds and details all the routes, with distances and elevation.
2. PERIMETER LIGHTING: The mood lighting strips were just £24 off Amazon! Everything is voice activated via Alexa, and I had sockets fitted up high to keep it neat and tidy. I can switch between different colours of light and at night it's brilliant, giving a moody glow.
3. PEG BOARD: A great test of upper body strength – can you cross the full width of the room? I've made it halfway so far!
4. BULGARIAN BAGS: These are great for the core – you swing them around, keeping the body steady. One weighs 12kg, the other eight kilos. They're also good for weighted squats.
5. BEAM-MOUNTED BAG: The punchbag is mounted on a steel beam, which it slides along, so can be positioned wherever I need it.
6. GLADIATOR WALL: This is really cool: a Swedish ladder. I got it shipped over from Bulgaria, and you can do so much on it: pull-ups, plyometrics, balance work, all kinds of exercises.
7. THE TURBO: My trainer is a Wattbike and I use it at least three times every week. I'll do any Zwift event that fits in with my schedule.
8. ALEXA VOICE CONTROL: Everything is voice-controlled, the TV, music and lights. I come in and just shout out what I need – and it happens!
9. ADJUSTABLE SCREEN: Apple TV provides my apps, including Zwift, and the screen can be adjusted for height, so I can set it up just right whether I'm on the rower or the bike.
10. HEATING: There are two electric heaters, making the room comfortable during winter.
Image 1 of 5
The full version of this article was published in the 6 April 2023 print edition of Cycling Weekly magazine. Subscribe online and get the magazine delivered to your door every week.
Thank you for reading 20 articles this month* Join now for unlimited access
Enjoy your first month for just £1 / $1 / €1
*Read 5 free articles per month without a subscription
Join now for unlimited access
Try first month for just £1 / $1 / €1
Get The Leadout Newsletter
The latest race content, interviews, features, reviews and expert buying guides, direct to your inbox!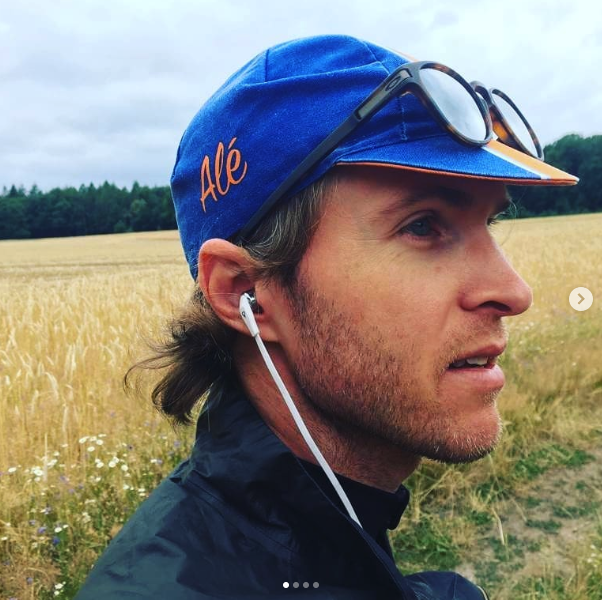 David Bradford is fitness editor of Cycling Weekly (print edition). He has been writing and editing professionally for more than 15 years, and has published work in national newspapers and magazines including the Independent, the Guardian, the Times, the Irish Times, Vice.com and Runner's World. Alongside his love of cycling, David is a long-distance runner with a marathon PB of two hours 28 minutes. Having been diagnosed with retinitis pigmentosa (RP) in 2006, he also writes about sight loss and hosts the podcast Ways of Not Seeing.