The fitness consumables and tech we've been using this October - six items tried and tested
Here's the products we've added into our routines for the past four weeks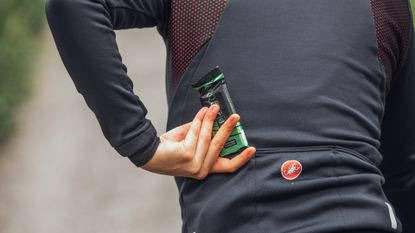 (Image credit: Future)
There is a huge array of fitness products being marketed to cyclists. Some are boundary pushing, others simply add to their already saturated category.
Ever curious, there is always something new which we're testing out and seeing whether or not it works for us. From energy drinks, gels and supplements to training equipment, recovery aids and kit - there is a lot to experiment with!
So, without further ado, here are the fitness products we've been using this past month - and what we thought of them.
Meet the testers
David edits the fitness pages of Cycling Weekly's print magazine. His endurance background is in long-distance running – his proudest achievement being a sub-2.30 marathon – but these days he enjoys a more varied exercise regime, interspersing cycling on his local Sussex lanes with running, Zwifting and free weights in the gym.
Anna is Cycling Weekly's Fitness Features Editor for the web. Her cycling life began at the racing circuit of Hillingdon, but has since expanded to include bikepacking, gravel riding and urban utility cycling. Alongside this, she also tends to her similar wide variety of cross-training interests, from yoga and trail running to bouldering.
Carmex Moisturising lip balm
Tested by: David Bradford
As soon as the weather turns cooler, I'm very prone to chapped lips, so I have to remember to apply a smear of balm before every outdoor ride or run.
In the past, I've found that some balms seem to wear off or dry out very quickly – and who can be bothered with the faff of reapplying mid-ride? The latest range of Carmex 'click sticks' – the balm twist mechanism produces a pleasing click – have been a welcome addition to my pre-ride prep shelf, therefore, as the formula is noticeably longer-lasting.
The stick contains lanolin and cocoa butter, and whatever the key ingredient, it works wonders in keeping lips from drying and cracking. It also provides 15SPF sun protection, and there's a 30SPF version if you're heading to sunnier climes.
Available in a range of fruit 'flavours', and the pleasantly fruity tang somehow makes it easier to remember to apply too!
Torq Performance Energy Gel - Naked
Tested by: Anna Abram
I can get quite fussy about the cycling nutrition I eat, especially on longer rides when I'm getting through a lot. But the good news (for me, at least!) is that there seems to be a growing recognition of this "flavor fatigue".
Torq is one of those brands which has jumped on board, including a flavorless option to its energy gel line up. I'd rate this amongst the best energy gels I've used on endurance rides - particularly in that I was happier sticking to the recommended fuelling intervals.
One point to note is that although it's flavorless, it's still quite sweet. It's an energy gel after all and so it's packed with sugars. To be exact, each gel contains 30g/120 kcal of a 2:1 maltodextrin: fructose carbohydrate mix. So don't be expecting an entirely neutral water-like taste when trying your first one!
Pulsin Protein Complete Vegan Blend powder
Tested by: David Bradford
In a concerted effort to hit the recommended daily protein intake of 1.6g per kilo of bodyweight – which for me is about 110g – I glug down a recovery drink after every hard or long exercise session. Because I also try to stick to a mostly vegan diet, the choice of powders has seemed rather limited – though that is beginning to change.
A relatively new entry to the market is Pulsin's plant-based powder, which boasts a complete amino acid profile thanks to its blend of pea, fava bean and pumpkin seed sources. Each serving contains 20g of protein and only 100kcal – the low calorie count is a plus-point, in my view, as I prefer to get my energy from solid, real food.
Unlike most rival powders, Pulsin's is free from dairy, gluten, artificial additives, flavourings, colourings, or preservatives. I tested the Berry flavour, but it's also available in Chocolate, Choc Hazelnut and Vanilla. The sparing use of sweetener is noticeable in the 'dry' taste, but it mixes well, has a nice texture, and it'd be easy to add sweetness by mixing with a plant-based milk rather than water.
Kane Footwear Project Renew Yoga Mat
Tested by: Anna Abram
Fall is the season for cross training and for me, yoga is a core part of my off-the-bike routine. I find that it helps with my flexibility and core strength for holding my position on the bike, as well as helping guard against niggles in my joints. Aside from anything else, it's also just a nice way to decompress and relax your mind.
Of course for yoga, you need a mat. With no moving parts or any seams and stitches to worry about, you might think that this would be quite straightforward - but there are so many options out there, it can get quite overwhelming. Still, there are some brands doing things a little differently which do very much stand out.
Kane Footwear has launched a line of Upcycled Kane yoga mats made from used Kane Revive shoes. Kane asks that its customers donate their used Kanes back to them, and the brand will send you a $10 gift card for your next pair. As well as keeping the used shoes out of landfill, proceeds from the Kane Project Renew Yoga Mats also go towards the brand's 1% for the Planet commitment.
It's a nice initiative made all the better by the quality of the mats. I love the colorful, glittery look and it's got a really good thickness for supporting your knees and tailbone when doing moves which require you to put a little more pressure into the mat. It's also nice and grippy, both in terms of it staying in place on the floor and you staying in place on the mat.
Lift Activ Energy Boost chews
Tested by: Anna Abram
For those who aren't so keen on the texture and mess of gels, there are easy alternatives for getting the energy boost your body needs during exercise. Enter Lift Activ Energy Boost chews.
Available in four flavors (Tropical, Orange, Raspberry and Lemon & Lime), the Lift Activ Energy Boost chews are essentially a sugar tablet. Really easy to eat and the fast-acting glucose gives you the kick you need.
Plus, the selected blend of added vitamins and minerals (including Pantothenic Acid, Folic Acid, Magnesium, Niacin, Riboflavin, Vitamin B6, Vitamin B12 and Vitamin C) also help to reduce tiredness and fatigue.
The tube packaging is compact and great for packing into a bag for an event day. That said, they're not particularly energy dense, and the tube isn't particularly convenient for taking these on mid ride. A backup to have in your bar bag, perhaps, rather than trying to use them as your only fuelling strategy.
Vitamin Well vitamin drinks
Tested by: Anna Abram
Balancing a busy, active lifestyle with a full time job means that not every night I have time to cook quite the nutritious meal I want to. On these occasions, I find it can be useful to top up with quick and easy supplements.
I don't necessarily want the extra calories or sugar hit with that, though - and this is where Swedish beverage brand Vitamin Well's come in. They've just launched into the UK and Ireland and I've tried out four of their non-carbonated, low-calorie, vitamin and mineral filled drinks: Elevate, Hydrate, Recover and Reload.
The bottles are made of 100% recycled plastics and each drink is 500ml - which is handy as it encourages you to stay hydrated.
The different drinks contain different combinations of nutrients, so you can be more targeted with the supplements you're taking on. Staples such as Vitamin B12 and Vitamin D are consistent across the range, whereas some go heavier on the Folic Acid (used by the body in the production of new cells) and others have a higher proportion of Niacin (good for the nervous system and your skin).
The flavours are strong, but not overpowering. I particularly enjoyed the lemon and lime of Reload and the elderflower and peach of Recover.
Thank you for reading 20 articles this month* Join now for unlimited access
Enjoy your first month for just £1 / $1 / €1
*Read 5 free articles per month without a subscription
Join now for unlimited access
Try first month for just £1 / $1 / €1