What can cyclists learn from other sports?
Even for those who seem to have reached the pinnacle of cycling, applying principles from other sports can keep progress in motion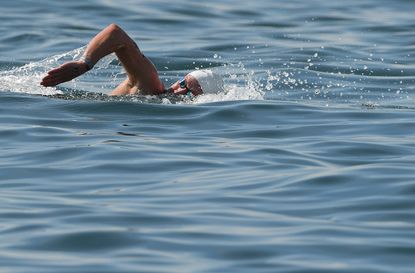 (Image credit: ddp USA/REX/Shutterstock)
Cycling has become the envy of most other sports in Britain, there's no denying it.
One of our own has won the biggest race, the Tour de France, four times in the last five years; every member of our track team in Rio won a medal; our big sportives are so popular they warrant ballot entry; and we buy more bikes than cars.
But let's not get arrogant — there is still much we can learn from other sports, and in doing so, we might just get even better.
Some sports already understand the benefits of intelligence sharing and cross-pollination — rugby is a case in point.
Top clubs in both league and union have brought in athletes from triathlon, wrestling and Taekwondo to develop more aggression on the pitch, and ballet dancers are helping players become more flexible, build stronger cores and more focused mindsets.
>>> Improve your core with these cycling specific sequences (video)
Cycling seems to be cottoning on to this trend. Whether it is around coaching or conditioning, training methods or mental strategies, sports as diverse as football, ballet, swimming, athletics and Formula 1 have all been plundered to help cyclists continue to improve.
Consider this example: last year, British Cycling drafted in Stephen Park — formerly team manager at British Sailing — as its performance director.
One pro cyclist who has embraced the idea of building skills from other sports is Alex Dowsett. His coaching company Cyclism has been assessing how athletes can gain the edge by adopting new ideas.
James Millard, Cyclism's performance director, is passionate about cross-sport learning.
"We work closely with a medical team that has a background in professional rugby, and some of our testing can identify the specific strengths or imbalances of individual muscle groups as a result of techniques used in that discipline — complementing standard cycling testing," Millard says.
"We also have strong links with the world of ballet and have used this knowledge in conjunction with physiotherapists when working on posture and core stability."
Dowsett not only took advice from a former professional ballet dancer but was brave enough to be filmed for YouTube learning some of her moves.
Millard says, "It's quite an eye-opener and shows how, regardless of ability, there are always things we can harness from other areas to make us better in our own."
Hayley Simmonds, former British time trial champion, is another cyclist who has developed her physical conditioning from other sports. She explained to CW that she trains very differently from other cyclists principally because she used to be a rower.
"I did quite a few weights sessions when I rowed for Cambridge University Women's Boat Club, and the techniques I learned there have definitely been useful," Simmonds says.
"I did pilates and yoga sessions as part of my rowing training, which I have continued."
James Witts, author of The Science of the Tour de France, draws attention to the reverse periodisation model of training, which was brought into Team Sky for Chris Froome by former British Swimming coach Tim Kerrison.
The technique has also been adopted by BMC Racing and Tinkoff in the past and sees riders focusing on power and speed from the start of their training, only increasing the duration of sessions as race season nears.
The principle is, riders ally their training more closely to the specific demands of the upcoming race.
Fresh perspective
When it comes to coaching skills, UK Sport facilitates the best practice exchange in Olympic and Paralympic sport by bringing together coaches from different sports to share ideas.
Trainee cycling coaches take courses alongside former athletes from many other Olympic and Paralympic sports, giving them the chance to pick up and implement new ideas.
New riders coming into cycling from other sports have brought with them fresh ideas and perspectives. Kate Allan is now a time trialist with Drag2Zero but was previously a triathlete.
"Competing in middle-distance triathlon provided me with a solid endurance base, as I was used to racing for upwards of five hours, combined with a heavy weekly routine of swim, bike and run," she says.
"I developed the discipline and drive to push my body to its limits, along with the mental capacity to hurt myself — a fundamental component of time trialling."
Matt Bottrill, British TT champion turned coach, is also transferring techniques and ideas from triathlon to cycling. A key element he has introduced, inspired by swimming coaching, is regular drills and race-craft training, working on technique and the specific demands of race situations.
He believes these areas have been neglected by many cycling coaches. Bottrill also prescribes higher-intensity intervals with shorter recoveries, from which he says his riders are already seeing the benefits.
In the same vein, three-time national derny champ Hannah Walker has upped the number of intervals she does in each session, based on her previous training as a runner.
Aero advantages
In the ever more intense quest for aerodynamics, cycling has turned to motor racing. Bike firms such as Specialized have been taking ideas from Formula One race team R&D units.
One of the key areas of intelligence sharing centres on telemetry, where measurements and data are collected at remote or inaccessible points.
Watch now: Which aero gear gives you the most bang for your buck?
As a result, some pro teams now work with their bike sponsors to place numerous sensors on their riders in training to track power, drag, speed, wind and ride position, using infrared lasers to monitor torso and head movements.
The sensors can be tracked from anywhere in the world to calculate the frame, wheels, tyres, kit, helmet and positions in order to optimise speed while decreasing energy expenditure.
Other sports also offer psychological insights. British Cycling was one of the first national governing bodies to take sports psychology seriously; its work with the psychiatrist Steve Peters has been widely documented.
However, Peters's famous 'chimp' philosophy doesn't resonate with everyone — some cyclists have sought other mental tips and tricks.
Olympic track champion Katie Archibald has a simple but effective mental technique, taken from her swimming days, to help her get through arduous sessions.
In swimming sessions, Archibald used to substitute the word 'lengths to go' with 'went to mow' — as in, 'one man went to mow, went to mow a meadow' — singing in her head. She uses the same technique for counting laps on the track.
Other mental strategies for cyclists have come from winter sports. Austrian hill-climb champion Anna Badegruber has been learning the deep-breathing techniques and concentration exercises used by skiers and bobsleigh teams in her home country.
These have helped her develop the calm and focus needed before competition, helping to deal with nerves and focus more clearly.
Alongside skills for training and racing, other sports are also contributing recovery lessons.
Cycling's preference for static recovery has been called into question by sports in which active recovery is favoured. WNT Cycling Team, for instance, now advise their riders to stretch, walk or swim after races, rather than simply sitting or lying down.
Whether it's coaching techniques, recovery, training tips, mental strategies or aerodynamics, countless lessons are being learnt from other sports.
But a word of caution: adopting too many new ideas, or doing so haphazardly, won't work.
Witts points out that even Team Sky, renowned for taking on bold new ideas, do not rush into experimentation; tests and controls are put in place first: "They do not want to test cutting-edge ideas on elite athletes whose livelihoods depend on performance. Road testing is very different to testing in the lab."
So, if you want to apply ideas from other sports, think like a sports scientist. Do your research, ask lots of questions, try it in training, then reflect and analyse — a convention-challenging idea from another sport really could benefit your cycling.
Thank you for reading 20 articles this month* Join now for unlimited access
Enjoy your first month for just £1 / $1 / €1
*Read 5 free articles per month without a subscription
Join now for unlimited access
Try first month for just £1 / $1 / €1