12 of the most beautiful cycling sportives in the UK
We pick out a dozen of Britain's most scenic cycling sportives taking place during 2017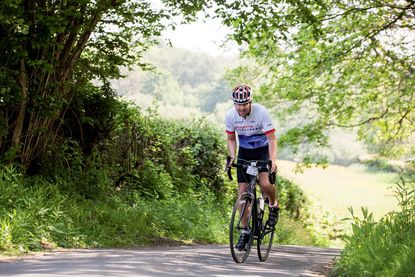 (Image credit: Daniel Gould)
Get The Leadout Newsletter
The latest race content, interviews, features, reviews and expert buying guides, direct to your inbox!
Thank you for signing up to The Pick. You will receive a verification email shortly.
There was a problem. Please refresh the page and try again.
Cycling Weekly South Downs Spring Sportive
When: 1st April 2017
Where: East Sussex, Plumpton
More information: https://www.ukcyclingevents.co.uk/events/cycling-weekly-south-downs-spring-sportive/
The South Downs Spring Sportive is the ideal way to ease yourself back onto the bike after the winter and with three varied courses and distances there's no better way to start your sportive season than in beautiful East Sussex. Heading off from Plumpton, riders will enjoy a loop that will cover most of East Sussex's stunning scenery. You will experience mainly flat, long-ranging, and quiet countryside roads, you will flirt with some of the climbs in the local area but this sportive is one for the scenery. To finish you will cross the picturesque River Ouse to complete what should be a enjoyable spring time sportive.
>>> 12 of the best upcoming cycling sportives to ride
Wiggle South Downs 100 Sportive
When: 22nd October 2017
Where: West Sussex, Chichester
More information: http://www.wiggle.co.uk/wiggle-super-series-south-downs-100-sportive-2017/
This October time sportive is another one that takes in the beautiful Sussex area; it might not be in the heat of the summer time but it should still promise some spectacular riding as you will take in parts of the South Down National Park. Starting in Chichester, the South Downs Sportive will take in surrounding areas of Petersfield and Billinghurst. And with three different courses on offer which will suit riders of all abilities it's a sportive that's not to be missed.
Wiggle Mega Meon Sportive
When: 23rd July 2017
Where: Hampshire, Waterlooville
More information: https://www.ukcyclingevents.co.uk/events/wiggle-mega-meon-sportive/
This summer corker is another must-do sportive; the Mega Meon will not leave you disappointed in terms of spectacular scenery. Starting in Waterlooville, Hampshire you will take in gorgeous country roads as well stunning views across the Solent, Spinnaker Tower, and the Isle of Wight. After taking in some of the area's challenging climbs pass through Northington, Tichborne, and Cherlton to complete what should be a hard yet rewarding sportive.
>>> Best cycling sportives in Scotland
Wiggle Forest Ranger Sportive
When: 22nd October 2017
Where: Uttoxeter, Staffordshire
More Information: https://www.ukcyclingevents.co.uk/events/wiggle-forest-ranger-sportive/
The Wiggle Forest Ranger Sportive will give riders a lovely flavour of the undulating East Staffordshire and Leicestershire countryside. Starting at Uttoxeter racecourse you will head south towards Blithfield Reservoir, after that you will head through the pretty National Forest at Newborough. Along the way back you will pass through yet more beautiful forest areas such as Needwood and Marchington before you finish back at Uttoxeter.
Fell Beast Sportive
When: 3rd September 2017
Where: Carlisle, Cumbria
More Information: https://www.ukcyclingevents.co.uk/events/fell-beast-sportive/
If you know Cumbria, then you will know two things: firstly the area boasts many places of astounding natural beauty, and secondly there are hills, lots of them. But if you love Cumbria and enjoy climbing on your bike, the spectacular Fell Beast Sportive will be just the ride for you. With over 7,000ft of climbing it's among the toughest sportives, but it is also one of the most stunning ones. Starting at Carlisle racecourse riders will be treated to a number climbs including Warnell Fell, and the big one at Honiston Pass. But along the way you will ride pass the beautiful River Derwent as well taking in the breathtaking Lake District National Park.
>>> Best cycling sportives near Bristol
Herefordshire Devil Sportive
When: 7th May 2017
Where: Leominster, Herefordshire
More Information: http://www.drovercycles.co.uk/events/herefordshire-devil/
Starting in Leominster, this Herefordshire-based sportive is another event which couples stunning scenery and superb riding. It's very climbing orientated with each route taking in well over a 1,000m of climbing, with the most being 3,092m in the more advanced 133-mile route. But if you suffer the climbing, in exchange you will get great views over the surrounding areas of Herefordshire and on into Wales.
Chiltern 100 Sportives
When: 16th July 2017
Where: Penn House, Amersham, Buckinghamshire
More Information: http://humanrace.co.uk/event/chiltern-100-sportive/
Part of the Chiltern 100 Cycling Festival, these Sportives in the summer will be perfect if you want to experience all the natural beauty of the Chilterns and the surrounding areas of Buckinghamshire. The longest sportive will see you take in 172km worth of riding over vastly differing terrains, with one of the main attractions being the notorious Whiteleaf Hill. Not only will this give you a huge sense of gratification it will also provide you will some rather splendid views.
>>> Best cycling sportives near London
Sodbury Sportive
When: 13th August 2017
Where: Chipping Sodbury Rugby Club
More Information: http://www.sodburysportive.co.uk/the-event.asp
Another summer sportive that should be on the 'to-do' list this year is the Sodbury Sportive. Starting at Chipping Sodbury Rugby Club you will embark on an enjoyable sportive which will take you into the heart of the Cotswolds. During the route you will take on the tough climbs of the Cotswold Ridge, but you will be rewarded with fantastic scenery across the Severn valley which should well than make up for a tough day in the saddle.
Cycling Weekly Ripon Revolution Sportive
When: 24th June 2017
Where: Ripon, North Yorkshire
More Information: https://www.ukcyclingevents.co.uk/events/cycling-weekly-ripon-revolution-sportive/
Yorkshire has become synonymous with British cycling over the past couple of the years; the Grand Depart in 2014 put the area on the map, and with subsequent big-name races thereafter this sportive is certainly one to get stuck into. Put on in the height of summer is advantageous as you will experience the stunning Yorkshire scenery. Starting in Ripon, riders will take in a variety of challenging climbs starting with Masham and Leighton Reservoir, and ending with High Ash Moor where you will be rewarded with beautiful scenery of the surrounding areas.
>>> Best cycling sportives for beginners
Cycling Weekly Dartmoor Demon Sportive
When: 29th April 2017
Where: Exeter, Devon
More information: https://www.ukcyclingevents.co.uk/events/cycling-weekly-dartmoor-demon-sportive/
As well as being one of the most difficult sportives on the calendar, the Dartmoor Demon is also one of the most spectacular as it gives riders a stunning sense of the Devon countryside. Shortly after starting off from Exeter racecourse you will pass through the spectacular Haldon Forest, and then after that you will take in the stunning surroundings of the Dartmoor National Park. To end you will cross the River Dart to finish back at the racecourse, after what should be a enjoyable ride.
Tour of Pembrokeshire
When: 20-21st May 2017
Where: Crug Glas County House Hotel, St. Davids
More information: http://www.tourofpembrokeshire.co.uk/
This year is the 10th edition of this wonderful event, and 2017 promises to be one of the best ones yet. With four new routes added it will give riders a wonderful taste of the Pembrokeshire area. The 80 and 130 mile route does contain an eye-watering amount of the climbing with the former having 8,000ft of climbing and the latter taking in 13,000ft of climbing. But with stunning coastal scenery and lovely views atop climbs this is certainly an event that should not be missed this summer.
>>> Best cycling sportives in Wales
Dragon Ride L'Etape Wales
When: 11th June 2017
Where: Margam Park, Port Talbot
More information: http://www.letapeuk.co.uk/wales/letape-wales/event-info/maps/
Part of the L'Etape Wales, the Dragon Ride beginning at Margam Park is one that will provide riders both a test, but also some superb views of South Wales. Organised by the Human Race and ASO this event hopes to bring the 'spirit' of the Tour de France to South Wales, and with plenty of climbing involved it will certainly feel like a Tour stage for the riders. On the Dragon Ride riders will be treated to the Bwlch and Rhigos climbs which will not only test their climbing ability it will give them some fabulous views over South Wales.
Thank you for reading 20 articles this month* Join now for unlimited access
Enjoy your first month for just £1 / $1 / €1
*Read 5 free articles per month without a subscription
Join now for unlimited access
Try first month for just £1 / $1 / €1