'Whatever happens, I'm starting the club': Iffat Tejani on realising her bucket list dream of opening up cycling to Muslim women
How a life-and-death diagnosis set free a life-long ambition to break down barriers and rally a community onto bikes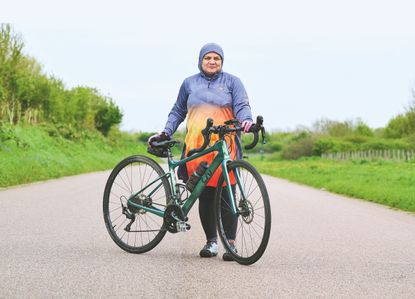 (Image credit: Richard Butcher)
Get The Leadout Newsletter
The latest race content, interviews, features, reviews and expert buying guides, direct to your inbox!
Thank you for signing up to The Pick. You will receive a verification email shortly.
There was a problem. Please refresh the page and try again.
This article was originally published in Cycling Weekly's print edition as part of the long-running MY FITNESS CHALLENGE series.
Growing up in Dar es Salaam, the largest city in Tanzania, Iffat Tejani would notice other children riding bikes but could only dream of joining in. "None of us girls ever got on a bike," she says, speaking to me by video call from her Hertfordshire home. "We were sporty and would play rounders, but girls were not allowed to cycle – it would have been frowned upon." Aged 16 Tejani relocated to the UK with her family; at 20 she married and set about raising a family of her own. Only with the onset of a health crisis, 17 years later, did her long-dormant dream of cycling reassert itself in her mind.
"At the end of 2009, I was diagnosed with bilateral breast cancer," says Tejani. "I was only 37 at the time and our kids were still very young. Because the cancer was stage three and I'd recently watched the Morgan Freeman film The Bucket List, I decided that's what I needed, my own bucket list." Top of her list was to ride a bike. Exercise was out of the question while dealing with the cancer, but after two years of arduous treatment Tejani's energy began to return. "Six weeks after radiotherapy ended, I did a 5K breast cancer run," she recalls, "and then I wanted to learn to ride a bike. Because I'm a Muslim woman, I was looking for a female to teach me, which was very hard to find."
Unable to find a female coach, Tejani booked a lesson with a St John Ambulance man who taught cycling skills part-time. "On my first lesson, I hit a curb and fell off," she chuckles. "The instructor wasn't expecting to hear back from me after that, but I rang him the next day and said, let's go out again today but can we go somewhere softer?" Over the next three days, Tejani picked up all the basic skills she needed to ride solo. "I've not looked back," she grins.
Within a few weeks of regular rides with her family, Tejani was ready to take her cycling to the next level: she wanted to reach out to other women like her who were keen to get started. Over the next few years, she gained more confidence, developed her fitness and joined group rides through British Cycling's Breeze network. Yet there was something lacking from her cycling. "I was missing that community feeling," she says, "riding with other women who looked like me and had shared values. I could see the gap." From speaking to friends at her local mosque, Tejani knew that the demand was strong, and she grew ever more determined to set up a cycling club for Muslim women. "But life had another plan," she sighs.
In 2019, Tejani's cancer came back. The only treatment option this time was a double mastectomy. It was another life-and- death situation but also another impetus to put dreams into action. "Bucket list number two was formed," says Tejani. "This was an even more determined list than the first one: I thought, whatever happens, I'm forming the club." Six weeks after surgery, in summer 2020, she was back on her bike and raring to go. "As we got the bike ready, my husband said, 'I'll just get my shoes so I can follow you – but before he could fetch them, I was down the road!"
Starting over
Although her fitness was back to square-one, Tejani refused to be held back. She became a Breeze Champion, began leading group rides and, in partnership with the mosque, set about organising a fundraising sportive from Harrow to Windsor. "No one realised this was going to be my first big ride," she laughs at the challenge she had set herself almost by accident. There was no turning back. "Working with a coach, we created a programme on TrainingPeaks, and I bought an indoor turbo," Tejani remembers the project taking shape. "My FTP was 50 watts when I started – that's a cool-down for most people!"
Outstripping her expectations, 85 riders – all Muslim women – took part in the inaugural sportive in October 2020, and from its success the Evolve club was born. Tejani's vision for the club was to provide everything its members could want, from coaching to group rides to racing and performance development.
I have to admit at this point, I had no idea there was such an appetite for competitive cycling among British Muslim women – and I wonder what had been holding them back before Tejani and Evolve came along. "Clothing was the first barrier because obviously being very tight was not hijabi, so we knew we needed to design our own kit." With characteristic initiative, Tejani set about designing a jersey that would be sensitive to Islamic values. "We've taken the traditional cycling jersey and given it a modest look," she explains. "It has pockets and functionality, the same breathable material, but is slightly longer."
The next hurdle was a shortage of female coaches. "There were male coaches," says Tejani, "but for those women who were from more conservative backgrounds, it was keeping them away. So we trained women to become coaches." As the barriers were knocked down one by one, women flocked to join Evolve – albeit initially on bikes that were far from conducive to high performance. "At the first sportive, all of the women were on hybrids with suspension – chunky tanks as I call them," laughs Tejani. "By the next one, we had transitioned all women onto road bikes. It's been very much a knowledge-building process."
Leading by example, Tejani gave others the confidence to try styles of bike and riding that at first seemed intimidating. "The only way we could do it was just – jump! The journey has been not only riding and getting stronger but also learning, which I've loved."
All the while, Tejani's own skills-development has continued apace. "I'm now a Level 2 road, time trial and track coach, and the club has 350 members," she says proudly. "We're looking to launch the Muslim Women's Track League at Lee Valley, after more than 100 of our women took part in cyclocross. And this Sunday the club has a time trial – our members want to race!" Her own performance has come on leaps and bounds too, with her FTP up by 150% to 125W.
It has been two years since Tejani's cancer surgery; now 50, she is in remission and feeling healthier than ever. "In a way, cycling was my healing journey," she says. "When I am on the bike, I am not the person who has beaten cancer twice – except when I hit the hills, which is the only time I am reminded. At all other times, I am just a normal person." Mindful that two bucket lists have already been ticked off, it seems almost churlish to ask, but I can't resist: what is her long-term dream for Evolve? "Our ultimate aim is getting a hijabi girl on the podium, either as part of Team GB or some other way. That will mark our project complete!"
Cycling and Islam: 'It's about education – finding out where the barriers lie'
Islamic traditions dictate that followers must fast from dawn till dusk during the holy month of Ramadan, partake in daily prayers, and women must dress modestly. Tejani explains how cycling fits in around these obligations
Training while fasting: "During Ramadan, you have to adapt your training time. You go out closer to sunset, and you ride more in Zone 2 rather than pushing into higher zones. For the first time this year, I did fasted training on the turbo. It is usually best to train after you have broken your fast [after sunset]. The longest I have ridden without food or water is two hours, but you have to judge your effort accordingly."
Cultural barriers: "There has always been certain resistance, on faith grounds, to women cycling. It's why many Evolve members are coming to cycling later in life. We've had to do research to see where the objections come from. Clothing is a key area, and it's why we designed the modest cycling jersey. If a woman wants to cycle in a full abaya [loose cloak], that's absolutely fine – we just have to make sure it doesn't get caught in the chain."
Early starts: "We wake at dawn for morning prayers, and then head straight out afterwards, which works really well. During the summer, it is a gorgeous time of day to train – the best time!"
The talent-developer: 'I don't want anyone to be alone like I was'
Shahina Chandoo, 19, from north London, is a Level 2 coach who works alongside Tejani to identify and develop Evolve's most promising young talents.
"When I was 14 I did RideLondon, which was when I realised I really enjoyed cycling. Two years later, the Evolve club started and I was originally brought on board to be a coach. Towards the end of 2021, we started Evolve's Go Ride programme – designed to bring children into the racing system. At that point, I needed to understand what competing involved, so I started cyclo-cross racing – very scary to begin with!
"I've been awarded the British Cycling coaching scholarship, helping me develop young riders – I've been able to see exactly what selectors are looking for. Our first intake of kids have been with us a year and a bit, with 15 of them now involved in racing.
"Cycling has always been seen as a white man's sport that's not really open to everyone else. So the whole idea of Evolve was to make a comfortable, safe space in which to progress. When I was starting out I was the only woman from my background riding, but now the club has 350 members. I don't want anyone to be alone like I was."
The full version of this article was published in the 15 June 2023 print edition of Cycling Weekly magazine. Subscribe online and get the magazine delivered to your door every week.
Thank you for reading 20 articles this month* Join now for unlimited access
Enjoy your first month for just £1 / $1 / €1
*Read 5 free articles per month without a subscription
Join now for unlimited access
Try first month for just £1 / $1 / €1
Get The Leadout Newsletter
The latest race content, interviews, features, reviews and expert buying guides, direct to your inbox!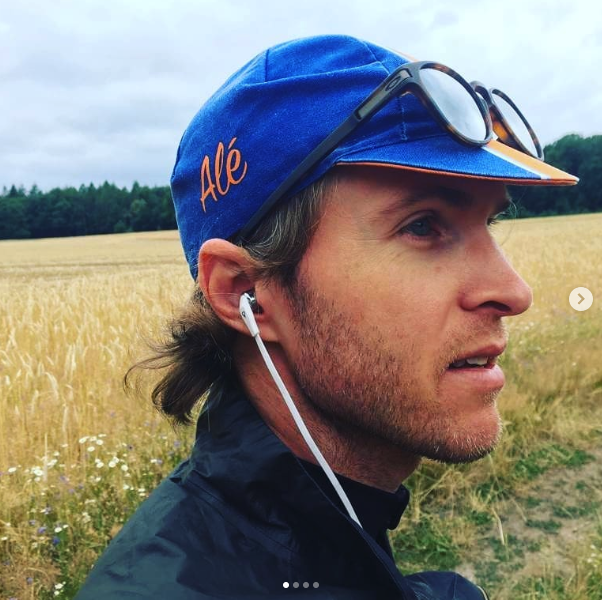 David Bradford is fitness editor of Cycling Weekly (print edition). He has been writing and editing professionally for more than 15 years, and has published work in national newspapers and magazines including the Independent, the Guardian, the Times, the Irish Times, Vice.com and Runner's World. Alongside his love of cycling, David is a long-distance runner with a marathon PB of two hours 28 minutes. Having been diagnosed with retinitis pigmentosa (RP) in 2006, he also writes about sight loss and hosts the podcast Ways of Not Seeing.