The grim reality of bike packing — why this trend isn't for me
Bikepacking, as it turns out, is not for everyone. Here's one cyclist's journey to hotel yearning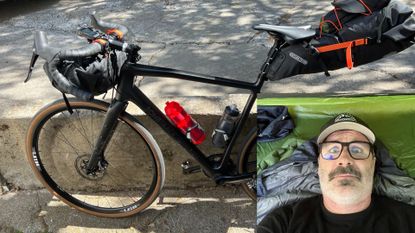 (Image credit: Patrick Bulger)
Freedom to explore. At one with nature. Off the grid. Simple.
These are just a few of the comments I regularly hear from cyclists who have entered the world of bikepacking. Long gone are the days of "tourists" who would ridiculously load pound after pound of camping gear, clothing and personal items onto their bike to slowly, arduously, pedal to some chosen destination to sleep on the ground and painfully do so again the next day. Bikes are lighter. Camping gear is more packable and efficient. Bike bags are waterproof, rugged and creatively designed. Bikepacking is here to stay.
Then why do I dislike it the way a school librarian dislikes childhood joy?
Let's back up a bit. Earlier this summer, I assigned myself the task of an overnight bikepacking trip. After seeing and reading all of the magical content that is out there, depicting bikepacking trips that featured nature at its finest, and personal reflections that compared to religious epiphany, the fantasy of this once referred to concept of "bike touring" reignited my desire for new two wheeled adventures.
Sure, back in the day, touring was thought of as a silly endeavor saved only for the "Freds" that would dare to strap panniers onto a steel frame, velcro up some flat bottomed shoes and click on a helmet that resembled a reflective salad bowl. But in the 2020s, touring —now dubbed 'bikepacking— is all the rage.
I had already purchased most of the equipment needed on, well, let's be honest here, some random evenings with a glass of adult beverage and an open shopping web browser.
The destination was decided upon as a "medium" distance to test everything out, stay the night, experience the "joy", and pedal home the next day.
The destination, beautiful Lake Benewah, just outside of St. Maries, Idaho, about 45-50 miles each way, depending on the route loaded into my GPS. Fast forward two days later, and I'm riding in 98 degree heat, on a rear flat tire that I had no energy to change for the past three miles, suffering from massive heat exhaustion, a sore back and neck from the "sleeping pad" I endured, navigating GPS mistakes, and I have to say (this is just my opinion here) that bikepacking can, well, take a hike.
Here are the reasons why:
Bike packing bags are heavy
I ride my bike for the feeling that I experienced as a child. The feeling of flying. The wind in my face. The speed. Bikepacking, as a close friend once said to me, is "like you're a bird who's had their wings clipped." A fully loaded bike with all of my gear was over 50 pounds. FIFTY! Why not just give me a classic Schwinn Varsity with rubbing brakes?! Getting out of the saddle to climb, accelerate, or even relieve sit bone pressure was impossible, and maintaining any type of momentum was akin to pedaling with flat tires in tapioca pudding.
I want comfort after a long ride
Camping is great. Heck even tent camping is great, but after four hours in the saddle maintaining a scant 14mph, I would have happily changed my name to "Doofus McJerkFace" for a subpar hotel and a pizza place. Every time I moved the next morning I emitted verbal sounds that could only be described as "old man grunts".
This being said, I do have to attest to the great food and coffee options that have been made available to those adventuring out into the woods. Dining and drinking have come a long way from a hot dog on a stick. I'll take a proper RV and day trips from a campsite instead, please. Or a credit card and a hotel room.
Destinations can be provision poor
Once arriving at your destination, there is little chance of obtaining any extra provisions. My wonderful camp host informed me that, should I want to grab some cold beverages or additional snacks, my closest option was a "short 17-mile drive" away. Yeah, I wasn't about to add 34 bike miles to my adventure…
Now, please understand that this is simply my take on a highly popular pastime. I'm sure many of you are already firing up your keyboards to send commentary about my apparent lack of understanding of a magical experience. Many of your responses are likely to include terms such as "HTFU", "roadie", "lycra", and other methods of my apparent inability to slow down and enjoy the beauty of life. I fully understand this, and do intend to try again some time when the scorching weather conditions aren't akin to the filling of a McDonald's fruit pie.
I'm simply stating that, although you might enjoy it, I now fully understand why many bikepacking social media groups I follow tend to have a multitude of equipment for sale.
Anyone want to buy some bike bags?
Thank you for reading 20 articles this month* Join now for unlimited access
Enjoy your first month for just £1 / $1 / €1
*Read 5 free articles per month without a subscription
Join now for unlimited access
Try first month for just £1 / $1 / €1