Africa Rising: Digging out the diamonds in a population of 1.4 billion
Just two years out from Africa's first World Championships, Chris Marshall-Bell investigates the state of cycling on the continent. Is it boom, stagnation or bust?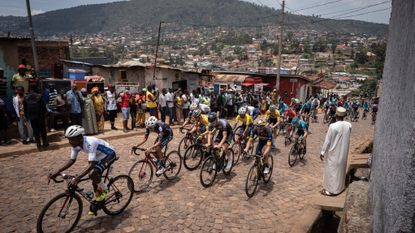 (Image credit: Getty Images)
Get The Leadout Newsletter
The latest race content, interviews, features, reviews and expert buying guides, direct to your inbox!
Thank you for signing up to The Pick. You will receive a verification email shortly.
There was a problem. Please refresh the page and try again.
When Natnael Tesfatsion of Trek-Segafredo goes back home to Eritrea, it doesn't take long for him to be brought back down to earth from the highs of racing in the WorldTour and twice at the Giro d'Italia. "When I go to race with the locals, I always get dropped," the 23-year-old says. "It's circuit racing and they sprint out of all of the corners. It's 140km of sprint, sprint, sprint. They're too strong for me."
Tesfatsion is from the African country that has been uppermost in many cycling fans' minds of late, almost exclusively down to his compatriot and same-age peer Biniam Girmay, who last year won Ghent-Wevelgem and a stage of the Giro.
Girmay's successes have been hailed as a watershed for the sport, his triumphs opening the doors for more cyclists, especially black athletes, from across the continent's 54 countries. It is hoped the 2025 Rwanda-held World Championships will further accelerate the opportunities.
It will, of course, take years to assess the tangible effect of Girmay's and the Rwanda Worlds' impact, but speak to anyone who knows the African scene well and they'll inform you that the talent pool across the continent is as deep and extensive as anywhere else, with plenty more Girmays waiting to be unearthed.
But there is a problem: with accessibility to the sport severely limited, travel and finance restricting progression, and widespread corruption in some countries, finding Africa's future stars in the villages, towns and megacities that make up the continent is almost as hard as it's ever been.
For riders to have a chance of a life- changing move to Europe, they have two options: win their National or Continental Championships, or perform well in one of the continent's two big stage races: La Tropicale Amissa Bongo in Gabon or the Tour of Rwanda. There is no other route; it's either bull's-eye or bust.
"There is so much talent across Africa. They don't have power meters but everyone's professional, smart, knows everything, and if they have a chance they will do a good result. The problem is finding the chance," Tesfatsion says. "If you do well in one of those races, they [European teams] will take a look at you. But you must do well there. If not, it won't happen."
Tesfatsion knows this first- hand – it was his win at the 2020 Tour of Rwanda that prompted his move to the second-tier ProTeam Androni-Giocattoli-Sidermec. "That's how I got my chance – God helped me," he says.
Talent in abundance
Digging out the diamonds in a continent- wide population of 1.4 billion requires targeted investment. An estimated 460 million Africans live below the poverty line, and while there are a number of schemes that deliver bikes to Africa, only a smidgen of those steeds are racing bikes. The world of professional cycling exists outside their orbit.
It's why Australian Ross Burrage got involved with Masaka Cycling Club in Uganda in 2019, a club that provides national and international cycling opportunities to children in one of the East African country's most deprived areas. Based a few hours south-west of the Ugandan capital of Kampala, the town of Masaka, just to the west of Lake Victoria and at an altitude of 1,300m, had an informal, small cycling group. Burrage – who frequently works in Uganda as part of his job as a finance and infrastructure manager – set up a fundraising pipeline for the club; now over 220 people from around the world fund the club on a monthly basis at an average of €10 a month, and in the past five years they have built a clubhouse that houses virtual training platforms, provides bikes to locals and employs a local development coach.
"The abundance of raw talent is extraordinary – it is everywhere," says Burrage. "It's not uncommon for us to plonk a kid on a bike, for him or her to do a 20-minute ramp test and for them to average 5W/kg for over 20 minutes. In terms of climbing, even the fittest club riders have no chance of staying with them."
He adds: "You have to understand that this is a very poor region with no money. The kids don't have any money to buy a bike, no money to travel anywhere. They're in survival mode every day. Some might only get one meal a day, and there's no variation of meals – it's beans and corn. They might, if they're lucky, have some porridge in the morning, and they don't have fresh water coming from the taps; it's muddy and they have to boil it.
"But they can come to our clubhouse, get set up on Zwift, we provide them with a heart-rate monitor and sound coaching, and they can blast their legs off and show the world how good they are. Because it's virtual racing, there are no poverty constraints – it's just mano-a-mano, watt for watt. The whole idea of Masaka CC is to mobilise this talent and showcase it in the best way we can to an outside world.
"We've had quite a few riders racing around Africa, and we know we have a lot of eyes on our kids. We have two kids who have barely raced who push 5.5 W/kg on the turbo and would be competitive with anyone in Africa – we now have to get them the racing exposure and experience."
One of their most successful riders is Florence Nakaggwa, who when she joined the club in 2019 was their first female rider; now there are 10 women and girls in the club. Aged 21, she races on the road and gravel, and last year spent time at the UCI World Cycling Centre in South Africa, which since its opening in 2004 has developed male and female talent from across the continent.
Nakaggwa has big aims: "My ambition is to reach the highest level of cycling and I am confident and know that I will make it to the Tour de France," she says. "Opportunities only come if you are financially stable, and thanks to the donors that finance the club and provide us with equipment, I have a chance. Without the club it would be almost impossible to make that step."
Bet on Africa
Arguably the most influential person in African cycling this century has been Doug Ryder. Now the manager of the Swiss-registered Q36.5 team, South African Ryder was in charge of the various guises of the now disbanded former WorldTour team last known as Team Qhubeka-NextHash. The team competed in seven Tours de France and, along with its development outfit that is now in its eighth season, gave contracts to 55 African riders in the past decade.
"Before us, there was no team that took on African riders and took them to the highest level; now, more and more WorldTour teams have an African rider, and every single team in cycling is looking at a colourful flag next to a rider's name," Ryder tells me over Zoom. "Our bet on Africa, the passion generated by the team, has now filtered to others, and we still don't know what the ceiling is of the massive potential of African cycling."
One of the highlights of Ryder's time with Qhubeka was Eritrean Daniel Teklehaimanot wearing the polka- dot jersey at the 2015 Tour de France. "He opened the doors to many people, showing that it is possible to make it to the highest level. Africa needs heroes, and Biniam is absolutely that guy today, the one to stand tall on a bike."
As well as the continent's three cycling powerhouses – Eritrea, Ethiopia and South Africa, who collectively account for all nine African riders in the men's WorldTour – Zimbabwe, Namibia and Ivory Coast are also growing forces. There's also the case of Kenya, where Ineos has opened a cycling academy in partnership with the marathon runner Eliud Kipchoge.
"African cycling is growing exponentially," Ryder adds. "There are many people focusing on it, more people testing, and there's better coaching taking place. The Rwanda Worlds will take it to a new level."
Those oft-mentioned Worlds will shine a light on African cycling like never before, one that cycling hopes will herald a new era for a predominantly white, European sport. "The closer we get to the Worlds, the more interest there'll be in Africa," Ryder predicts. "When Rwanda has the Worlds, everyone will want to come to watch it, to feel its size, its mass, its beauty, its weather. It's got such energy, Africa. It's the most incredible place, and I'm hopeful that investment will come to give Africa its best chance. I'm positive about the future.
"I think the world's best riders will come to Africa, see how beautiful, amazing and colourful it is and the doors will not close but open ever wider."
The issues
There are, however, issues to be conscious of. Rwanda's human rights record has been heavily criticised by Amnesty International, and at the time of first publication [in Cycling Weekly magazine, April 27] there were 35 active non-international armed conflicts throughout the whole of Africa. Corruption, meanwhile, is rife. If governments are corrupt, then it's no coincidence that poorly resourced and poorly funded cycling governing bodies are too.
"This is a dilemma we have every single day: the easy thing for myself and the other funders to do is to throw our hands up in the air, say this is a crock of s**t and walk away. But that doesn't help kids who have hopes and dreams," Burrage of Masaka CC says.
"Not one single cent from the government body which allocates funding to the Uganda Cycling Association goes to the development of cycling in Uganda. Their national federation contacts us about our riders, but it's us who have to fund everything. It's sad, because we want to send riders to the top, but money doesn't grow on trees.
"Until the federations improve, things won't change, things will remain prohibitive and the best kids won't get the right opportunities because they've not got close ties with someone of a higher power."
The tale, however, is not entirely one of woe. Despite there being no African Women WorldTour riders, there are a record 16 African females contracted to a UCI team, and logic suggests that there will be more Biniam Girmays in the ensuing years and decades. For those that do make the leap to Italy, France, Spain and Belgium, it's not hyperbole to describe it is a defining chapter in their lives and those of their families.
"Only six or seven riders from Eritrea have turned pro [nine – Ed] and it has changed their lives, their families, everything," says Tesfatsion, who will ride the Giro for the third successive time in May. "Life is hard in Eritrea and Africa and cycling can change everything."
Five tasks for African cycling
More UCI teams
There are only three African- registered UCI cycling teams in the men's and women's pelotons, and the demise of both the Qhubeka-NextHash and ProTouch teams has severely hampered opportunities for African riders. Doug Ryder comments: "We both had a guaranteed entry into the Tour – but that stopped because of funding. It's a concern as Africa isn't helping itself to stay afloat."
More big races
Only having two UCI 2.1 races – the third tier of racing – is not enough. Bigger races will increase standards and open up opportunities.
More targetted funding
Israel-PremierTech are investing in Rwanda through their Racing for Change campaign that has seen four-time Tour de France winner Chris Froome race the country's national race. More similar schemes are needed.
More opportunities for women
More stage races are being added to the continent's calendar, and more women than ever are competing full-time in cycling, but many African countries still aren't comfortable with women riding bicycles. Overcoming these cultural barriers is key.
Diversify the interest
Most of Africa's cycling history is concentrated on a few areas. Nigeria and Egypt both have over 300 million residents combined, but only one professional cyclist.
Qhubeka: a world-renowned success story
Thanks to its long-term sponsorship of the now-defunct WorldTour team, Qhubeka is a world-renowned charity that has provided well over 100,000 bikes to locals across South Africa, in particular school children.
"The pro cycling team had a massive influence on the brand's global awareness, and the impact that had on the ground is truly amazing," says Doug Ryder.
The bikes are distributed from February to October and Tour de France organiser ASO is a key financial backer.
"Qhubeka provides bikes to school kids," Ryder adds. "They are built in South Africa by locals, and given to kids who do something positive such as improving their grades, growing trees or cleaning up trash. That's why they appreciate the bikes and look after them."
Thank you for reading 20 articles this month* Join now for unlimited access
Enjoy your first month for just £1 / $1 / €1
*Read 5 free articles per month without a subscription
Join now for unlimited access
Try first month for just £1 / $1 / €1
Get The Leadout Newsletter
The latest race content, interviews, features, reviews and expert buying guides, direct to your inbox!
Chris first started writing for Cycling Weekly in 2013 on work experience and has since become a regular name in the magazine and on the website. Reporting from races, long interviews with riders from the peloton and riding features drive his love of writing about all things two wheels.
Probably a bit too obsessed with mountains, he was previously found playing and guiding in the Canadian Rockies, and now mostly lives in the Val d'Aran in the Spanish Pyrenees where he's a ski instructor in the winter and cycling guide in the summer. He almost certainly holds the record for the most number of interviews conducted from snowy mountains.