Big interview: Andrew McQuaid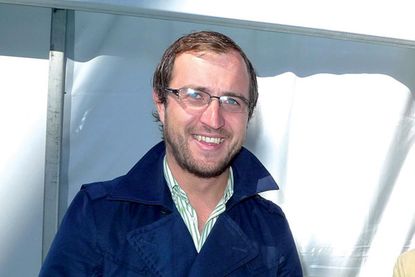 Andrew McQuaid represents some of the biggest names in pro cycling, including a large chunk of Britain's talent in double Olympic gold medallist Geraint Thomas, as well as Peter Kennaugh, former National champion Ian Stannard and Irish rider Nicolas Roche.
There's also Australians Richie Porte and Mark Renshaw plus emerging American star Taylor Phinney. And they're just the ones we know about. Athlete management can be a ruthless game involving a lot of wheeling and dealing behind the scenes. However, it's a game McQuaid, who is also a qualified lawyer, is dedicated to.
The London-based Irishman belongs to a cycling dynasty. His family has long been involved in the sport and his father, Pat, is the current Union Cycliste Internationale president tasked with guiding the governing body through troublesome times.
Sophie Smith caught up with the influential, albeit private, figure, who is forging his own name behind the scenes.
Can you elaborate on what your job as a rider agent involves?
AM: My main role is finding and negotiating team contracts for my riders. Then it is a mix of everything and anything: negotiating individual sponsorship deals and appearance fees, advising on tax and residency issues, managing websites and social media. Basically, what I tell my riders is, whatever you need or want, tell me. If I can do it, I will. If I cannot do it, I will find someone good who can.
How much travel do you do within any given week during the season?
AM: It depends. Lately I have been doing a lot of travelling to various races and different countries to spend some time with my riders.
Do you see much racing at an event?
AM: At one-day races, not really to be honest. Usually by the time a race starts I will have done all my work. I will have had meetings the day before and at the start, so there is no business need for me to be at the race any more. I then try to get back home. Often I have been at a Classic in Europe and am back watching the finish on my couch in London. That said, stage races are different as I am usually there for a couple of days and I enjoy watching the racing. Then there are events like Paris-Roubaix that I enjoy going to and watching as many cobbled sections as possible.
How often are you in contact with your clients?
AM: It varies with each cyclist and what they want. It can be daily, weekly or less often. A regular complaint among my friends is that I am never off my phone. Whether it's emailing or texting, I am always talking to one cyclist or another.
What makes you decide to represent a rider?
AM: Three things: that they are good people so I will get on with them on a personal level; that they are clean; and finally that they are in some way talented.
Is athlete representation a cut-throat game?
AM: It can be, although I know some of the other agents and they are good people. There is a bad perception out there that agents are money hungry, greedy and selfish people, which can be the case sometimes. But a lot of the time it is not the case.
A good agent, who looks after the interests of his client, is worth his weight in gold, and you do not need to be cut-throat to be like that.
Have you ever quoted THAT money line from Jerry Maguire and if so how many times?
AM: No, but I have had that line quoted to me several times by my guys taking the p***. In fact, I have a signed Nicolas Roche jersey hanging in my office where he wrote that line on it.
Is making contract deals a complicated and lengthy process and what is involved in the process?
AM: It can be a five-minute conversation or it can be a three-month conversation. It just depends on the team and rider involved really.
Your surname is famous in cycling. Are all your family involved in the sport in some capacity, and how? Are there pros and cons to this?
AM: Not all my family work in cycling, but they are all cycling enthusiasts. We are a cycling family. It is what we do and have always done. My grandfather raced; he actually raced the Olympics last time they were in London in 1948. His brother raced, my father raced, my six uncles raced, my brother raced, my cousin raced, I raced. It really is in the blood. I played a lot of rugby as a kid and my family didn't really talk to me as a result. To be honest, there are more cons than pros.
I cannot speak for the rest of my family but it does get to me sometimes that people judge me because of my surname, or say I should not be working in the sport. I know I am extremely qualified to be an agent, that I get no preferences because of my surname, and that I do a good job for my guys.
How did you become involved in athlete representation and what was the motivation behind it?
AM: I started by helping an Irish rider, Philip Deignan, who I am good friends with and had raced with on the national team. At the time I had quit racing and was working, and he was filling in university applications. He told me if I could find him a team then great, if not, no worries, he would quit and go to university. Luckily I found Cervélo and he didn't quit. I then started working with Nicolas Roche, who I had also raced with, and it all stemmed from there.
Have you ever pursued an occupation outside cycling?
AM: Yes, it is only recently that I began to manage riders full time. I have a law degree, a diploma in arbitration, and have passed the New York bar so I always thought I would work as a pure lawyer. Previously I have worked as a tax consultant with Deloitte, and a lawyer with Freshfields. Both were great firms, and great jobs. I learnt a lot, which definitely helps me as an agent.
Do you represent athletes from other sports?
AM: No. I am interested for the future, but not yet. I need to become the best cycling agent there is first before I branch out.
This article was first published in the June 13 issue of Cycling Weekly. Read Cycling Weekly magazine on the day of release where ever you are in the world International digital edition, UK digital edition. And if you like us, rate us!
Thank you for reading 20 articles this month* Join now for unlimited access
Enjoy your first month for just £1 / $1 / €1
*Read 5 free articles per month without a subscription
Join now for unlimited access
Try first month for just £1 / $1 / €1