Boris Johnson unveils £913million plan for London cycling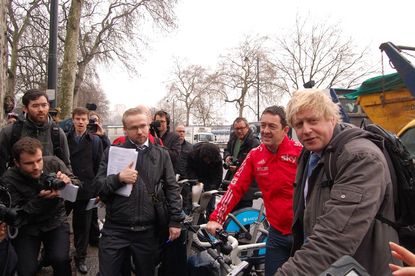 The Mayor of London Boris Johnson today launched a radical £913 million cycling plan to include a "Crossrail for the bike" across London, along with a "tube network for the bike" - linked cycle routes - to get a broader range of people cycling.
The new 15 mile partly segregated route will run from West to East London, via Canary Wharf and the Victoria Embankment, and over the Westway flyover. Johnson said this may be the biggest and most ambitious of its kind in Europe, to be completed by 2015.
In what Johnson called a "profound shift" in his ambitions for the bicycle a London-wide network of segregated and non-segregated routes will also include a central London grid of quiet and segregated routes along with a series of "Little Hollands", showcase Dutch-style zones in three London Boroughs.
Boris Johnson said this morning: "This is a great day for cycling, a new age of the bike is dawning. We are trying to get people who are apprehensive, people who want to cycle in suits. We want to de-Lycrafy cycling."
Part of the rationale for the plan is easing congestion on public transport. The Victoria embankment section will have capacity for 1000 cyclists per hour; the equivalent of four tube trains of seated passengers.
With this in mind the so-called bike tube network will run parallel with and be named after existing tube lines and bus routes, such as the "Circle Quietway" and the "Bakerloo Superhighway" to make them easy to use.
Andrew Gilligan, London's new cycling commissioner, said: "We are going to double cycling in the next ten years, and to do that we need to broaden the demographic. The way we will do that is provide new routes that cyclists and non-cyclists will want to try. We are focussing on hard measures like junctions and routes. It will benefit everyone, even if you have no intention of getting on a bike."
Gilligan, who in his Telegraph blog once criticised cycle infrastructure in London as "not designed for cyclists", said the routes will be continuous and "won't give up at difficult places". Many of the existing superhighways will also be improved as part of the plan.
He added if 14% of journeys are made by bike harmful particulates in the air would reduce by a quarter, and Nitrous Oxide by 30%. He said: "Air pollution costs two to four thousand lives per year. If we can get more people on bikes that will save literally thousands of lives".
There will be a new cycle hub in one of the London mainline stations with cycle parking; possibly at Waterloo Station.
Other measures will include tackling some of London's most dangerous junctions such as Vauxhall Cross and Elephant and Castle, introducing 20 mile an hour speed limits on some Transport for London roads, and introducing greater control over lorries, a disproportionate cause of cyclist casualties.
Chris Boardman (in red jacket) and Boris Johnson meet the press
Chris Boardman and Boris Johnson go for a ride
Thank you for reading 20 articles this month* Join now for unlimited access
Enjoy your first month for just £1 / $1 / €1
*Read 5 free articles per month without a subscription
Join now for unlimited access
Try first month for just £1 / $1 / €1