Bruyneel suspended over black RadioShack kit at Tour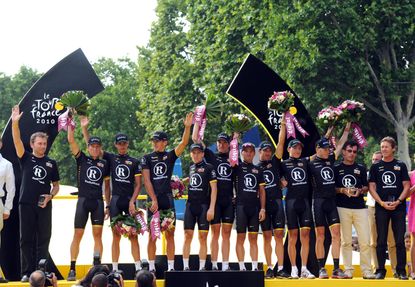 RadioShack manager Johan Bruyneel has been handed a two-month suspension and a 10,000 Swiss Franc fine by the Union Cycliste Internationale (UCI) as a result of the team's non-adherence to clothing regulations on the last stage of the 2010 Tour de France.
In addition to Bruyneel's fine and suspension from February 1 to March 31 2011, all RadioShack team members and directors present at the race were fined 2,500 CHF and 5,000 CHF respectively.
Bruyneel's suspension term means he'll be able to accompany Lance Armstrong on the Texan's last race outside the US when he rides the Tour Down Under in Australia in January. But Bruyneel will have to miss a clutch of early European races including Paris-Nice and Milan-San Remo.
Tour Clothing swap
RadioShack riders, including Lance Armstrong and Levi Leipheimer, swapped their regular red and grey kit before the start of the final 2010 Tour de France stage for all-black clothing emblazoned with the yellow number 28. The figure related to the number of people in millions suffering with cancer around the world as part of Armstrong's LiveStrong cancer awareness initiative.
UCI commissaires quickly spotted the clothing infringement and requested that the team change back into their regular kit at the roadside, leading to a farcical delay to the stage. Despite the warning, the squad then appeared on the podium in Paris wearing the black kit when collecting their award for best team.
Lance Armstrong's roadside kit change during the final 2010 Tour de France stage to Paris
According to UCI regulations, teams must not change their kit during a race without prior approval from the UCI.
Bruyneel reacted strongly to the decision by commissaires to halt the race and force the RadioShack team to change clothes.
"Ok people! Now it's official! To be a race commisar [sic], you don't need brains but only know the rules! Their motto: 'c'est le reglement!'" Bruyneel said via his internet Twitter account at the time.
The UCI statement released on Friday announcing the suspension and fine said: "The riders of the RadioShack team infringed art. 12.1.004 of the UCI Regulations during the last stage of the Tour de France 2010, related to the wearing of a non authorised jersey. In addition, Mr J. Bruyneel publicly offended the UCI International Commissaires with his declarations."
Barredo barred
In addition to RadioShack's discipline for its conduct at the Tour, Spanish rider Carlos Barredo (Quick Step) received a two-month suspension from the UCI for his role in a fracas with Rui Costa after stage six. The unpleasant fight was caught by several cameras and has since become a YouTube hit.
Barredo is suspended from competition from January 1 to February 28 2011 for "blemishing of the image, the reputation or the interests of cycling and the UCI".
Related links
RadioShack to be disciplined for team kit abuse at Tour
Thank you for reading 20 articles this month* Join now for unlimited access
Enjoy your first month for just £1 / $1 / €1
*Read 5 free articles per month without a subscription
Join now for unlimited access
Try first month for just £1 / $1 / €1