Bikes on trains: a ball of confusion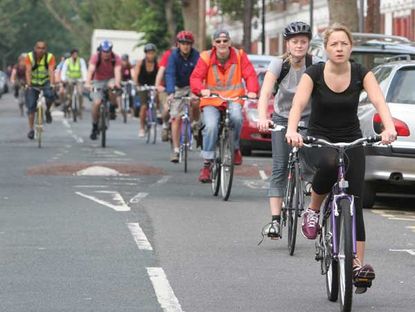 Have you tried taking a bike on the train lately? I ask because my last three attempts have been unmitigated disasters, and as our man Matt Lamy found out this weekend, taking a bike on the train has become a minefield where nobody seems too clear of the rules. Has it has always been this difficult, or are train operators going out of their way to make life miserable for cyclists?
Not so long ago I could pole up at the station, buy my ticket and sling the bike in the guard's van, safe in the knowledge that both me and my steed would arrive safely at our destination.
Now guard's vans have been consigned to history, provision for cycles ranges from scarce to non-existant, and some train companies seem determined to keep us off their rolling stock altogether.
Virgin Trains cycle policy dictates that you call and book a place for your bike before travelling. Fair enough. So armed with a reference number alongside my tickets, I load up at Euston, and everything is hunky-dory.
Coming back, however, the man at the ticket barrier at Manchester station takes one look at the reference number, denies the series of numbers relate to anything - especially taking my bike on the train - and points me towards the snake of humanity queueing at the ticket office. An anxious ten minutes of waiting in line ensues, all the while glancing over my shoulder to ensure nobody runs off with my pride and joy, before I emerge with the reservation and, feeling like the winner of Willy Wonka's golden ticket, run for the train with seconds to spare.
That was too close for comfort. The next trip to Manchester needed to be better organised. I called Virgin Trains well in advance to clarify the bike-carrying provision on my train. The man on the end of the phone sounded utterly perplexed. If there was booking system in operation for bicycles, this chap was not aware of it.
"Just one minute, sir. I'm going to put you on hold." Cue several minutes of muzak of the pan-pipe variety, before our befuddled friend comes back on the line.
"I am afraid I am unable to reserve a position for your bicycle at this time." Does that mean the train is full and no bike places remain? "Not necessarily, sir. It has proved impossible for me to reserve a place at this time. If you call back tomorrow, it may be possible."
Now, either this man doesn't know what he is doing or couldn't be bothered. Or maybe - just maybe - there really was some kind of computer malfunction that made my request impossible to process. I gave up at that point, left the bike at home and took public transport. Well done, Virgin trains. You beat me.
But it's not all bad news. This week's excursion to Petersfield went swimmingly, South West trains providing a storage area for cycles where you can sit and gaze lovingly at your machine (if that's your bag). No ticket required, just turn up and pop it on the train. Perfect.
Fifty miles of South Downs later and an exhausted and dishevelled rider attempts to board the 5.15 from Brighton to London Victoria. "No, I'm sorry, you can't take a bike on Southern Trains until 7pm," says the nice man at the barrier.
What? So this three-quarters empty train is going to leave without me because there is no room for my bike? Crying seems a distinct possibility for a tired and emotional cyclist standing the wrong side of the barrier. I rack my brains. How about I ride over to Lewes and get the train there (a ploy that has worked on previous occasions)?
"No, sir, That is also Southern trains. The same rules apply." Any bright ideas for me, apart from spending two hours in the pub and getting 'tired and emotional'?
"Just a minute, sir." Our man consults his information sheet. "You can get on this Thameslink train to Bedford. That goes through central London."
Did I hear correctly? The train to Victoria is out of bounds but the one that goes several miles closer to my house is OK? "It's a First Capital Connect train. That particular train operator allows bicycles," says our man. I am not any mood to argue the toss, so jump aboard and am London-bound.
Needless to say, there is no place to properly place my bike on the train, so when it topples over from its position, jammed across the doorway, and bends the rear mech, I am not altogether surprised.
But enough moaning from me. Perhaps I was unlucky, or just plain disorganised. Perhaps the train companies really are part of an integrated transport policy that has somehow escaped my attention, and they really do welcome us two-wheelers with open arms. Or perhaps not.
Maybe six bikes is not enough, and I need to overcome my prejudices and add a Brompton to my stable.
Feel free to add your bike and train experiences, both good and bad. There has to be a better way than this.
Thank you for reading 20 articles this month* Join now for unlimited access
Enjoy your first month for just £1 / $1 / €1
*Read 5 free articles per month without a subscription
Join now for unlimited access
Try first month for just £1 / $1 / €1