CW Tenerife photoshoot part 3: Garry Clark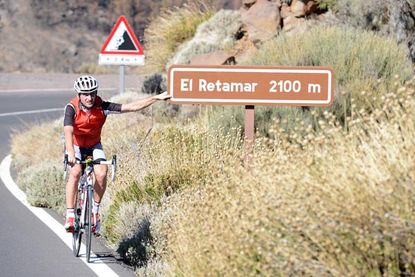 Day three of Cycling Weekly's photoshoot on Tenerife was going to be the big ride where mere mortals tried to do a typical Bradley Wiggins training day.
A breakfast date was set for half eight, time to load up with food I did not really fancy to help me through the big day in the mountains. Feeling a little apprehensive I helped load the van and set off to the start on the coast at El Medano. The van unloaded, pre-ride pictures done, along with a small briefing from our guide, we set off.
Obviously the start was at sea level but more worryingly the finish was 35km uphill to El Retama on Mount Teide at 2,100 metres. About 1km out of town the group of mortals were already running out of gears. Up we went steady paced as instructed, already on the 27-tooth sprocket we headed over the motorway toward the next town Geanadilla de Abona.
Still together, we turned right towards Vilaflor already feeling nervous and a sense of 'what have I let myself in for today' going through my mind. As we went up, six became four still setting a steady pace. Trying to hold a wheel, eat, drink and stay composed for the photos I was starting to get grumpy. Jumping gears and sore foot from new shoes were all getting to me and the journey upward was relentless with absolutely no descending or flat to ease the strain on my legs.
Vilaflor was going to be the half way point to regroup and refuel at about 1,300 metres yet even by just half way the pain was starting to take its toll on mind and body.
Refuelled with bars, gels and more energy drink, we set off on the last painful leg to the top. The sight of the road above was daunting and soul destroying but it wasn't going to go away, 'get on with it' is what I said to myself, not knowing which part of my failing body to moan about first. The alarm bells started when Symon, Jo and John started to move away from me and there was nothing I could do. A gap of about 500 metres soon opened up and although disappointed about my failings I was happy to suffer in silence in my own world of pain.
The support van came past and Stuart shouted 'only 2k to the top'. Great! I could see 500 metres up the road, so grovelled up to it and thinking 'there is only 1500 metres left'.
I could see Stuart our guide and support driver out of the van and up the road above me, with one last attempt to close the gap ahead I put my bike into the big ring and used the last tiny bit of energy I had get to the top.
What a climb: two and a half hours in the three smallest gears on the bike - it was done.
Starting at sea level
Mount Teide
Great grey shrike
Teide riding
Reaching the road summit
Refuelling
Bike and graffiti
Teide road summit
Related links
CW Tenerife photoshoot day two: John Walsh
CW Tenerife photoshoot day one
Thank you for reading 20 articles this month* Join now for unlimited access
Enjoy your first month for just £1 / $1 / €1
*Read 5 free articles per month without a subscription
Join now for unlimited access
Try first month for just £1 / $1 / €1