Dr Hutch: Cycling spectatorship is a sport in itself
Horses are passé but camels and killer whales are encouraged... The Doc considers cycling spectatorship to be a sport in itself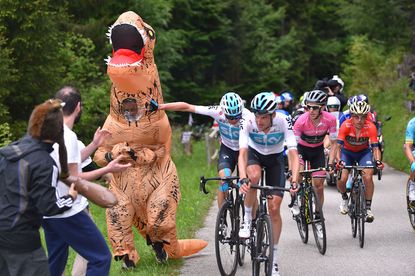 (Image credit: Yuzuru SUNADA)
Get The Leadout Newsletter
The latest race content, interviews, features, reviews and expert buying guides, direct to your inbox!
Thank you for signing up to The Pick. You will receive a verification email shortly.
There was a problem. Please refresh the page and try again.
My personal highlight of the Giro d'Italia's visit to Israel was the bunch riding tempo along one side of a dual carriageway, while on the other side two men in full-length pink leotards rode a tandem alongside.
The tandem was modified so that the stoker faced backwards, and it was a nice touch that while one of them ground away on a big gear, the other twiddled for all he was worth.
>>> Dr Hutch: Cycling is linguistic chaos
It was comic, yet fast enough to keep up so it had athleticism and absurdity in equal measure, and I liked it very much.
I'm well aware that it wasn't what I was supposed to remember as a highlight of the Giro d'Italia's visit to Israel. But that's the thing I'm going to look back on.
The spectators at a bike race are in a position that must be unique. For most sports, the spectators are just a faceless mass, and subject to fairly stringent control by the authorities — just try getting into Wimbledon dressed as a giant syringe.
In cycling, the spectators can be stars in their own right. The problem is that it is not usually in a good way. I accept that it's genuinely amazing just how fast a drunk can run up a 15 per cent hill while shouting at the top of his voice, but it doesn't normally add as much to the spectacle as he likes to think it does.
But I appreciate anyone who finds some inventive way to pace alongside the bunch on a flat section.
Horses have been traditional for quite a while — to the extent that they're a little passé, the only real unknown being why does a horse happily gallop in a field alongside 200 cyclists, surrounded by motorbikes and sirens and helicopters, when if the same horse met a solitary rider on a quiet road it would react as if a bomb had gone off?
But other fine efforts I've seen in various races over the last few years include steam trains (who doesn't like
a steam train?), camels, and a family trying to have a picnic on a trailer behind a tractor while the slipstream
blew their tablecloth away.
At the Giro in Northern Ireland someone in a pink wetsuit waterskied beside the bunch as it rode down the Antrim coast road in the rain, which quite made my day. And in Israel there was a paraglider, filming the TV helicopter as it filmed him.
I like these things, because they always show how fast the bunch is going, even when it rolls along with no urgency beyond making sure the break never gets more than, say, 15 minutes ahead.
The peloton has a smooth, organic look, like a rivulet of oil sliding down an oilcan. The counterpoint of something like four Frenchmen waving baguettes out of a barely-under-control Citroën 2CV as it bounces along a parallel farm track (the Tour a couple of years ago) is an artistic triumph.
We should encourage this. As opposed to the morons on mountains, it lets extroverts show off at a point where there's usually so little going on in the race that they're a very welcome diversion.
Almost by definition they don't get in the way. And they give the poor commentators something to talk about in the endless days of full-stage coverage.
At the Tour de France there is an award for the best bit of field art — farmers submit the location so the helicopters can find it. We should have a public vote every year on the best method of accompanying the
bunch.
And, just so you know, Yorkshire, at the 2019 World Championships I'll have very high hopes. At the very least I want to see someone riding two killer whales along the seafront at Scarborough.
Thank you for reading 20 articles this month* Join now for unlimited access
Enjoy your first month for just £1 / $1 / €1
*Read 5 free articles per month without a subscription
Join now for unlimited access
Try first month for just £1 / $1 / €1
Get The Leadout Newsletter
The latest race content, interviews, features, reviews and expert buying guides, direct to your inbox!
Michael Hutchinson is a writer, journalist and former professional cyclist. As a rider he won multiple national titles in both Britain and Ireland and competed at the World Championships and the Commonwealth Games. He was a three-time Brompton folding-bike World Champion, and once hit 73 mph riding down a hill in Wales. His Dr Hutch columns appears in every issue of Cycling Weekly magazine