Dr Hutch: Cycling is linguistic chaos
Cyclists have an inadvertent multi-linguistic flair, muses the Doc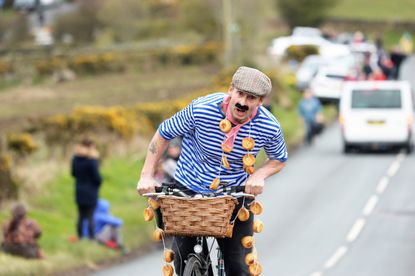 (Image credit: Andy Jones)
Get The Leadout Newsletter
The latest race content, interviews, features, reviews and expert buying guides, direct to your inbox!
Thank you for signing up to The Pick. You will receive a verification email shortly.
There was a problem. Please refresh the page and try again.
The Tour de Yorkshire. A very fine race, I'm sure, but since its foundation that 'de' has been an irritant. Ditto the 'Côte de' in Côte de Greenhow Hill, Côte de Park Rash etc.
I'm not even talking about missing the Tour t' Yorkshire joke. ("Call that a stage race? When I were a lad we did every single road in t' Yorkshire, every stage, and we did it twice to make bloody sure. Geoff Boycott used to stand outside 'is 'ouse and throw bricks at us. Highlight of t' race, that were.")
No, it just seems a bit self-conscious, a bit culturally cringy. Despite the origins of the Yorkshire race in the 2014 visit of the Tour de France it still feels very odd to run the race in Franglais.
>>> Dr Hutch: 'Don't give up mate, you can do it'
But then I started thinking about the rest of cycling. I've been a cyclist for so long that I've almost stopped noticing, but the whole sport is linguistic chaos.
Take for example a friend of mine who, when the going on a ride gets a bit quick for him, shouts, "Piano! Piano! Piano!" This can be directly translated as "Slow down! Please, don't leave me out here alone! Fellas?" but he thinks (and he's right) that it sounds less pathetically needy if he says it in Italian.
It's a principle that's widely observed. If you can muster the word in a language from a 'proper' cycling nation, always use it.
Why say 'cap' when you can say 'casquette'? Or 'bottle' rather than the much more exotic 'bidon', a word redolent of Fausto Coppi and Gino Bartali and the dusty roads of the post-war Tours?
The word 'pretentious' is, of course, unknown to cyclists in any language. "I say," said a rider at a sportive I rode a while back, "have you got any zip-ties spare? I need a couple to attach my dossard."
It took quite a lot of self-control to stop myself telling him that the thing he was putting on his handlebars was most definitely a 'number'.
Races are going the same way. The thing that used to be the 'Tour of Flanders' is morphing into the 'Ronde Van Vlaanderen', and to hell with the fact that practically no English speaker can pronounce it in a way that would give a native any chance of grasping what they are trying to say.
The only time I tried, a local eventually said, "Oh, do you mean…" and made a noise like a man gargling weedkiller. When I looked blank he said, "I think what you're trying to say is 'the Tour of Flanders'."
Even in English it's all a little strange. We are the only people who think aero bars are made of carbon. Everyone else thinks they're made of chocolate. Only cyclists can possibly keep a straight face when they talk of "clipping into my clipless pedals".
You have to use the vernacular if you want to fit in. To take up cycling is to be an immigrant into a new world — a multicultural mash of words and phrases nicked from elsewhere.
But I think it's possible to get out the far side. In evidence, I'm going to call as a witness Sean Kelly.
Sean, despite a grasp of all the important cycling languages, invariable pronounces Paris with an 's' at the end — Paris-Nice, Paris-Roubaix. He calls the Grand Tours the Tour of France, Tour of Italy and Tour of Spain. And if it's good enough for Sean…
If we put our minds to it, we can reverse the process. A few dedicated years, and we'll get the French to call it the Tour of France too. And then we can start on making them call a bottle a bottle and a jersey a jersey.
Thank you for reading 20 articles this month* Join now for unlimited access
Enjoy your first month for just £1 / $1 / €1
*Read 5 free articles per month without a subscription
Join now for unlimited access
Try first month for just £1 / $1 / €1
Get The Leadout Newsletter
The latest race content, interviews, features, reviews and expert buying guides, direct to your inbox!
Michael Hutchinson is a writer, journalist and former professional cyclist. As a rider he won multiple national titles in both Britain and Ireland and competed at the World Championships and the Commonwealth Games. He was a three-time Brompton folding-bike World Champion, and once hit 73 mph riding down a hill in Wales. His Dr Hutch columns appears in every issue of Cycling Weekly magazine